Welcome back to the daily DraftKings picks where we try to get super rich playing daily fantasy football. As usual I'll do a brief recap of my lineups from the week before then throw out some picks that I'm brainstorming for this weekend, and hopefully get some good feedback/tips/picks from you guys either in the comment section or on Twitter @kmarkobarstool.
Another week in the books…let's break down my optimal lineup, then jump into some tourney picks for Week 11.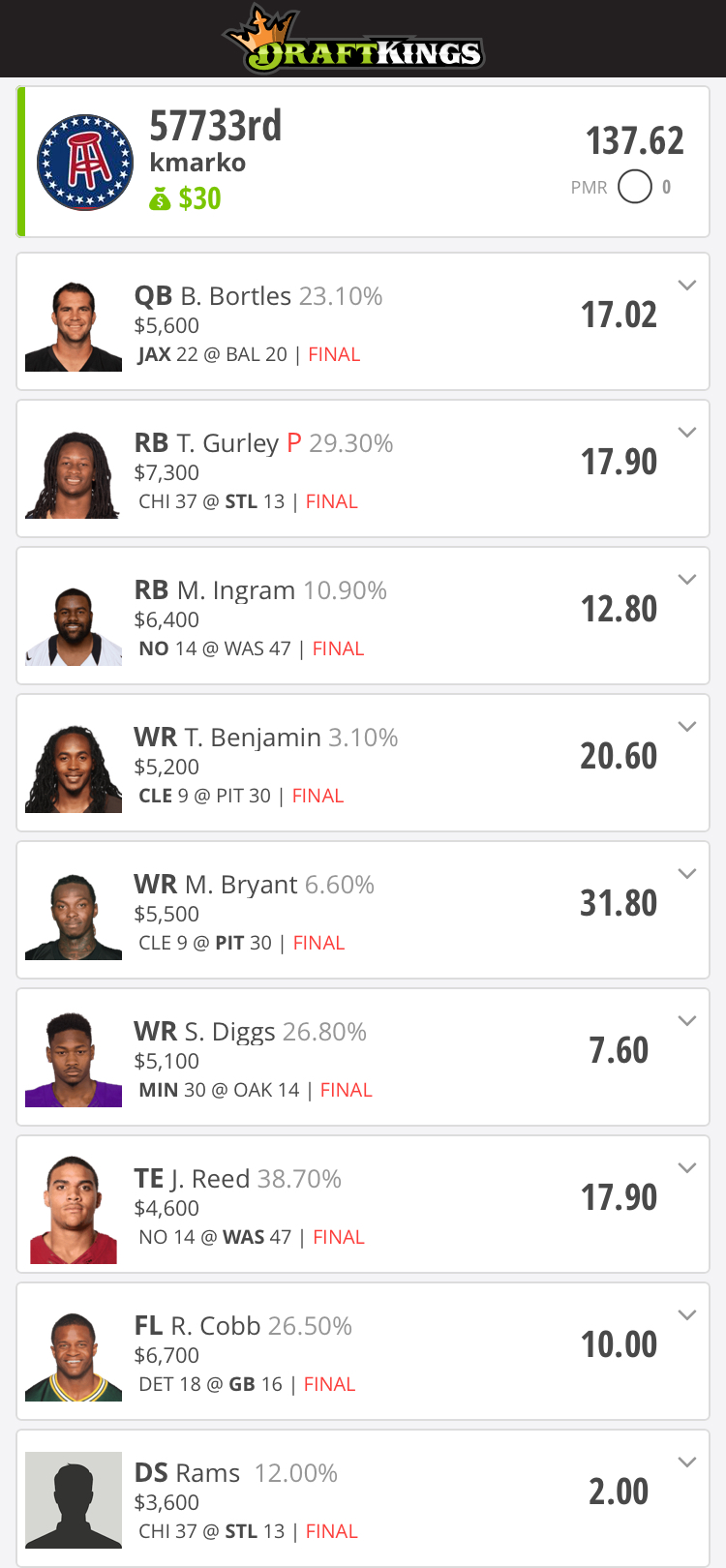 Just a bad week. Hey, it happens. Getting my buy-in back was nice, but at this point, not winning at least a couple hundo is a failure in my eyes.
As you can see I went with all 4 of my featured blog picks in my lineup – went down with my own ship. So while maybe you're pissed the WR I told you to roll with ended up with 7 freaking points, at least you can take solace in the fact he screwed me over also.
QB – Bortles was my featured QB play and he was a borderline dud – sure, 17 points is better than what some other guys put up, but not gonna get it done for what we're concerned with. Also, 23% ownership? Not a good look for tournaments. My pre-Sunday research tools let me down on that one – thought we'd be looking at 13, 15% maximum.
RB – Ingram was my featured RB play and he also let us down big time. Went out on a limb trying to recommend someone different than the mainstream plays and it blew up in my face. Turns out Brees didn't turn to his ground game on the road, he just aired it out even more.
Because I was (supposedly) going contrarian in a bunch of places, I felt comfortable rolling with Gurley..but even HE disappointed. The TD was nice, but only 17 points against the Bears D? If you're going with a guy who is 30%+ owned you reallyyy want to lock him in for at least 30 points.
WR – Like I mentioned above…total bust on Diggs. That's on me. Just a miserable miserable game. And we're lucky he even got 7 points to be honest – he was sitting at 1 single point until a downfield catch during garbage time.
Martavis Bryant was the beast of my lineup and the one pick I could feel really good about – 32 points at 6% owned, one of the main reasons I even ended up cashing. Close readers also know that I recommended Benjamin as a dart throw because of his chemistry with Johnny Football, and that 20 points was pretty nice also.
TE – Jordan Reed was my featured TE play and he came through, but I won't be bragging about that. I even admitted it was a chalk play, and 39% owned is brutal. Played it safe with that one.
Flex – I honestly thought this would be an Aaron Rodgers 400 yard 5 TD day, and that Cobb would be good for a lot of that. Instead I ended up with a highly owned guy who barely cracked double digit points.
Bottom line: this lineup is exactly how not to play large scale tournaments. Way too many highly owned guys, playing it way too safe. Bryant and Benjamin paid off, but you need to take more shots than just 2 guys to really make a splash. Good news though is I honestly think I learned that lesson this week, and that's been the point of these blogs from the beginning – I'm far from an expert, just trying to learn as I go.
Now for Week 11…
Quarterback
Aaron Rodgers $7.5K
Never thought I'd see the day where Aaron Rodgers was a tournament pick, but here we are. Some "bad games" will do that to you…according to tools like The Field Report and Chalk Talk, Rodgers is coming in as under 7% owned, which is primetime tournament play territory.
Here's the thing about Rodgers – yes, in real life, the Packers look like garbage, and Rodgers hasn't looked sharp. But in the fantasy land that we care about, he's only had one actual bad game – the 6 pointer at Denver. At Carolina he put up 37, and last week he ended up with 25 on 61 (!!!) pass attempts. Their run game stinks and he has no choice but to air it out all game, which means a lot of possible points on the board, even if they come in garbage time of a loss.
Oh and another reason for the Rodgers hate? The matchup stinks. Big time stinks. The Vikings are playing great right now and their defense is expected to make life impossible for all the Packers' receivers. Paying this much for a guy in such a bad matchup is a terrible cash game idea, but since we're talking about large scale tournaments here, I'll take a guy with this much talent. Just keep Olivia away from the field please.
Also consider: Personally I think Brady is the best play on the board. And you'll have to pay for it. Derek Carr is hot and still too cheap, but he's also projected to be the highest owned QB this week…a lot of people should be on Cam also, but not crazy enough to keep me off him in tourneys – think he's a great play.
Some more, risky tourney options? How about Russell Wilson…hasn't had one fantasy-worthy game this season, but the 49ers defense is so bad he has a chance of throwing and running all over it. And Mark Sanchez stinks, but unlike Bradford, we have a track record of seeing some fantasy success from him in the Chip Kelly offense…if he can catch lightning in a bottle this week, you have yourself a reallll strong tournament play that not too many people will be on.
---
Running Back
Charcandrick West $4.5K
Remember when Jamaal Charles went down with the ACL injury? Charcandrick (incredible name) West suddenly became the hottest name in the fantasy world – next-man-up in an Andy Reid offense, combined with reports of Reid himself saying he loved West way more than Knile Davis, had everyone licking their chops to get him in their lineups. I had him as a "pick to consider" in my blog saying he was a great play but would be way too highly owned. And then he put up 3 points.
Well we've come a long way since then. His past 3 games: 31, 22, 24 fantasy points, and that 31 was last week against the very very good Broncos defense. Next up? The Chargers, who have arguably the worst run defense in the league. Normally you worry about a shootout against a Philip Rivers team, but this is the Chiefs we're talking about – they're physically not capable of airing it out. Combine West's recent trends with an A+ matchup and a $4.5K price and he's easily my favorite RB play of the week.
*Note: I start writing this blog on Tuesdays and West was the first pick I wrote up – after seeing the projections and the expert picks that have come out since then, it would appear that he's incredibly chalky and will be very highly owned. I'll still be rolling with him and going contrarian elsewhere because I think the price is too good to pass up, but be warned.
Also consider: Freeman should be your #2 highest owned guy this week, and for good reason – got a dream matchup against Indy. If I'm splurging on RB, I'm splurging on him. Adrian Peterson has been criminally underowned, but I think that comes to an end this week after last week's 200+ yards – still a great play though, obviously.
If you're looking for more tournament options (read: riskier, but with upside) – Jonathan Stewart and Darren McFadden are two of my favorites. And two of my personal favorite hunch plays? Ronnie Hillman and Karlos Williams. That's all gut talking right there though…no stats or research. Should be like >1% owned though.
Also… it looks like this is the week Todd Gurley's ownership drops down to normal levels. He's expensive and has a tough matchup…but he's so good, and honestly, what the hell else can the Rams do on offense? If he can break a few runs, you could have a great play there.
---
Wide Receiver
Demaryius Thomas $7.3K
ALERT ALERT Remember to read the key word of the headline: Tournament.
Listen I think Julio Jones is the clear top WR this week coming off a bye and facing the Indy defense. I think Larry Fitzgerald is the #2 guy this week. I also think everybody else knows that and will be all over them. I won't try to talk you off them obviously because I think they're both safe for 20+ points, but I also think they're safe for 30% ownership. Meanwhile I'm not sure who in their right mind would take a receiver in the Denver offense right now. But what did we learn in my opening section of this blog? Gotta take some risks. Scared money don't make money.
So here's the deal – Demaryius didn't lose any of his talent. He's still freakishly good and one of the best receivers in the game. He's got a young, unproven, and possibly really bad QB coming in to make the start this week – but what do those kinds of QBs usually do? Just feed their beast. And they may be hot, but the Bears defense certainly isn't a scary unit. Again, you're just going to have to deal with the fact there's a chance he ends up with an 8.4 fantasy point game. All I'm saying is there's a case to be made that Thomas has massive upside this week for a fairly low price and very low ownership.
Also consider: Like I said, Julio and Larry Fitz are two great plays. I also love Dez this week with Romo back. Probably my favorite play though? Mike Evans – any guy with that kind of talent who gets the ball thrown to him 20 damn times a game, yes please.
Danny Amendola is your super-chalk play of the week taking over Edelman's role…at his price though I'm having a hard time fading him. A couple cheap, more under-the-radar plays – Marvin Jones and Stevie Johnson. You're not going to feel nearly as safe with them as Amendola obviously. And finally – Jordan Matthews. He lost his ability to catch, but we know for a fact Sanchez is obsessed with throwing to him.
---
Tight End
Gronk $7.7K
Ok, I'm not messing around anymore. Every week I don't feature Gronk here because I say he's too obvious, too popular, too highly owned. But the reality is, he really HASN'T been too popular. He's never the top owned tight end, he's always hovering in the very playable 15-18% ownership range, and there are always 2 or 3 trendy low cost guys who 30-45% of the field are playing instead. Enough is enough. His price is finally below 8K, he's got WR1 upside at the TE position, and he's playing a Rex Ryan defense. Week 2 game against the Bills? 28 fantasy points. Monday Night Game + no Edelman = sign me up for all of the Gronk.
Ok I admit, this might be the week he's the top owned tight end. Him or Greg Olsen. If you want a couple tournament options, consider Jason Witten with Romo coming back and Eric Ebron (yuck) with at least a shot of putting up a good game. And one of the biggest surprises from the ownership projections so far – not a lot of people on Antonio Gates. Why? No idea, but he should rack up targets in that game.
…
Good luck on Sunday. Got any sweet sleeper picks I should consider? Tweet them at me.