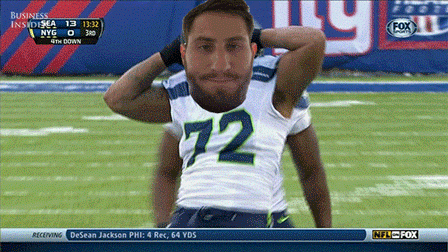 Welcome back to the daily DraftKings picks where we try to get super rich playing daily fantasy football. As usual I'll do a brief recap of my lineups from the week before then throw out some picks that I'm brainstorming for this weekend, and hopefully get some good feedback/tips/picks from you guys either in the comment section or on Twitter @kmarkobarstool.
Finally, my optimal lineup was my highest scoring lineup. Unfortunately it was a high scoring week, and 190 was only enough to win me a measly 30 bucks. Let's break it down –
QB – Phil Rivers was my QB blog pick of the week and he paid off great. Classic case of "bad in real life, awesome in fantasy" game for Rivers, but hey, the fantasy part is all we care about here. I even called exactly how that game would go, that the Raiders would win and Rivers would be forced to chuck it all around with no run game.
RB – Lamar Miller was my RB blog pick of the week, and DAMN did he come through! Pat myself on the back for that one. I also said Todd Gurley was an easy play but be careful because he'll be 40% owned…I was wrong. He was 67% owned! That's crazy. Think DraftKings needs to adjust the pricing on him or what?
WR – Larry Fitz was my pick of the week but I didn't roll with him in my tourney lineup because I knew he'd be highly owned and I was already using Gurley. It worked out for me because he put up a dud, but sorry to everyone I led astray with the pick (Lamar and Rivers made up for it though you complainers). Figured I'd go with some lower owned, sneaky options like pairing up a semi-injured Keenan Allen with Rivers, and Megatron who usually kills the Vikings. Both did pretty well, but not tournament-winning well. Willie Snead surprised me with a dud – that NO passing game is tough to figure out. You're not gonna win much money with a 5 pointer in your lineup. Sucks.
TE – Ladarius Green was an easy easy plug and play with the Antonio Gates news. He paid off, but 21% ownership is not ideal.
Flex – I thought Peterson would have a monster here, and I was wrong. Got screwed a few ways on him, one, when he couldn't break 1 more tackle to score a TD on that long run, and 2, when he fell a couple yards shy of the 100 yard bonus.
D – I had the Rams in every other lineup I did but put the Cardinals in my optimal trying to go with one that would be lower owned. Big mistake.
Anyway, on to this week's picks…let's try to make some more money this time.
(Reminder: Please actually read the write ups, don't just blindly plug in each name I have in bold – these aren't always the guys I think will be automatic high scores, a lot of the times they're tournament plays with risk and upside.)
Quarterback
Cam Newton $6.8K
Philip Rivers is a great play once again. In fact he's probably the best QB play of the week. So why isn't he featured here? Well, because I'm stubborn and don't like using the same guy twice in a row, and 2, more importantly – I think everyone else knows how good a play he is too. I expect him to be the highest owned QB, and remember we're talking big field tournaments here where the key is differentiating yourself with low owned high upside players. That's why I'm rolling with Cam here who I'm hoping is much more under the radar and who has just as much upside – sure he doesn't chuck it around as much as Rivers, but he can break off a 50 yard TD run in the blink of an eye. Also, I love Cam, but the dude has an Ego with a capital E…the bright lights of Monday Night Football can bring out the best in a guy like that.
Consider: Like I said, Phil Rivers is a great, safe play. If you're going cheap, do you have the stomach to take a shot on Jameis Winston in a dome or Brian Hoyer without an RB weapon? And for a super tourney play…how about paying up for Andrew Luck? I can't imagine anyone wants to spend up on a guy who has looked so bad, but can put up such great fantasy goodness in the second half.
---
Running Back
Adrian Peterson $7.4K
Running back is the toughest position for me this week. Todd Gurley is an obvious no brainer play once again (seriously what's up with his pricing?) But did you see his ownership last week? 67%!! That's insane. I have never seen a number that high for one player on a full slate of games. And it's completely understandable too – the guy is a beast, he's getting great matchups, and he's so cheap. You really might just have to pull the trigger and play him and work on being contrarian in other places. But for the sake of the blog here I'll roll with Peterson against the Bears D. Everyone is high on Teddy Bridgewater and Stefon Diggs after the past few weeks, but I could see this being an AP game where they pound him on the ground all day. It may not be expert analysis,
but he's "due"…he's been just missing touchdowns, just missing breakout runs, just missing 100 yard bonus points. I'm not guaranteeing anything here but I think he'll be lower owned than he should be and has great upside.
Consider: Justin Forsett and Chris Johnson against two of the worst run defenses in the league are some great places to look – should be popular though. And can you really trust CJ to keep this up? Maybe. I think Danny Woodhead and Matt Forte are two good plays that could fly more under the radar, and if you're getting nuts, how about Ronnie Hillman on Sunday Night?
---
Wide Receiver
Antonio Brown $7.8K
I honestly have no idea what ownership will be like on Antonio Brown, but at this price point I got to imagine it's pretty high. But he's not a guy I'll be fading. On DraftKings where receivers are so important you really can't pass up a value like this – one of the best receivers in the NFL and fantasy point monster clocking in under 8K. Those Mike Vick/Landry Jones games drove his price down, and now Big Ben is back to throw to his favorite receiver…sign me up.
I can't imagine I'm the only one who realizes that though, so if you want a more hardcore tourney pick – consider Demaryius Thomas. Haven't played him all year with Peyton's noodle-ass arm throwing to him, but nobody is going to be on him and he's always a threat to put up a big game. If you're going cheap, just know that Stefon Diggs will be the highest owned WR this week, so you're not sneaking up on anybody. At 4.8K is he worth fading though? That's up to you – he's still obviously a great play, but I might take a shot on someone like a Willie Snead.
Tight End
Your two most popular plays here will be Ladarius Green and Tyler Eifert. I can't argue with either of them. Green at 3K might just be a plug and play for me no matter how high his % is. But if we're messing around a little bit…paying up for Greg Olsen or riding the Gary Barnidge wave could be the move for tournaments. And check the injury reports…but how about getting a little nuts with a Sefarian-Jenkins play? Oh man, now things are getting wild.
…
Good luck on Sunday. Got any sweet sleeper picks I should consider? Tweet them at me.