Welcome back to the daily DraftKings picks where we try to get super rich playing daily fantasy football. As usual I'll do a brief recap of my lineups from the week before then throw out some picks that I'm brainstorming for this weekend, and hopefully get some good feedback/tips/picks from you guys either in the comment section or on Twitter @kmarkobarstool.
Once again…it was not my optimal lineup that won me the most money.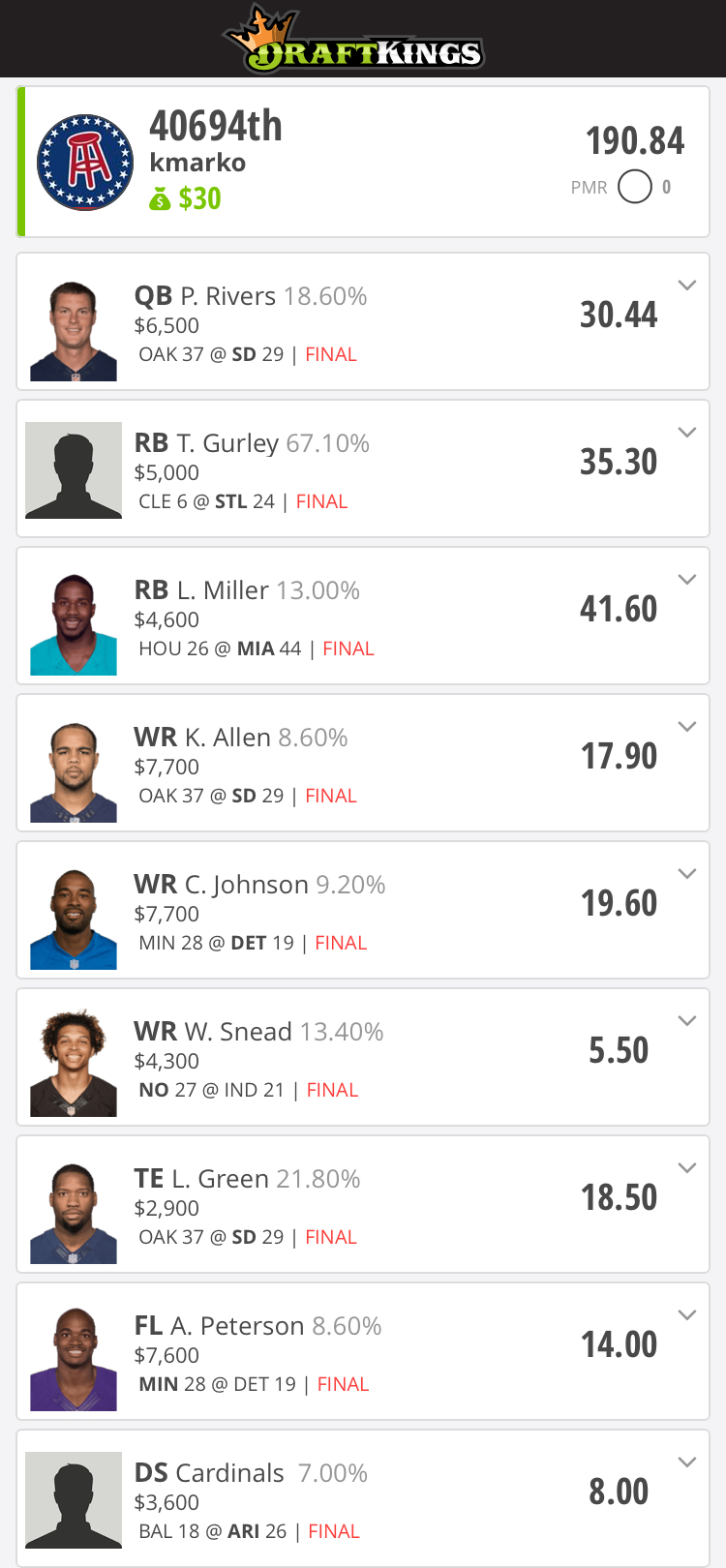 But my optimal is the one I'll break down and take you through my thought processes:
QB – Sam Bradford was my blog pick and I stuck with him. The good news (well the bad news for Giants fans) is that
I nailed my analysis of the actual game – that the Giants would be flat and get rolled over by a Philly team getting hot. The bad news is they did that in SPITE of Bradford instead of because of him. Holy crap did that guy stink. I don't think I've ever watched a QB be more noodle-armed and inaccurate in a live game before.
RB1 – Well, this is where I took my GPP shot. I'm always saying how in order to win big in tournaments you have to go off the board and take a shot, so that's what I did. Unfortunately Darren Sproles was not…even…close to being the guy to take that shot on. Knew the Eagles would score points, didn't like any of the receivers, and mistakenly thought hey this could be a Sproles game on MNF! Honestly I would have rather left that slot completely empty and had an invalid lineup, would have been better for my pride than taking a guy with 1.7 points.
RB2 – In my defense, I did say in my blog…"is this guy even good?" Turns out no, no he's not. The experts and the Andy Reid comments had me convinced he was a solid play but would probably be highly owned. Turned out he was neither.
WR1 – Hopkins was my blog pick, and he had a monster. Obviously felt good to be right, but it wasn't exactly a groundbreaking pick, and 33% is wayyyy too high ownership. However 40 fantasy points isn't something you want to miss out on so I felt fine about it.
WR2 – I'll be honest, I thought Megatron would be a sneakier play. Maybe 5-6% ownership because of how bad the Lions and Stafford have been. He paid off well though and finally broke out.
WR3 – BMarsh is a stud this year and the Redskins pass D was an easy target.
TE – I loved the Broncos defense but also knew how much McCown loved Barnidge and figured they had to at least get some passing production. 19 points for a 5% owned guy is real solid.
Flex – I love these Jags receivers. The two Allens making their way into so many of my lineups. Sucks they have the early morning London game this weekend.
Oh and a quick note, make sure to check back on the blog every now and then before lineup locks because I update with any injury news. For example I had Dion Lewis as my featured running back, but when his injury report came out, I pulled him from all my lineups – Belichick is not a guy I like to mess around with when it comes to his injury reports.
---
And now on to this week…
These are my personal favorite plays of the week at each position when you consider price + upside.
Quarterback
Philip Rivers $6.5K
I can't get a read on what his ownership will be like, but the price is so good on Rivers that I'm just gonna plug and play. The guy has just flat out found the fountain of youth lately, the Chargers can't get the running game going, and he's just sitting back there chucking it around all game long. It's not translating to wins, and honestly I think the Raiders win this game, but we don't care about real life around here – it's all about the fantasy points, and I'm hoping this one is a shootout. Or at the very least, a horribly defended game which leaves another 500 yards and couple of TDs on the table for Rivers all the way down at 6.5K.
Others to Consider: I actually think Brady is a good tournament play – the most expensive guy usually keeps % down, and he has a division game against a tough defense. But if you're buying into the Pats' Screw-You mode this could be a sneaky spot for him. I don't think I'll be pulling the trigger on that, but something to think about. Cam Newton is a guy who I love this year and has a great floor because of his rushing yards – he's risky against that Eagles D that has looked pretty good, but he also has the upside to be the highest scoring QB every week he's out there.
---
Running Back
Lamar Miller $4.6K
I think my biggest disappointment of the season so far is the fact I didn't put Lamar Miller in my lineups last weekend. ALL the warning signs for a big game were there, the ones I always look for: a player who has disappointed so far, playing for a team that's been sucking, playing their first game under an inspiring new coach. That's exactly the type of stuff the signals a big game is coming, and I didn't play it. Why? Honestly, because I pussied out. I was so concerned about just hitting the cash line that I didn't want to take the risk of bombing on a 4 point running back. Which is the way to approach head to heads and 50/50s, but the exact wrong way to handle big tournaments. Lesson learned – kmarko, don't be a pussy. (As you saw with my Sproles pick though…this does not always work out).
Oh as for this week yeah I think $4.6K is just a fine price to roll him out there.
Others to Consider: Leveon Bell being super expensive and coming off a dud might actually make him a great tournament play…Todd Gurley is an incredible play at only 5K but I'd watch out, could see like 30-35% ownership on him.
---
Wide Receiver
Larry Fitzgerald $7.4K
Only issue with Fitz this week is his ownership. I'm hoping I'm wrong, but being a name brand player like Larry Fitzgerald combined with the recent production means you'll probably see him owned by at least 20% of the field – which is definitely not ideal for tournaments. But, I think the upside is too good to pass up, so I'm going to roster him anyway. The Ravens pass D stinks, their season is pretty much done already, and it's a primetime Monday Night matchup where the stars come to play.
Others to Consider: I like Eric Decker a lot considering the Pats tendency to shut your best receiver down (BMarsh) and the thought of garbage time in this one. Stefon Diggs is a great value play but he's no secret anymore.
---
Tight End
I don't think there's a clear cut choice for tight end this week if we're talking about tourney lineups. Antonio Gates is a great play but is so chalky and obvious it may end up being beneficial to fade him and try to get that 15-20 points from a surprise source. But who could that source even be? Delanie Walker, Gary Barnidge, and Jordan Cameron are 3 (very risky) options to take a long hard look at.
And, of course, you're always safe looking Gronk's way. But 8.1K is a lot to pay. Maybe I'll just eat some hay, lay by the bay, make things out of clay.
…
Good luck on Sunday. Got any sweet sleeper picks I should consider? Tweet them at me.