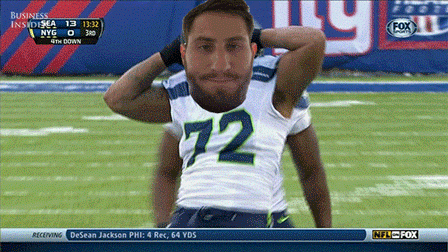 Welcome back to the daily DraftKings picks where we try to get super rich playing daily fantasy football. As usual I'll do a brief recap of my lineups from the week before then throw out some picks that I'm brainstorming for this weekend, and hopefully get some good feedback/tips/picks from you guys either in the comment section or on Twitter @kmarkobarstool.
First, a breakdown of my lineup from last week, then some picks for this one.
LINEUP BREAKDOWN
As usual, I threw a handful of entries into the Millionaire Maker, and I used the same strategy as last week: made my optimal lineup with all my favorite picks, did a couple lineups with slight variations, then did a completely contrarian lineup.
No surprise…it was the contrarian one that placed the highest.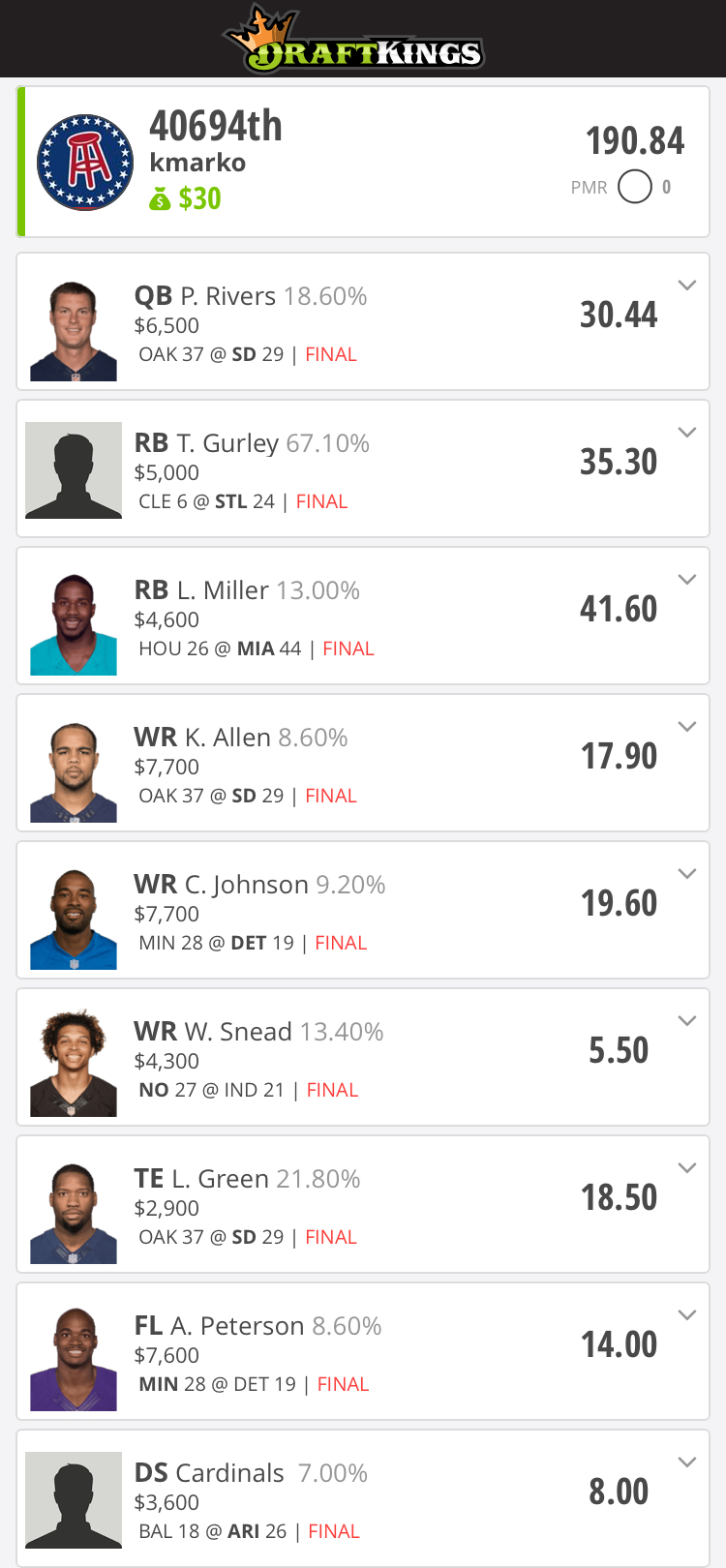 But we'll breakdown my optimal for the blog:
QB – Cam was my featured blog pick of the week, and 17 points isn't an ideal score obviously. But in an overall very low scoring week (at one point Chiefs kicker Cairo Santos has more fantasy points than every single quarterback except 1), he did OK, relatively
speaking.
RB – Karlos Williams was a lock, even knowing he'd be owned by everyone. I was actually surprised he was only at 50%…would have guessed something like 70%. I really wanted Matt Forte but I just flat out couldn't afford him, so I dipped to Devonta. I say that
in the interest of full disclosure, that my 38 point running back was not some savvy play, it was an accidental cost saver.
WR – Amari was my featured play, and despite the touchdown and solid score, he underperformed. Thought he'd have a monster here. I love Hopkins and will keep locking him in if they refuse to raise his price – he gets something like the 3rd most targets in the
league no matter what shitty QB they have out there. And Larry Fitz has been money so I slotted him in – honestly thought he'd be lower owned with the tough matchup, oh well.
TE – If you checked the blog update you knew I scratched Jordan Reed because of the weather and rolled with Olsen again, pairing him with Cam. Huge disappointment here.
FLEX – Officially the last time I listen to the experts predict the Melvin Gordon breakout week. Second time I took the advice, second time Woodhead walloped him in points.
Now for this week's thoughts…
Realized that I've been kind of all over the place with my picks, from expensive guys to cheap guys, no rhyme or reason. So new stipulation for this week: all featured plays under $7K.
Week 5 Under $7K Picks
Quarterback
Matt Ryan $6.7K
Brady is your chalk play, Cousins and Vick are your high risk plays, but for me I'm going right in the middle – Matt Ryan. I NEVER play Matty Ice in daily fantasy anymore, mostly because I feel like he never quite lives up to expectations and always seems to let me down. But this season feels a little different, like maybe it's time to give him another shot. With the explosion of Freeman lately, people might chase the points with him and forget about Ryan and Julio tearing up the Redskins secondary through the air. Could be a good pair for tournaments.
---
Running Back
Justin Forsett $5.8K
Is it just me or is running back impossible this year? You can either drop a ton of cash on the top 2 options, or drop down in salary and pick a guy you don't completely trust who could easily get you an ugly 8.4 points and ruin your lineup. Just like Forte was last week, this is more of just a common sense pick than a "my gut says he's going to explode" pick. With Steve Smith injured, Flacco just flat out has no one to throw to, and with the Browns run defense, the Ravens SHOULD be able to run on it. But, as anyone who has experienced having Ray Rice on their season-long teams the past few years can tell you, what the Ravens SHOULD do with their running backs and what they DO do are very different things.
Also considering: Dion Lewis, but he'll be highly owned, and Todd Gurley, who has a bad matchup.
---
Wide Receiver
Julian Edelman $7K
Oh baby, thank god for the pricing this week which allowed me to sneak my favorite WR play in here right at the limit. Yeah I'm assuming Brady and Gronk and Dion Lewis are going to be very high owned, and Edelman SHOULD be too – but for some reason he always seems to be forgotten. Which is crazy, because he's not only like the ultimate safety pick with a 15 point floor, he's also got crazy 30+ point upside every time he's out there. How about when he's out there with A) the Patriots' offense already in Fuck You mode and B) a Brady who had his wife insulted by woman beating piece of shit Greg Hardy this week? Holy shit, the upside is insane, almost as insane as Greg Hardy.
Also considering: Allen Hurns, who is 16th in the whole NFL in total fantasy points per game (crazy right?). And I have to mention Willie Snead, but there's soooo much hype on him this week it makes me skittish.
---
Tight End
Martellus Bennett $5K
Cutty back, Martellus back. That's how it works. While Clausen seemed basically allergic to Martellus (also: he sucks at playing quarterback in general), Cutler back in there means a lot more targets. Obviously if Alshon can't play again it means more opportunities,
but even with him in there, Bennett should get some good looks especially in the end zone. That's the hope at least. If I knew that for sure I'd be a lot richer than I am now currently.
…
Good luck on Sunday. Got any sweet sleeper picks I should consider? Tweet them at me.