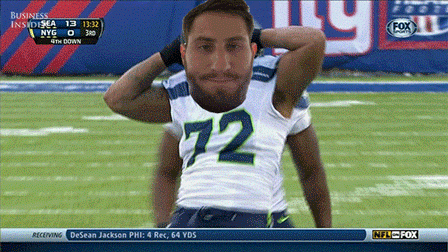 Welcome back to the daily DraftKings picks where we try to get super rich playing daily fantasy football. As usual I'll do a brief recap of my lineups from the week before then throw out some picks that I'm brainstorming for this weekend, and hopefully get some good feedback/tips/picks from you guys either in the comment section or on Twitter @kmarkobarstool.
First we'll go over my lineup, then get into some picks for the week.
I threw a handful of different lineups into the Millionaire Maker, all with pretty much the same base guys with some contrarian plays mixed in, and ended up doing pretty well with almost all of them cashing. My two MNF specials were right up at the top:
I knew I wanted Rodgers for a bunch of teams so I could watch my scores move up as he lit it up on Monday Night Football. My only regret is not putting Cobb and James Jones on the SAME team.
But as usual we'll dive in to my optimal lineup for the week, which was my highest scoring.
Lineup Breakdown:
QB – Cam was my featured pick on last week's blog, and he paid off just like I thought he would. Broke 300 yards passing with 2 TD, and chipped in 33 rush yards and a rush TD. Exactly what I wanted for a 6.8K guy. Felt good to nail the pick.
RBs – Marshawn was my featured pick but his injury concerns later in the week scared me off a bit, so I kept him in some contrarian lineups but took him out of my optimal. I was more than happy to roll with Charles, who I knew would be the focus of the Chiefs offense and would be playing on MNF which is always a bonus.
Never want to root for a guy to be hurt in real life obviously, but I was hoping Eddie Lacy would take the week off to recover – mostly because I had James Starks slotted in here and a min price $3K player isn't the easiest to switch out. Decided just to roll with him and take my chances because I liked my other guys so much. He certainly got the opportunities – he was out there basically 50/50, and they kept feeding him the ball to run out the clock…but he couldn't break anything.
WRs – Brandon Marshall was an obvious lock. Larry Fitz was a guy I knew I wanted, and when I saw they didn't even raise his price, I locked him in. Biggest WR disappointment was Allen Robinson – I knew the Pats would blow out the Jags, and I knew they'd be in garbage time basically the whole game chucking it around. Easy opportunity for some 4th quarter yards and a TD. And all those things played out…except for Robinson's role. Only 4 catches for 68 yards. Oh well.
My blog pick was Randall Cobb – ended up backing off him for this lineup, but I hope some of you followed my advice and loaded him up!
TE – Since I was going with Cam, I wanted to pair him up with a receiver which is basically GPP 101. After a disappointing first few weeks I was still feeling good about Olsen because he was getting a TON of targets and it was only a matter of time before he started reeling them all in.
FLEX – I honestly thought Leveon Bell would be lower owned – first game back from suspension, a real tough matchup on paper, and a high price. Pretty shocked when he was 20% owned but at least he paid off.
All in all, another solid week. 225 points my new season high – (winning score for the 1.2 million had 301 haha, unreal.) Also 2 out of 3 solid blog picks with Cam and Cobb. Off to a good start after 3 weeks.
Let's get into this week's picks:
Quarterback
Cam Newton $7K
Yup, I'm doubling down on Cam for another week. I usually like to switch things up, but then I remembered the point of this blog is to actually recommend guys I like and not try to be cute, so here we are. Yes of course Aaron Rodgers is locked in and the clear cut guy to be top scorer again, it's not like I'm telling you to stay away from him. But in the interest of tournament play I think a lot of people are still tentative to play Cam because he's been so up and down throughout his career. After watching him play this year I think he's finally turning the corner to being consistent and a little more mature…and the fact he has 0 options not named Greg Olsen to throw to doesn't hurt from a fantasy perspective.
Bottom line is Cam is the same price as Eli against the Bills defense, so yeah, I'd say he's still underpriced.
GPP Play – Derek Carr is 5.3K against the Bears D…anyone?
Running Back
Matt Forte $7.1K
There's really not a single running back I'm entirely sold on this week to be honest. So let's take a look at who a smart pick could be…a guy who is involved heavily in the running and passing game, against a pretty bad defense, with a QB playing who can't throw the ball downfield. Oh hey that's Matt Forte. Yeah of course the Bears offense isn't one you exactly want to go out of your way to target, but this is just kind of common sense talking here – they have to play 4 quarters of football by law, they have to run at least 3 plays each time they have it, and they have 1 offensive weapon. This is why they pay me the big bucks folks.
Gotta consider – Karlos Williams, checking in at basically min price and Shady not expected to play. Just beware, he'll be probably over 50% owned, and is definitely not a lock to find the end zone.
Wide Receiver
Amari Cooper $6.3K
How can you not love Cooper this week? He was one of my favorite players in college football and I knew he would be a beast in the NFL immediately – that's not me bragging or anything, pretty sure everyone with a brain knew that. And look at what he's been doing. Now consider his matchup with the hopeless Bears and you've got a recipe for some big time stats. A Carr-Cooper stack could be an interesting tournament play.
GPP Play If You're Spending – OBJ is virtually the same price as Julio Jones and is facing the elite Bills defense…his ownership should be very very low, but anyone who watches the Giants offense know he's the #1, #2 and #3
option every play.
Tight End
Jordan Reed $4.5K
Wow, no Gronk this week means I actually have to consider who the top tight ends could be. I love Greg Olsen once again, especially pairing him up with Cam, but for someone a little different check out Jordan Reed. He's always had the talent but cannot stay healthy for the life of him – he's hanging in there (for now, at least), and he's quickly become Kirk Cousins' favorite target. At least 6 catches in each of the first 3 games and bordering on 100 yards per, he could be a good solid source of points at such
a cheap price.
GPP Play – Eric Ebron again, but definitely only for tournaments. Stafford loves targeting him, and he's going to have a hard time getting to his wide receivers against that Seattle D. If you think the Lions can manage 1 or 2 touchdowns this game, Ebron is a good bet to have one of them.
…
Good luck on Sunday. Got any sweet sleeper picks I should consider? Tweet them at me. Also if you enjoy the blogs and want to deposit on DK for the weekend use my referral code and we'll both get a ticket to the Millionaire Maker.