There are going to be great debates over who should be the 1st overall pick in this year's fantasy football drafts. Do you go with a stud running back slated for an insane amount of touches? Or do you go with a big time wide out who is set to have another target heavy season? Since there is no definite answer, we're here to tell you why each of these players (Adrian Peterson, Rob Gronkowski, Le'Veon Bell, Antonio Brown, Antonio Brown, Odell Beckham Jr., and Eddie Lacy) have a legitimate shot to be the number one pick in fantasy football drafts.
CHECK OUT THE ENTIRE #1 PICK SERIES:
1) Why Odell Beckham Jr. is the #1 Pick
2) Why Rob Gronkowski is the #1 Pick
3) Why Le'Veon Bell is the #1 Pick
4) Why Antonio Brown is the #1 Pick
5) Why Jamaal Charles is the #1 Pick
6) Why LeSean McCoy is the #1 Pick
7) Why Eddie Lacy is the #1 Pick
8) Why Adrian Peterson is the #1 Pick
Why LeSean McCoy is the #1 Pick
Sign up at DraftKings and receive a 100% deposit bonus match up to $600!
It's funny how quick fantasy owners are to forget how good a player was just a two seasons ago. It was only last year that fantasy owners were choosing between LeSean McCoy and Jamaal Charles with the first overall pick. One can also throw Adrian Peterson into that conversation, but in PPR formats it was generally the first two backs I mentioned. Assuming you were lucky to get the first overall pick in your fantasy league, would you consider selecting LeSean McCoy?
For the article's sake, let's say you did consider and after pondering you pick up that LeSean McCoy sticker and paste it proudly on the draft board while the entire league is looking at you like they have just seen a ghost. Below are some pros and cons regarding Shady McCoy.
Pros:
He's an elite back, he was traded to a team with a head coach that loves to pound the rock, dual threat running back, still young, and is expected to get the majority of the workload this season.
Cons:
The lack of talent at the quarterback position could cause defenses to stack eight in the box and he went from one of the better offensive lines in football to one of the worst.
Analysis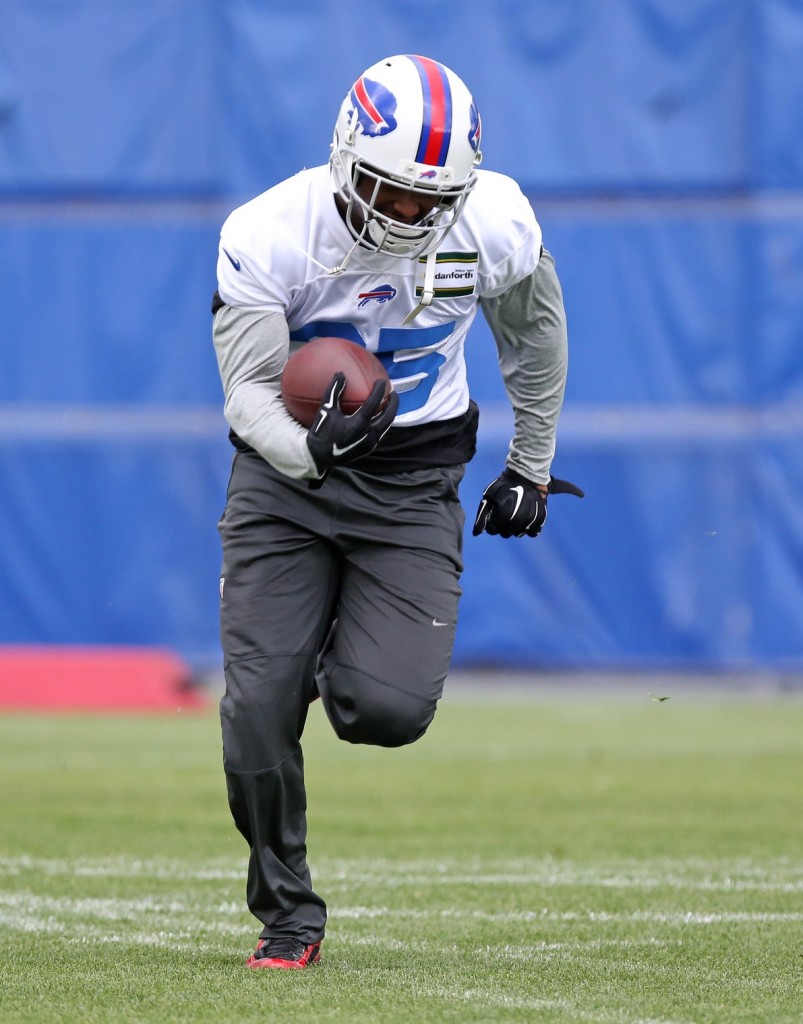 Last season McCoy finished the season as the twelfth running back in fantasy points, but check this out, he was third in the league in rushing yards. That left me scratching my head as well. He carried the ball 312 times for 1,319 yards and scored five rushing touchdowns. He actually had more carries for 20+ yards than he did in 2013 and a career high in touches inside the 20 yard line. Yet, that wasn't enough to get warrant selecting him first overall.
Where did it all go wrong for McCoy? This question actually has several answers to it. First, the snap count for McCoy went from 79 percent of the plays in 2013 to 65 percent of the plays in 2014. That's nearly a 15 percent drop in snap counts. The Eagles ran 74 more offensive plays in 2014 than they did in 2013, but McCoy's snap count was reduced by 97. The tempo that Chip Kelly's offense runs at often calls for substitutions because of how many plays they are running. This can create an issue as it may take players out of the groove or prevent them from getting in a zone. That could've very well been one of the issues involving McCoy's decline.
Another thing that stood out to me was the lack of targets that he received in the passing game. He was targeted just 37 times which was career low for him. Prior to last year, he hadn't been targeted fewer than 55 times. That's a significant drop in targets if you ask me.
After a subpar season he was traded to the Buffalo Bills and has dropped in many preseason rankings, including mine. However, he is still capable of at the top of his position. I went back and looked at an interesting comparison for McCoy. In 2010 LaDainian Tomlinson was signed by the Jets were Rex Ryan coached. He was coming off his worse season of his career and was already past his prime. In the season prior to changing teams, Tomlinson recorded the fewest amount of receptions of his NFL career. That quickly changes in his first season with the Jets. Not only did he receive the same amount of carries, but he also caught more passes. Rex Ryan has always been known to be a defensive minded coach and relies on game clock management. This equates to a strong run game, which will be led by yours truly, McCoy.
I wouldn't wager a hefty amount that he finishes first in fantasy points amongst running backs, but I do believe he will be involved in a higher percentage of the teams snap counts, as well as receive more targets in the passing game. The volume of carries should remain the same, so it all depends what he does with it. Whether you'd risk taking him first or not, the 2013 rushing leader will be back on the map this season and could be one of this year's steals!