WATCH: WHO'D I MISS ON? WEEK 6
---
I am mainly a cash-game player. Cash games refer to any contest in which roughly 50 percent of the field gets paid out, such as head-to-head, double ups or 50/50s. I try to get a certain volume of head-to-head action every week and then supplement that with other cash games if my head-to-heads don't get picked up.
Each week, I'll review my cash-game lineup in this space. Sometimes I'll lose, but hopefully, I'll win more often. Either way, I'll post it here and give you my thought process.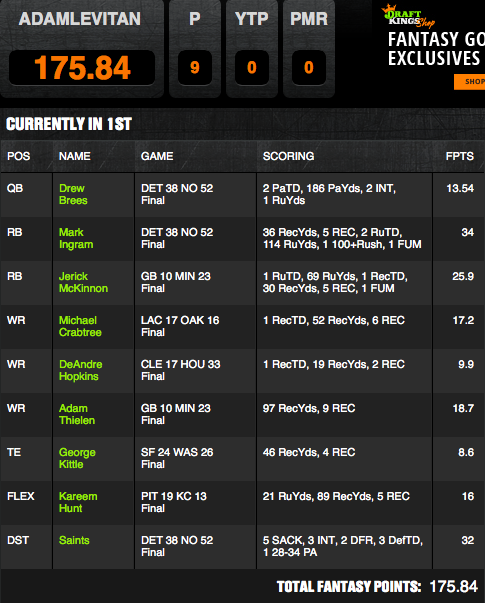 As I noted throughout last week, I thought this was a really fun slate to make lineups on DraftKings. We had a ton of quarterbacks in good situations and a bunch of options in the value range. By taking that easy value at running back, we set up the rest of our roster construction nicely.
MY

MUST PLAYS
As I noted in Leverage, this was a dream scenario for Mark Ingram. His role was rising, as evidenced by his share of Saints' RB carries going up every week this season. The Saints also just got rid of Adrian Peterson and his 7.2 touches per game, they were at home, they were coming off a bye and the Lions were without run-stuffing DT Haloti Ngata (biceps). I didn't think rostering Alvin Kamara was a mistake, but the carry floor for Ingram was so much higher. And Ingram is quietly an awesome pass-catcher in his own right. So for $4,400, this was a no-brainer.
If you watched the Vikings in Week 5 — their first game without Dalvin Cook — the running back situation was obvious. While Latavius Murray is technically the "starter" and "early-down back," their best back is Jerick McKinnon. Murray's ankle is not 100 percent and his pass-catching ability isn't good enough to fit with the Vikings' dump-off tendencies. So I expected McKinnon to be the featured back in a home game against a Packers defense that is susceptible to pass-catching running backs. At $4,100, this kind of fit in a full-PPR scoring system was another value we couldn't pass on.
When Stefon Diggs (groin) was questionable, Adam Thielen was a middling play. Once Diggs was ruled out, Thielen became really strong. When Packers CB Kevin King, CB Davon House and S Morgan Burnett were all ruled out, Thielen became a must. We knew he'd be a featured receiver in a very, very good matchup at just $6,000.
---
MY

WANT PLAYS
On a normal week, Drew Brees would have been a must-play for me. He has big home/road splits, he has a strong record coming out of a bye vs. normal week, he was getting LT Terron Armstead (shoulder) back and the Saints had really good line movement across the week. But we also could have considered Deshaun Watson and Kirk Cousins as "musts" given the situations they were in. I know some people played Kevin Hogan in cash, and I think that was a mistake due to the structure of the slate. Given all the good value we had at RB and

WR,

the cap was so loose that we didn't need a $4,600

QB.
I knew I was overpaying for DeAndre Hopkins at $8,100 after he was $6,400 just two weeks ago. But I wanted exposure to this Texans' offense in the nut matchup against the Browns. By playing Hopkins with Brees I got exposure to both pass games. The same strategy could have been applied by playing Deshaun Watson and Michael Thomas, but I felt way stronger about Hopkins' target share than Thomas'.
The Saints D/ST play didn't hit me until Sunday morning. But while tracking the morning news, I realized there was more concern around Matthew Stafford's (ankle) mobility than originally thought. He was also missing two members of his offensive line due to injury and had taken 14 sacks in his last three games. Stafford was also facing a Saints team quietly with some playmakers on defense such as DE Cam Jordan and CB Marshon Lattimore. This team has generated 56 QB hurries – more than the Broncos. So as they were playing at home and fresh off a bye, the spot was relatively ideal for a $2,700 unit.
This was a really bad week at tight end. I wanted to play Jordan Reed at a really low $5,000 tag, but then Thursday came, and he said he wasn't 100 percent. Beat writers were suggesting Reed still wouldn't be getting a full complement of snaps. So even though I easily could have found the cap space for Reed, I wasn't comfortable with his floor. I also couldn't comfortably get to Travis Kelce or Rob Gronkowski, so then I had to choose from some rough options. I settled on George Kittle, a truly unique athlete at the tight end position against a team that struggles to defend the position in a game I expected the 49ers to be trailing. I projected Kittle's ceiling far higher than someone like Zach Miller, who has no

YAC

appeal.
I thought it was really close between Kareem Hunt and Leonard Fournette. Getting up to Le'Veon Bell at $9,600 wasn't really an option for my lineup construction. I honestly couldn't decide between Hunt and Fournette, so I went with the one I thought would be more owned as a block play. It turned out I was right, as Hunt was 45.3 percent owned in the massive Single Entry $25 Double Up, while Fournette was 22.1 percent owned.
Some of my initial builds had Amari Cooper in them at an absurdly cheap $5,000 tag. But as I worked through red zone and overall target share data, it became clear that Michael Crabtree for just $800 more was the preferred option. I did think the spot was excellent overall for the Raiders' pass game as they got Derek Carr (back) for a game with the second-highest total on the week. I also considered Davante Adams over Crabtree at the same price point, but simply thought the Raiders would play better than the Packers in these specific matchups and game locations.
---
Week 6 Results
Mark Ingram and Jerick McKinnon stood out as excellent pass-catching running backs with big roles at extremely cheap prices. By starting there, we set up the rest of the roster construction nicely. It allowed us not to punt at quarterback while capitalizing on the plus situations in the mid-range at wideout. Obviously, the key differentiator in my lineup was the Saints D. If I had gotten nine points out of them, I would have been thrilled. To get 32 is unfathomable and extremely fortunate. But after some frustrating weeks on the wrong side of variance, it felt good to get a big week.
---
Year-To-Date Results
Week 1: 149.58 points, won 92.9 percent of head-to-heads. Click here for recap.
Week 2: 168.32 and 147.92 points, won 61.2 percent of combined head-to-heads. Click here for recap.
Week 3: 95.28 points, won 25.6 percent of head-to-heads. Click here for recap.
Week 4: 130.86 points, won 40.1 percent of head-to-heads. Click here for recap.
Week 5: 123.26 points, won 43.2 percent of head-to-heads. Click here for recap.
Week 6: 175.84 points, won 93.2 percent of head-to-heads.
---
I am a promoter at DraftKings and am also an avid fan and user (my username is adamlevitan) and may sometimes play on my personal account in the games that I offer advice on. Although I have expressed my personal view on the games and strategies above, they do not necessarily reflect the view(s) of DraftKings and I may also deploy different players and strategies than what I recommend above. I am not an employee of DraftKings and do not have access to any non-public information.