It wasn't the most thrilling weekend of NFL action during the Wild Card playoffs, but that didn't have much of an affect on the excitement in DraftKings tournaments. In any short slate, little plays can have massive consequences for DraftKings users since there's generally a lot of lineup overlap.
The exhilarating end to the weekend in the Cowboys' victory over the Lions was mirrored by some awesome finishes on DraftKings, particularly with the late Terrance Williams touchdown. All of the weekend's big winners rostered Williams, so that fourth-quarter score caused a lot of money to shift on DraftKings.
Let's take a look at the two most profitable lineups from Wild Card Weekend – both winners of six-figure prizes.
NFL Playoff Million: simplyjesse (181.76 points)
With a score of 181.76 points, simplyjesse turned $27 into $100,000 in the NFL Playoff Million. He did it with a nearly perfect lineup centered around a Roethlisberger/Brown/Miller stack.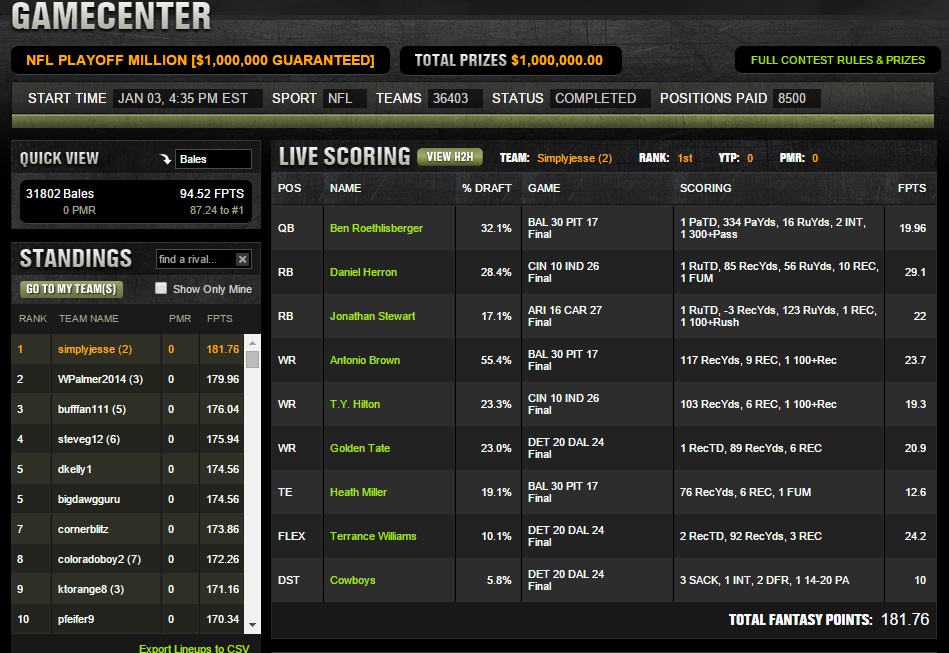 In a very low-scoring Wild Card weekend, simplyjesse had to hit on just about everyone to put up this kind of score. Antonio Brown was the most popular choice in the NFL Playoff Million in a ridiculous 55.4 percent of all lineups, but he ended up being simplyjesse's second-best receiver, behind Terrance Williams. The Cowboys' second-year receiver was the MVP of this lineup, posting 24.2 points despite costing just $3,400. Williams was in only 10.1 percent of all lineups.
The use of Williams allowed simplyjesse to go big at the other receiver spots, rostering Brown, T.Y. Hilton, and Golden Tate. Simplyjesse rode that four-receiver strategy to victory, as have so many other DraftKings winners in 2014.
Note that simplyjesse used this same lineup to take down the Flea Flicker, too, meaning he spent $39 and turned it into $125,000. Not a bad day at the office. Meanwhile, second-place finisher WPalmer2014 won the Hail Mary – good for a $20,000 payday on top of the $40,000 he won in the Playoff Million.
NFL $500K Wild Card Special: TonyDunstWPT (170.24 points)
Those who are familiar with the poker industry know the winner of this weekend's Wild Card Special – Tony Dunst. A player and commentator for the World Poker Tour, Dunst demolished the competition with nearly an eight-point victory in a field of over 1,700. In a weekend in which there was so much overlap, winning by such a margin is massive.
Like all of the big winners from this weekend, Dunst was on both Daniel Herron and Jonathan Stewart at running back. However, Dunst actually had a 'miss' in his lineup with Mohamed Sanu. Nearly half of the field rostered Sanu with A.J. Green out, but the Bengals' receiver managed just 31 yards on three catches. The fact that Sanu was so popular helped to dampen the blow from his poor outing.
Dunst was in a good spot following the Colts game on Sunday, but he still needed a big game from Williams to take control of the Wild Card Special. He got that, with Williams' late-game touchdown catch catapulting Dunst up the leaderboard. In a weekend in which very small changes in production result in huge swings in the standings, it really was a $100,000 catch. Williams was in even fewer lineups in the Wild Card Special (7.7 percent) than the Playoff Million.
Congrats to all of the big winners during Wild Card weekend. DraftKings will be crowning one final NFL millionaire this Sunday in the Millionaire Maker Encore, so don't miss your final shot to turn $100 into $1,000,000.