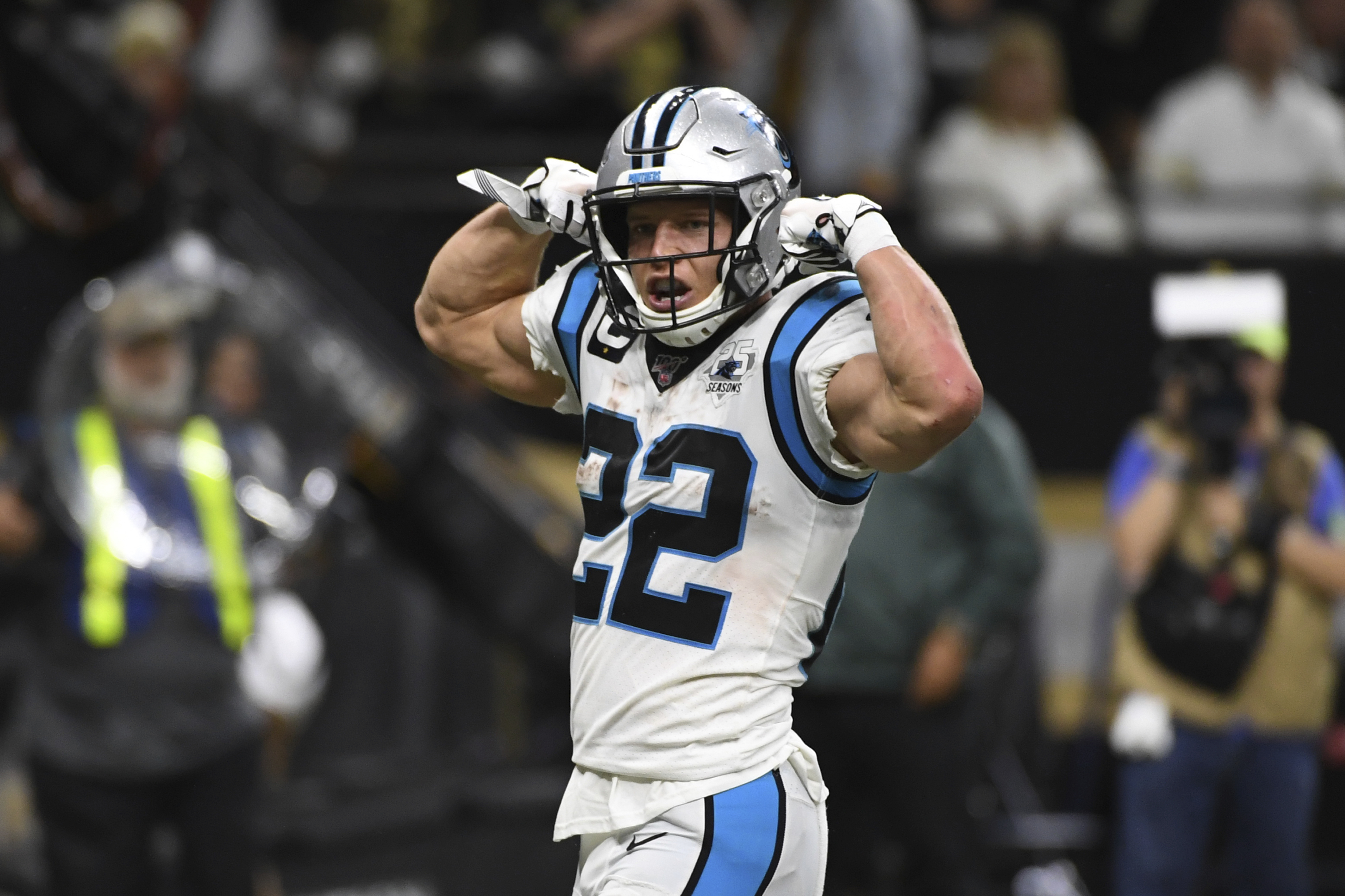 If you made fantasy football lineups during the 2019 season, there's a very good chance that McCaffrey landed in a few of those. If he didn't, you may want to go back to the drawing board and reassess what exactly makes a good fantasy player to roster. In this piece, we'll highlight just why exactly McCaffrey made for such a great play on a week-to-week basis (well, except for when he faced the Buccaneers) and some of the amazing accomplishments and feats he achieved during the season.
DRAFTKINGS FANTASY MVP
---
Highest scoring fantasy player
When the 2019
NFL
regular season wrapped up, McCaffrey had accomplished the feat of scoring the most fantasy points amongst
ALL
positions. His 495.2 topped all players, which included some really impressive names. Not only did McCaffrey have the most
DKFP
in the league, but he also did so by 52.82 points over QB Lamar Jackson, which is quite remarkable when you think about what Jackson was able to do with his legs. Third on the list was Saints receiver Michael Thomas, who had 404.6.
Amongst fellow running backs, no one even sniffed the type of fantasy points that McCaffrey put up. Packers running back Aaron Jones was second on the list with 334.8, which was 160.4 LESS than McCaffrey. Cowboys back Ezekiel Elliot was right in the range at 334.6, which was good for third amongst running backs and ninth overall. As you'd imagine, this total by McCaffrey was unprecedented, as it was the highest fantasy point total in DraftKings history.
When it came to lining the pockets of fantasy players, McCaffrey was involved in numerous high profile wins. DraftKings' signature Sunday contest, the Millionaire Maker, featured McCaffrey on the winning lineup on six separate occasions, one of which tied for first prize.
Below lists the weeks, his fantasy output and ownership in those games:
Week 1 vs. LAR: 45.9 DKFP 20.2%
Week 3 vs. ARI: 30.8 DKFP 22.2%
Week 5 vs. JAX: 50.7 DKFP 24.7%
Week 9 vs. TEN: 40.6 DKFP 24.5%
Week 11 vs. ATL: 33.1 DKFP 23.4%
Week 13 vs. WAS: 17.2 DKFP 40.8%
In these six weeks, McCaffrey combined for:
114 carries
717 rushing yards
40 receptions
376 receiving yards
9 total touchdowns
218.3 total DraftKings fantasy points (44% of his season total).
---
The Milly Maker wasn't the only spot that McCaffrey appeared in the clutch. His name was also in the top two Fantasy Football World Championship lineups, which won two users over a million dollars. In that week, which took place during Week 15 when the Panthers lost to the Seahawks, McCaffrey, who was priced in the $10K range for the seventh-straight week, scored 37.5 DKFP with 175 total yards on 19 carries and eight receptions with two rushing touchdowns. His ownership stood at 26.7%.
Amazingly enough, while McCaffrey posted some monster fantasy points on seemingly a weekly basis, he was NEVER the highest scoring player on a given week. Think about that for a moment. A player who scored the most fantasy points ever averaged 30.9 on the season and scored 40-plus DKFP on three separate occasions NEVER had the highest score on the week.
He came very close, as you'd expect. In Week 1, his 45.9 DKFP was surpassed by the one game per season that Sammy Watkins is productive, scoring 49.8 of his own. In Week 4, McCaffrey was the second-highest scoring running back at 33.9, trailing Nick Chubb who scored 42.3. Week 5 saw McCaffrey's 50.7 DKFP trail only Aaron Jones, who scored 52.2 against the Cowboys. Week 9 saw McCaffrey as the highest-scoring running back with 40.6 DKFP but it was an explosion game from Tyler Lockett that took the honors against the Buccaneers.
Truly, quite amazing to think that with all the big games he had, he never topped the leaderboard once during the season.
In all, the season McCaffrey posted will likely never be duplicated. When he wasn't setting new records on a fantasy level, he was doing so at the professional level. He became just the third player in history to join the 1,000/1,000 club for rushing and receiving yards. Only Roger Craig (1985) and Marshall Faulk (1999) are able to boast that type of production. McCaffrey is also the only running back to have two 100-catch seasons while also breaking his own record of 107 catches by a running back. Through three years in the NFL, McCaffrey currently sits with 5,443 scrimmage yards, putting him with the fifth most in league history.
---
I am a promoter at DraftKings and am also an avid fan and user (my username is steveazors) and may sometimes play on my personal account in the games that I offer advice on. Although I have expressed my personal view on the games and strategies above, they do not necessarily reflect the view(s) of DraftKings and I may also deploy different players and strategies than what I recommend above. I am not an employee of DraftKings and do not have access to any non-public information.