Well, it didn't take long for our first upset of the season. Despite playing at home, the Broncos were facing strong competition with an inexperienced QB and still got the job done — much thanks to C.J. Anderson.
Here are five more potential Week 1 upsets we could see on Sunday afternoon, along with a fantasy player (or three) that could come up big for each underdog.
5. Jacksonville Jaguars vs. Green Bay Packers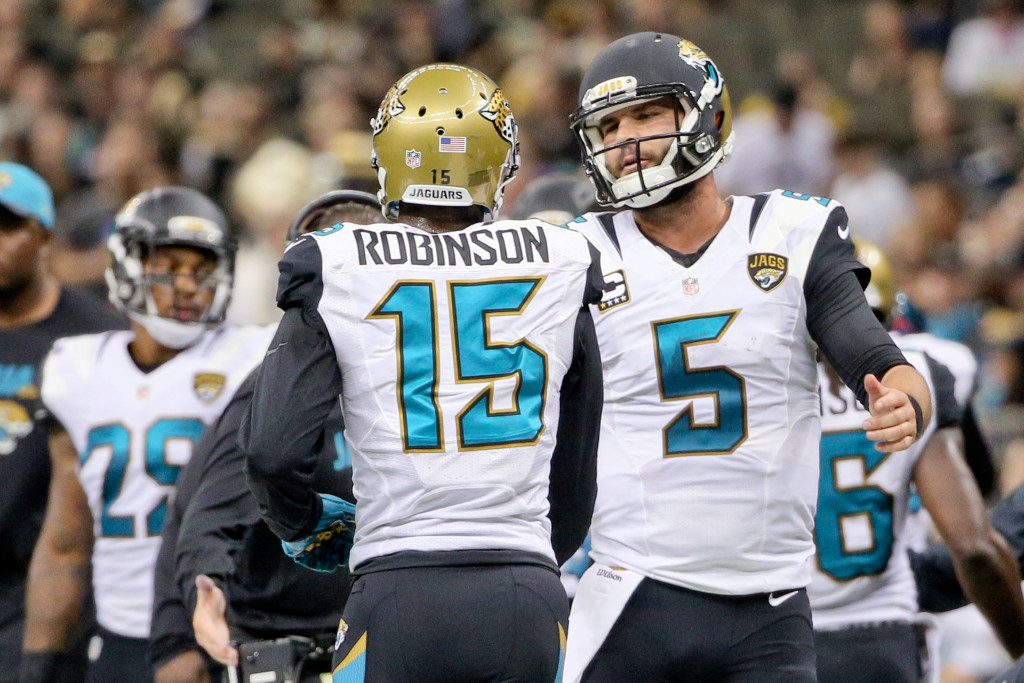 There's been a lot of hype surrounding the Jags this offseason and there's no better way to confirm it than by taking down Aaron Rodgers and co. to begin the season on their home turf. JAX killed itself with turnovers last season, so protecting the ball will be huge in this one. The Jags will be unveiling their new and improved defense, and it sounds crazy, but they have a better shot of at least slowing Rodgers down than they're getting credit for.
Blake Bortles ($7,200) and Allen Robinson ($8,300) will have to get the job done if JAX is going to squeeze out a win, but the real damage might have to come on the ground. The Packers had the sixth-best pass defense in the NFL last season, but ranked near the bottom in both rushing yards and touchdowns allowed. Watch out for Chris Ivory ($4,300) to make a strong debut for his new team (assuming he plays), and even pound in a couple of touchdowns down by the goal line. Ivory is questionable, although he's expected to play, and T.J. Yeldon ($4,100) will likely see plenty of work.
---
4. Cleveland Browns @ Philadelphia Eagles
I've been on the Browns' offense train all preseason and I'm not hopping off now. Despite being on the road in hostile Philly, Cleveland will be facing a rookie QB and one of the worst defenses in the league (PHI was 28th in passing yards allowed and dead last in rushing yards). RGIII ($5,600) might not be quite as dynamic as he was his rookie year, but he's looked mobile and accurate through preseason.
Sans Josh Gordon, I still feel Cleveland will shred Philly though the air. This means RGIII is obviously in for a big day, but don't sleep on Terrelle Pryor ($3,000). I'm a huge fan of Corey Coleman ($5,100), and Gary Barnidge ($4,700) has had chemistry with Griffin. But Pryor can be had for the bare minimum and should could contribute in torching the Eagles — he was on the receiving end of some bombs from RGIII during the preseason.
---
3. San Diego Chargers @ Kansas City Chiefs
Winning at Arrowhead Stadium is no small task, especially when the Chiefs have one of the best defenses in the NFL. The Chargers are just one of those teams that historically get off to a hot start before struggling down the stretch. I'll admit this is probably the biggest reach for a Week 1 upset, but Philip Rivers ($7,000) always gives SD a chance. Keenan Allen ($8,000) is back, Rivers has a new weapon in Travis Benjamin ($4,100) and even Melvin Gordon ($4,600) followed up a disappointing rookie year with a strong preseason.
Given KC's struggles on offense (and Jamaal Charles likely out), the Chargers could grind this one out with some balance on offense. That balance is going to need to come from Danny Woodhead ($5,000). Despite being listed behind Gordon on the depth chart, Woodhead's versatility should keep him on the field more in this game. Look for him to mix in some carries, but be even more of a threat as a pass catcher. Because of his size, it's also easy to forget that Woodhead is a major factor for SD down in the red zone.
---
2. Tampa Bay Buccaneers @ Atlanta Falcons
People tend to sleep on what's actually a pretty decent Falcons' defense, so this won't be an easy task for Jameis Winston ($6,600) and the Bucs. Tampa has the tools to actually contend for a spot in the postseason this year, so I'm projecting more of a step forward here than any kind of disappointing performance from Atlanta. In fact, Julio Jones ($9,400) is my favorite player on the slate.
But Winston has the potential to really breakout this season, and I think he shows why right out of the gate with a monster game. 250+ yards and a pair of touchdowns sounds reasonable, and he could add another one on the ground. Pairing Winston with Mike Evans ($7,400) will be extremely popular, but Vincent Jackson ($4,400) should still have a significant role on offense. I think Winston will be a primetime performer with Jackson being the biggest beneficiary in Week 1.
---
1. Detroit Lions @ Indianapolis Colts
I like Indy to bounce back and win its division this season, but they're in a really tough spot to start the season. The Colts have only four healthy cornerbacks — just one who's been with the team since before Week 2 of the preseason. Vontae Davis is out and it looks like Darius Butler will be joining him, which means two players that were in street clothes a week ago will be out there trying to slow down Matthew Stafford ($7,200). To make matters worse, Indy's top defensive end, Henry Anderson, should be out as well.
The analysis here is obvious … Stafford should have time to sit back and pick apart a very vulnerable secondary. I plan on rostering Stafford more than any other QB on the slate and will certainly have him paired with different combinations of Golden Tate ($7,300), Marvin Jones Jr. ($4,600) and even Anquan Boldin ($4,500).
---
Find me on Twitter @julianedlow
---
I am a promoter at DraftKings and am also an avid fan and user (my username is jedlow) and may sometimes play on my personal account in the games that I offer advice on. Although I have expressed my personal view on the games and strategies above, they do not necessarily reflect the view(s) of DraftKings and I may also deploy different players and strategies than what I recommend above.