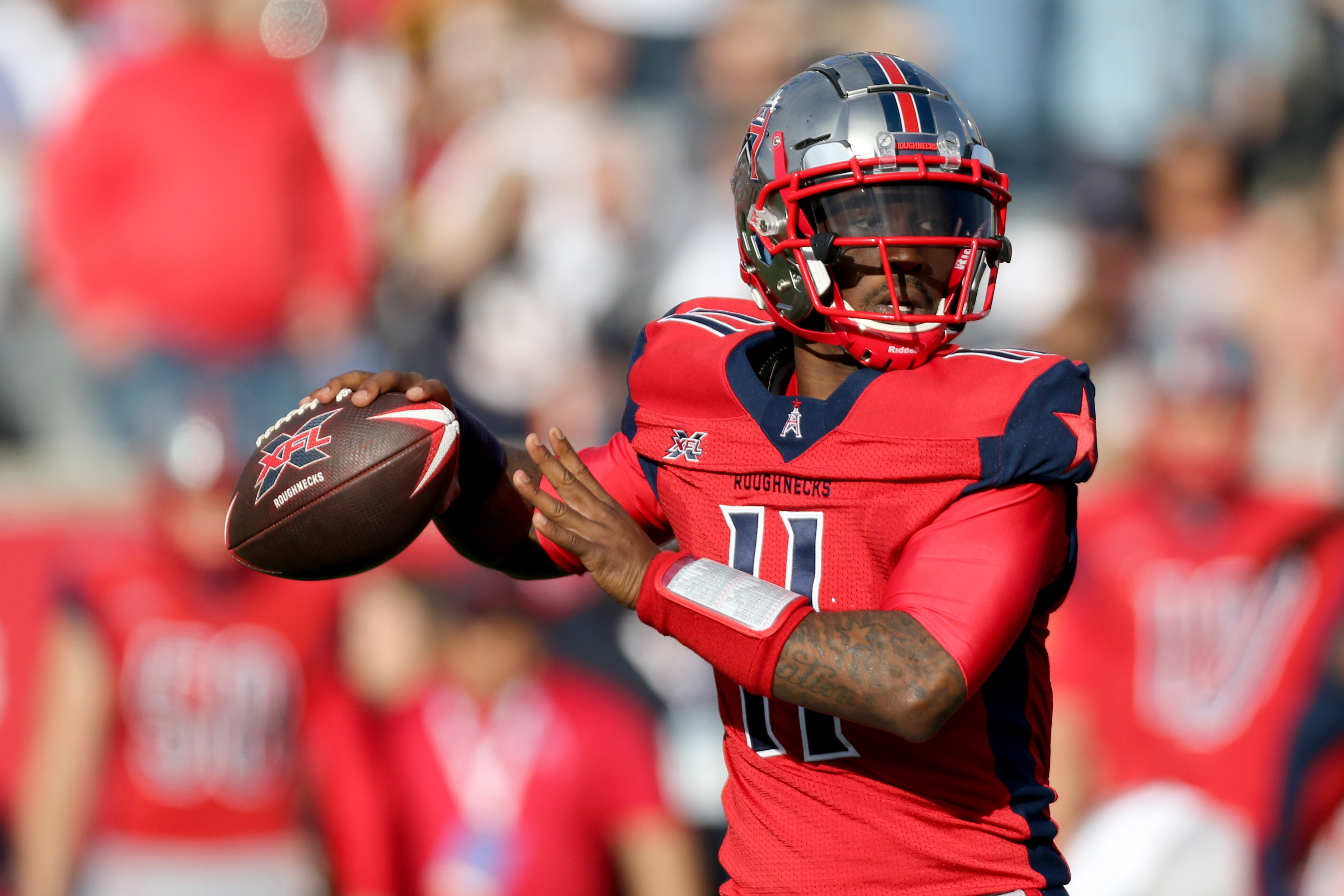 It was a bit of a tough week in Week 2, as the picks went 2-3. Betting on the Vipers was objectively bad, but I liked the process on most of the picks. Dallas and the Wildcats missed the over by just one score after an awesome fourth quarter, and one has to think that had they not turned the ball over three different times in or near the red-zone, that we would have covered that fairly easily. The Battlehawks also managed to score on their final drive to lose us that cover. Sports betting is often a game won and lost on the margins, and we felt it in Week 2. Here are the Week 3 picks, as we look to bounce back.
LEVITAN'S LEVERAGE
---
All odds provided by DraftKings Sportsbook and all odds subject to change.
---
XFL

Week 3
Houston Roughnecks -6.5 at Tampa Bay Vipers (-110)
There is a lot that we still have to figure out this
XFL
season, but two things that appear to be absolutely true:
The Roughnecks are one of the top-two teams in the league
The Vipers are one of the worst teams in the league
Houston has featured the most exciting offense in the
XFL,
led by
MVP
-favorite
P.J.
Walker. June Jones has this machine firing on all cylinders. Meanwhile, the Vipers have yet to score an offensive touchdown and appear poised for a mutiny against head coach Marc Trestman.
I spoke to a number of Vipers players today regarding team morale-

I think it's safe to say that many in the locker room have lost some faith in HC Marc Trestman, with 1 player saying-

"He's too f— stubborn to change. S—, just admit defeat & change. He's gonna get my a— cut."

— Danny Jones –

XFL

News (@DannyJonesXFL) February 19, 2020
Betting against a broken team and a broken locker room likely has profit potential. Aaron Murray also still has not resumed practicing with his foot injury, and he will be out. This is a lot of points to lay for a road team, but the talent, coaching, and overall performance discrepancy here has me struggling to stay away.
---
New York Guardians +10 at St. Louis Battlehawks (-110)
The Guardians are coming off of an absolute disaster of a performance, but just how bad of a team are they? New York dominated the woeful Vipers in Week 1, and the Defenders are right up there with Houston as a top team in the
XFL.
The Guardians likely fall somewhere in the middle as an average football team, and we should not judge them off of their absolute worst performance against a great team. The Battlehawks have played well, beating the pre-season favorite in Week 1 without their starting
QB,
and earning a late cover against Houston last week. I do not believe these teams are 10 points apart, especially with how run-heavy the Battlehawks are. If they have a lead, it is likely they will struggle to expand upon it by exclusively running the football.
---
LA Wildcats +8.5 vs. DC Defenders (-110)
As mentioned, the Defenders have had a great year so far, and dominated last week. On the other side of the coin, the Wildcats struggled against Dallas for much of the game, coming alive late offensively, but giving up a lot on the ground defensively in a loss. However, the Wildcats have a couple of things going for them here:
Josh Johnson
Turnovers
Health
Another week of preparation for Johnson will be key, as he played well but appeared rusty against the Renegades in Week 2. This makes sense since he had barely spent any time practicing. The Wildcats also turned the ball over twice in the red zone last week, both Elijah Hood fumbles. These turnovers in high-leverage situations likely skew greatly public perception of the Wildcats.
Health is the major question mark surrounding the team, as they had various key players miss Week 2 with injuries. It appears most of these players are now at least practicing in a limited fashion, and we will know more about their availability Friday night. If the starters, particularly on defense, can return to the field, it should make them a lot tougher to beat by multiple scores.
---
Roughnecks and Vipers
UNDER

44.5 (-110)

Through two weeks, the under has gone 6-2 in

XFL

contests, with the only two overs coming in games involving the Roughnecks. I think that trend changes this week. As mentioned previously, while Houston has a high-flying offense, the Vipers have yet to score an offensive touchdown this season. While Murray is out, I would expect the team to remain as run-heavy as possible, which is unlikely to result in a ton of points. That makes this a tough number to cover the over on.
---
Dallas Renegades and Seattle Dragons
OVER

43 (-110)

This game features two teams that I believe are pretty frisky on offense. Dallas got off to a slow start last week, but it seemed to come together in the second half. These kinds of issues are to be expected when Landry Jones has missed such a significant time with injury. Meanwhile, Brandon Silvers has managed to lead a solid offensive attack for the Dragons. They scored 19 points against DC in Week 1, which now looks very impressive considering how good they have been on defense. The totals around the league have come down dramatically with all of the unders that have hit, and this is one spot to take advantage of that.
---
Put your knowledge to the test. Sign up for DraftKings and experience the game inside the game.
---
Weekly Results
Week 1:
2-2
Week 2:
2-3
Gambling problem? Call 1-800-GAMBLER (NJ/WV/PA) or 1-800-9-WITH-IT (IN) or 1-800-522-4700 (NH).
NH/NJ/WV/IN/PA only. 21+ (18+ NH). Eligibility Restrictions Apply. See website for details.