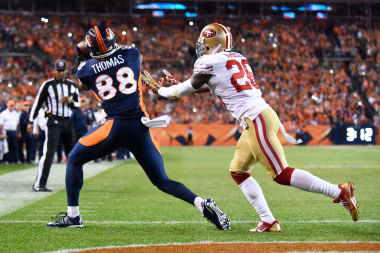 The annoying thing about daily fantasy football is all the second-guessing. Hindsight is 20/20 and all that, but the problem is, you know this stuff. And before you settled on your final lineup for the weekend, you considered a whole bunch of different players, some more seriously than others. And since you know what you're doing, inevitably, a few of those players you seriously considered blew up on Sunday… but whether or not they actually ended up in your lineup is another story.
There were a couple of guys who helped out daily fantasy lineups more than any others this past weekend. So, let's just assume you had them both, because it's more fun that way. You came into the weekend sure of it, saying, "if there are any two guys I absolutely must have in my lineup this weekend, it is Russell Wilson and Demaryius Thomas." You know, because you're super smart. So those two guys got you 83.22 points, and cost you a total of $14,800. You've now got $35,200 left over. Let's take a look at a few of the guys you considered, and why you might have gone in a different direction (and I hope the answer is not "I'm an idiot, I never should have started messing with my lineup 20 minutes before gametime"):
Lamar Miller ($5,300, 16.3 points scored):
Why You Considered Him: With the injury to Moreno, he's got the job to himself, and he has looked really good so far this year.
Why You Chose Someone Else: Even with Moreno out, he was not getting more than 15 or so touches a game at the top end, and plus, it's the Dolphins. It's hard to have a lot of confidence anyone on this team is going to produce week in and week out.
Going Forward: Start trusting him. And do it before his price tag gets so high you're deciding between him and Giovanni Bernard, not him and Ahmad Bradshaw. Even with only 12-15 touches, he is consistently over 15 fantasy points, which only speaks to his explosiveness.
Golden Tate ($5,900, 34.4 points scored):
Why You Considered Him: He was awesome last week, New Orleans has a sieve for a secondary, and Megatron was still out injured.
Why You Chose Someone Else: He's been around for years now, and we've never seen him string together monster games like this back-to-back. We just couldn't believe that a guy who's relegated to a second-tier status when Calvin is on the field could be a consistent performer with him gone. Last week must have been a fluke.
Going Forward: How long is Megatron out? Start him every week until then. Then stop (at least until his price drops again).
Sammy Watkins ($4,800, 36.2 points scored):
Why You Considered Him: First-round stud, total athletic package, playing at home against a crappy Vikings team. Kyle Orton is better than E.J. Manuel. Targets have been steadily rising.
Why You Chose Someone Else: He's a rookie. Rookies are unreliable, especially with Kyle Orton as their quarterback. He didn't do anything against the Pats last week. I need to see him prove it.
Going Forward: Yes, he's a rookie. A rookie with three bad games, three good games, and two great games so far in his career. He's cheap, for a while still, and he is capable of dropping a number that rivals the big boys, which you don't normally find at this level. When the matchup is right, he has got to be on your radar at this point.
Odell Beckham, Jr. ($3,800, 20.7 points scored):
Why You Considered Him: Because none of the analysts you listen to or read would shut up about him all week long. Cruz was hurt, this rookie was the next big thing. The Giants offense looks improved. And you know, coming into the draft, some people though he was as talented as Watkins.
Why You Chose Someone Else: Rookie. Eli. Never shown you it before.
Going Forward: The Giants passing attack is not the same one you've been seeing for the past ten years. They are getting the ball out of Eli's hands faster than ever before, and that could be a boon for a player like Beckham, as long as he can get open at the line. This week, at least, it looked like he could, so again, when the matchup is right, go for it. Do not, however, let this week fool you into thinking he's going to be a regular touchdown-producer. He won't.
Doug Baldwin ($3,300, 28.3 points scored):
Why You Considered Him: You thought the Seahawks would beat up on the Rams, and with Harvin gone, who else would he throw to?
Why You Chose Someone Else: Why should it matter that Harvin was gone? It's not like he ever got any targets anyway. And yes, the Rams were going to get beat so bad, but Seahawks might not even have to throw. I'm just gonna draft Beastmode.
Going Forward: He's their #1 option, and their defense is not what it was last year, which might force them to try to put up points. But they spread the ball around a ton, and, honestly, Harvin really wasn't eating up a ton of targets. Baldwin remains a tough call – he'll have some big games, but it will not be easy to figure out when they're coming.
Ronnie Hillman ($4,800, 26.3 point scored):
Why You Considered Him: Why not? Starting RB, relatively cheap.
Why You Chose Someone Else: The 49ers are good, and there are so many choices. Someone else might be able to do just a little bit more.
Going Forward: Running backs who get a lot of touches in a Peyton Manning-led offense are match-up proof. Other teams simply cannot focus on the running game, and Hillman is chewing up yardage in big chunks. He might not have the upside of some of the most expensive guys, but at least until Ball is back (and maybe even afterwards), Hillman is a reliable option who will continuously help you win contests.
Owen Daniels ($3,400)/ Dwayne Allen ($3,700):
Why You Considered Them: TE's are annoying, so you were trying to save some money, and you knew these both each could be good. Well, they could catch a TD anyway.
Why You Chose Someone Else: TE's are annoying, and there was some other cheap option who caught your eye first.
Going Forward: TE's will continue to be annoying. Good luck.