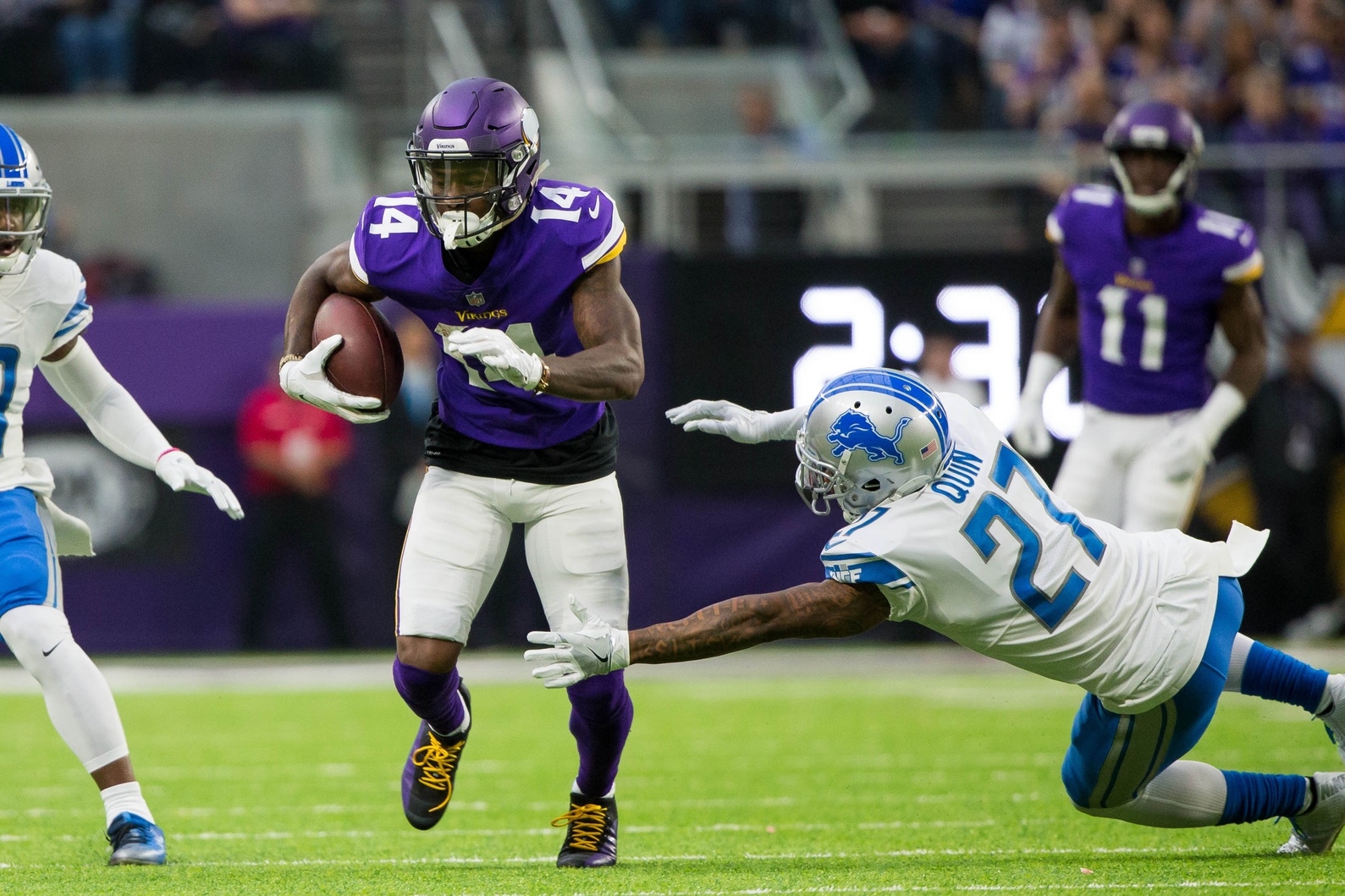 The Vikings narrowly missed the playoffs in 2018 – they held the last NFC Wild Card slot entering the final afternoon of Week 17, and needed either a win or an Eagles loss to extend their season. Neither occurred, and three hours later, their 8-7-1 season was over. They finished the season in the bottom half of the league in scoring and yards gained, and they ranked third-worst in rushing yards. Furthermore, despite arguably the best WR duo in the league – Stefon Diggs and Adam Thielen – they finished just 13th in passing yards. Yet, despite last season's many disappointments, the Vikings could ooze with fantasy value in 2019. They operated one of the most pass-happy offenses in the NFL in 2018, and Dalvin Cook is one of the most electric backs in the league when healthy. They also brought in Gary Kubiak as an "offensive adviser," and while that will likely lead to fewer pass attempts, it should help the offense's overall effectiveness.
---
Team Preview
---
Key Departures:
Latavius Murray, RB
Key Acquisitions:
Alexander Mattison,
RB,
Irv Smith Jr.,
TE,
Ameer Abdullah, RB (mid-season 2018 signing)
---
2019 Fantasy
MVP
Adam Thielen, WR
Thielen finished 2018 seventh among WRs in
PPR
fantasy points. Among the players above him, one (Tyreek Hill) might face an extended suspension, while another (Antonio Brown) will now play with a worse
QB,
a worse offensive line and an arguably worse coach. Thielen led the
NFL
in receiving yards for much of the season and finished eighth. One of the Vikings' offseason priorities was to improve their offensive line, which Pro Football Focus ranked 29th in 2018. Poor line play contributed to more short passes, less time in the pocket and the lowest yards per attempt of Kirk Cousins' career. Assuming those efforts pay off, the Vikings passing game could easily match or exceed their 2018 yardage totals, even if the offense becomes a bit more run-heavy.
---
2019 Fantasy
LVP
Irv Smith Jr., TE
Smith Jr. might be worth a look in dynasty leagues, but he should be mostly ignored in any other setting as long as Kyle Rudolph is healthy. Rudolph, by the way, has logged 16 games in four straight seasons. Smith was a second-round pick in the 2019 draft, and one of the headline names in a draft acclaimed for its TE depth. Yet, for short-term fantasy purposes, there weren't many worse landing spots possible. Not only are rookie TEs are notoriously unproductive, and not only did he land behind a pro-bowl
TE,
but with Diggs, Thielen and Cook around, Smith's ceiling is becoming the Vikings' fifth-most relevant receiving target.
If you think my picking Smith for this section feels like a cop-out, understand that it is because I am very optimistic about all of the more noteworthy Vikings skill players. I believe that Kirk Cousins, Diggs, Thielen, Cook, Rudolph and Mattison are all set up to have good-to-great fantasy seasons.
---
2019 Breakout Player
Alexander Mattison, RB
There's no avoiding it: Cook has health concerns. He's exceptional when healthy, but he's played just 15 games combined over his first two seasons. With Latavius Murray now in New Orleans, the Vikings have an opening at backup
RB.
Mattison, a 2019 third-round pick, played a bellcow role in college, with 212 and 302 carries in his last two seasons. He also averaged almost exactly two catches a game in both seasons, helping him to stay on the field in obvious passing situations. Assuming the team's hiring of Kubiak as an "offensive adviser" means a bit more focus on the run game, Cook's backup is likely to see increased work on a week-to-week basis in an effort to keep Cook healthy – in addition to the massive workload inherited anytime Cook is injured. Mattison will have some competition for the backup role, including from Ameer Abdullah. It may seem like decades have passed since the preseason Abdullah hype train convinced legions that he was a sure-fire top-20
RB,
but Abdullah is only 26 years old. Nonetheless, Abdullah managed zero carries and just one reception in seven games as a Viking in 2018, so he's probably not that much of a threat to Mattison for the coveted backup role. Finally, as the heaviest Vikings' back by roughly 15 pounds, Mattison will be a constant threat to vulture red zone carries.
---
Final Thoughts:
Though the Vikings offensive personnel is barely changed from 2018, optimism abounds. They have new offensive coaches, they invested in the offensive line and they still have a completely loaded cadre of skill position players. According to opponents' 2018 record, they'll have a harder-than-average strength of schedule and they are likely to face many tough defenses by virtue of being in the
NFC
North and playing the entire
AFC
West this season. Though, unlike their division rivals, at least they don't have to face their own defense twice. Another unusual schedule nuance – the Vikings have a good chance of avoiding harsh weather this season. The Vikings' home games are played in a dome, and their trips to Green Bay, Chicago and New York are all finished by the first week of October. Other road trips include Kansas City the first weekend of November, Los Angeles in mid-December and visits to a couple of domes. If they're ever going to play in snow or biting cold, Seattle on Dec. 2 might be their only chance. Finally, one important stat to monitor: the Vikings had one of the most lopsided red-zone play-calling distribution in the league, rushing only 38% of the time. If that moves closer to even, then either the offense as a whole needs to produce a lot more touchdowns, or Cousins, Diggs and Thielen will suffer.
---
Put your knowledge to the test. Sign up for DraftKings and experience the game inside the game.
---
I am a promoter at DraftKings and am also an avid fan and user (my username is arikleen) and may sometimes play on my personal account in the games that I offer advice on. Although I have expressed my personal view on the games and strategies above, they do not necessarily reflect the view(s) of DraftKings and I may also deploy different players and strategies than what I recommend above. I am not an employee of DraftKings and do not have access to any non-public information.