When an offense appears poised for a massive improvement, usually those increased expectations are because of talent upgrades across multiple offensive positions. Not so for the 2019 Packers, who will roll out a nearly identical offensive in terms of personnel. The only semi-meaningful skill position changes are two rookies – they drafted a TE in the third and an RB in the sixth – and the release of long-past-his-prime Randall Cobb.
So why the optimism for a 6-9-1 team that's missed the playoffs in back-to-back years? The Packers finally fired coach Mike McCarthy and improved health for Aaron Rodgers. Incoming first-time head coach Matt LaFleur was the offensive coordinator for the underwhelming Titans offense last season, but his history before that is strong and he's unlikely to be a downgrade from McCarthy. Rodgers was hurt all of last season, playing through a sprained MCL and a fractured bone in his leg.
Even with Rodgers hurt and feuding with McCarthy, the Packers offense still finished 12th in yards and 14th in scoring. Expect both of those to improve in 2019.
---
Team Preview
---
Key Departures:
Mike McCarthy, coach; Randall Cobb, WR; Clay Matthews, LB
Key Acquisitions:
Matt LaFleur, coach; Jace Sternberger, TE; Dexter Williams, RB
---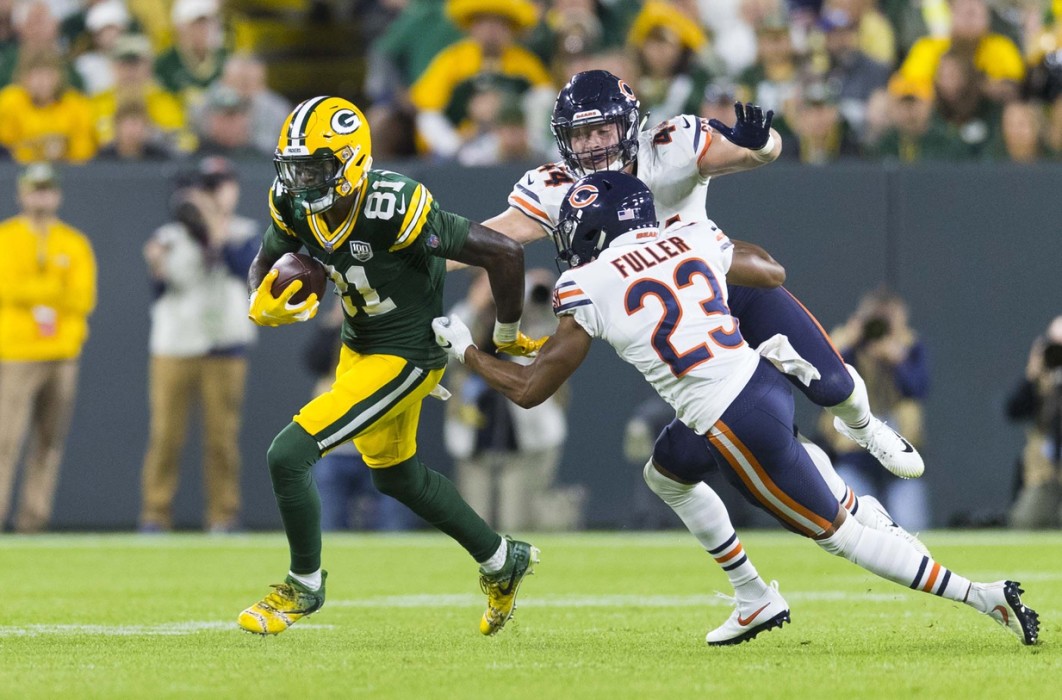 2019 Fantasy
MVP
Geronimo Allison, WR
The No. 2 WR on an Aaron Rodgers offense is often a highly lucrative position. For a number of reasons – injuries, coaching, starting the season with an ambiguous depth chart – no clear No. 2 emerged in 2018. Before that, however, the secondary WR averaged 233.5 fantasy points (PPR) in each of Rodgers' last five full seasons. That total would have been good for 15th among all WRs in 2018, one spot ahead of Odell Beckham Jr. Marquez Valdes-Scantling finished as the Packers' second-most productive WR last season, but that's mostly because he was the only one who managed to stay healthy – he averaged just 2.4 catches for 36.3 yards per game. Allison only played four full games, but he averaged 4.8 catches for 72.2 yards. Allison scored as many TDs in those four games as Valdes-Scantling did through all 16. It's still not completely clear who will be that secondary target behind Davante Adams, but whoever takes the job is probably in line for a massive breakout season. Allison was more productive when he played, and early reports indicate he has already secured the role of primary slot receiver.
Aaron Rodgers' No. 2 WR
Year Targets Catches Yards TDs PPR Points
2017 – Rodgers only played 7 games
2016 – 121 75 997 12 246.7
2015 – 99 50 890 8 187
2014 – 121 91 1287 12 291.7
2013 – Rodgers only played 9 games
2012 – 98 64 784 14 226.4
2011 – 101 67 949 9 215.9
5-yr avg: 108 69.4 981.4 11 233.54
---
2019 Fantasy
LVP
Jimmy Graham, TE
Let's be frank. Graham has been getting by on his reputation for years, but that reputation is now woefully out of date. He's mostly been a replacement-level TE since he left the Saints following the 2014 season. His 2016 was pretty good, though his season-long totals are a little inflated by a few giant games early in the season against bad defenses, and he tapered off late. He scored a lot of TDs in 2017, but that was mostly because of the Seahawks' unusual play-calling – he saw 14 targets inside the five-yard line that season, doubling his previous career high. Compare that to Rob Gronkowski, who never saw more than nine from that close to the goal line. Rodgers has never had a TE top 61 catches or 767 yards in a season. Because of his name value, Graham will be over-drafted in traditional leagues. Meanwhile, he's likely to be a little overpriced on DraftKings, especially at the start of the season, due to his career success and misleadingly high production totals in 2016 and 2017.
---
2019 Breakout Player
Jake Kumerow, WR
Allison, as discussed above, is the Packer most likely to take a giant leap in 2019. But he's already on most fantasy radars (and we just covered him). Kumerow will probably only impact deep season-long leagues or a cost-saving
DFS
punt play, but casual fantasy players are likely to learn his name as the season goes on. Kumerow is a little buried on the Packers' depth chart, but anytime a microphone is in range Rodgers keeps raving about him. His average depth of target last season was a respectable 10.4, and he'll keep earning playing time with his strong work ethic and impressive 73% catch rate. If someone gets hurt, or if the team's opinion of Equanimeous St. Brown keeps falling, Kumerow could earn a consistent role.
---
Final Thoughts:
Considering all that went wrong last season – Rodgers' playing through injuries, his open feuding with McCarthy, long-term injuries to several RBs and WRs – it's actually surprising that the Packers' offense managed to remain above-average. That simply underscores how potent this offense can be, and as we all know by now, fantasy players put up better stats when they're attached to good offenses. It's hard to predict strength of schedule during the offseason, but the Packers play in the tough
NFC
North and have to face a deceptively strong
AFC
West, so they're likely to see a lot of tough defenses. They made major investments in defensive personnel over the offseason, so even with the loss of Clay Matthews, they are likely to improve on that side of the ball. An improved defense could mean better field position for the potent offense, and it should mean more carries for Aaron Jones.
---
Put your knowledge to the test. Sign up for DraftKings and experience the game inside the game.
---
I am a promoter at DraftKings and am also an avid fan and user (my username is arikleen) and may sometimes play on my personal account in the games that I offer advice on. Although I have expressed my personal view on the games and strategies above, they do not necessarily reflect the view(s) of DraftKings and I may also deploy different players and strategies than what I recommend above. I am not an employee of DraftKings and do not have access to any non-public information.