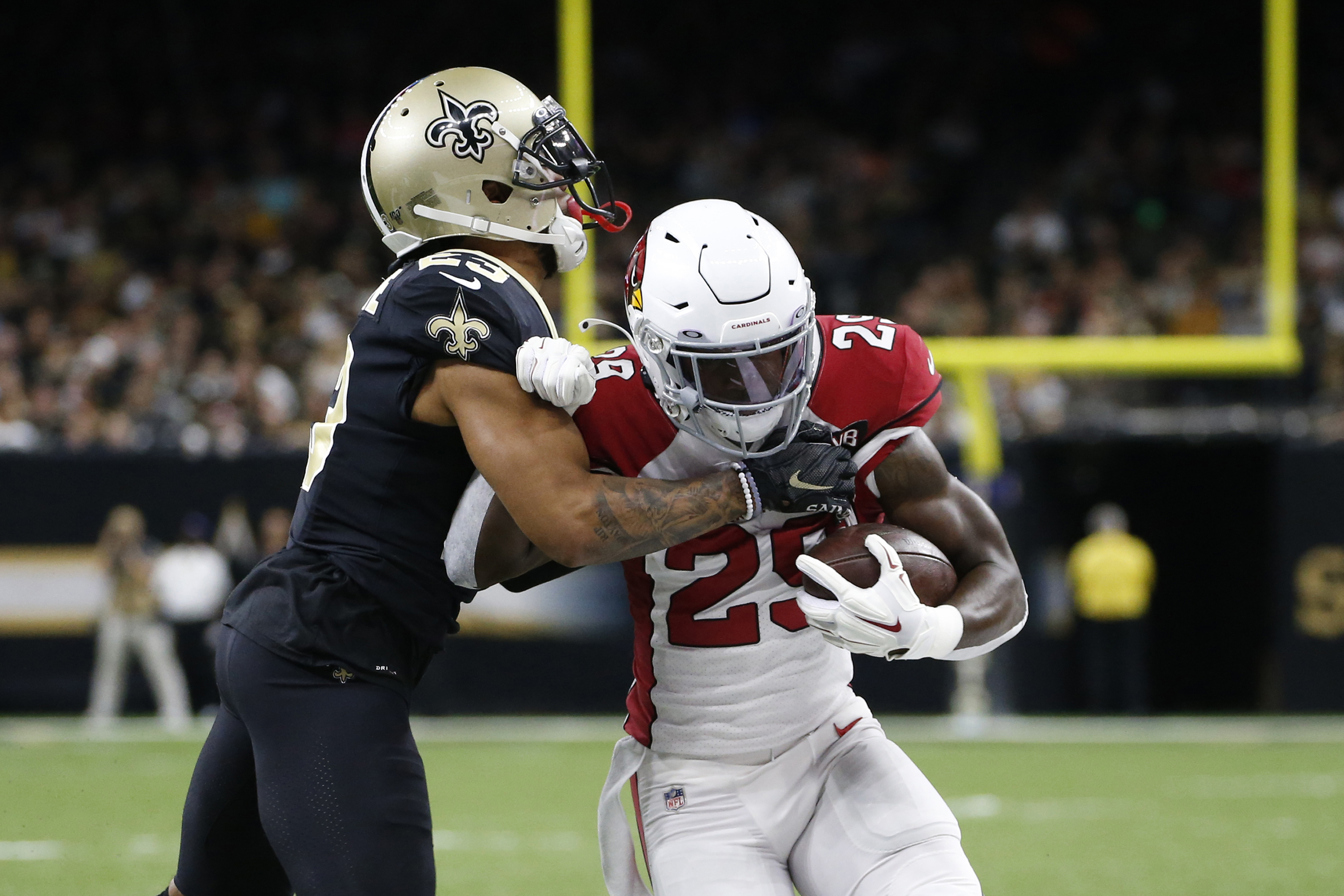 Twitter interaction is what makes this article what it is. So in a way, it's nice when I'm not getting a ton of responses because maybe that means everyone did well? Maybe that means you trusted the process and it all worked out? Or maybe you did so bad you can't take public shame on top of the misery you created for yourself. Either way, Week 8 Regrets is happening and you're going to read about it.
Missing out on Mike Evans ($6,600) 45.8
DKFP
Sometimes, we don't necessarily regret playing a particular player. Instead, we regret NOT playing that player, and that's what I'm sensing here in Week 8. Evans blew up for another huge game after doing so against the Giants back in Week 3. Today, Evans caught 11-of-12 targets for 198 yards and two touchdowns, giving him his slate-high 45.8 DKFP. He still couldn't top his prior 48 DKFP against the Giants, but truly, no one is complaining here if you rostered him. If you instead went with Chris Godwin ($7,100), he managed to score 35.5 fewer points than Evans. I'm not the best at math, but I can figure out that's not great.
So how exactly did people land on Evans? Well, at least for me, it was the "coverage" he would be getting from Malcolm Butler. Prior to this game, Butler has been targeted against 44 times, allowing 29 receptions for 375 yards (105 YAC) and three touchdowns. While I don't have the numbers for what Evans did against him today, I have a funny feeling the yardage allowed by Butler will be over 400 yards (again, just math here). Evans ended the slate not only as the highest scoring receiver but the highest scoring player overall. Tevin Coleman ($5,000), who scored four times, was second at 40.8.
---
Chase Edmonds ($6,200) 3.3
DKFP
Chase Edmonds, Jamison Crowder

— Harper's Health (@healthyisharper) October 27, 2019
So I don't usually throw in guys who left the game with an injury, but let's be honest, Edmonds wasn't doing ANYTHING before he was injured. After making everyone angry last week with his 38-DKFP performance and decimating the shares people had with David Johnson, Edmonds returned the favor. Carrying the ball seven times, Edmonds fought hard for his eight yards and powered his way for an additional five yards on his two catches.
To be fair, this really wasn't a great matchup for Edmonds against a solid Saints run defense. Since Week 2, the Saints haven't allowed more than 73 rushing yards and have allowed just 24 (that's correct) between the Bears and Cardinals. I get the appeal with Edmonds. Without David Johnson, he was in line for the lion's share of the work, especially with Zach Zenner the only other active running back. So, without further ado, let's look at some running backs who were cheaper than Edmonds and would have brought back a much, much better result.
Tevin Coleman ($5,000) 40 DKFP, 11 ATT, 105 YDS, 3 TD
Latavius Murray ($5,800) 39.7 DKFP, 21 ATT, 102 YDS, 1 TD
David Montgomery ($4,400) 27.7 DKFP, 27 ATT 135 YDS 1 TD
Miles Sanders ($4,200) 22.8 DKFP, 3 ATT 37 YDS 1 TD
---
Kenny Stills ($4,700) 5.2
DKFP
Kenny Stills

—

XRP

💥MAX (@Rbr062314) October 27, 2019
This one hits close to home because I, as well, went heavy on Stills against the Raiders. I'm sitting here thinking Still will be that deep threat for Deshaun Watson ($7,100), who'll be without Will Fuller because he's taking part in his yearly multi-week absence. When you look at when Fuller isn't on the field, Stills has an aDOT of 15.2. Nice, we like that. Let's fire him up.
So Stills makes three catches for 22 yards, averaging 7.3 YPC. Usually, when I'm getting someone in as a deep threat, I'd at least like them to clear the first down in the process. Stills ended up being a total bust on the slate and was outscored by DeAndre Carter ($3,000), who only made one catch but it went for 46 yards. I mean, I get it, Stills is a total boom-or-bust option, but I think I, like many, had much higher expectations than this garbage. Let's look at some value that did better than Stills.
Chris Conley ($3,300) 23.3 DKFP, 4 REC 103 YDS 1 TD
Darius Slayton ($3,900) 19 DKFP, 2 REC 50 YDS 2 TD
Hunter Renfrow ($3,800) 18.8 DKFP, 4 REC 88 YDS 1 TD
Josh Reynolds ($3,000) 16.2 DKFP, 3 REC, 73 YDS 1 TD
To be honest, I never would have played any of these guys listed above and I'm sure you wouldn't have, either. But whatever, we still can act as we would have.
---
Wrapping it all up
Of course, a few tweets that didn't make the cut but I'll toss in here anyways.
Nobody…won 10k pic.twitter.com/9rIEdaMtXf

— Gary (@garygcjr1975) October 28, 2019
Gary comes waltzing in with the ultimate power move by shoving this $10K screenshot in our faces. He wants you to know that he had Coleman at 4.7%, Cooper Kupp at 5.5% and Mike Evans at 8% ownership.
Cooks that dummy lol

— Nomad (@Nomad666Z) October 27, 2019
Yeah man, Cooks getting his second concussion of the season isn't great. He called him a dummy on top of it. I smirked and chuckled slightly. But he got hurt, nothing we can do about that.
Man you wanna know a fun one?

I fell behind today because I faded Lat Murray and Michael Thomas, so I swapped off of Tevin Coleman to Carlos Hyde to leverage the Texans chalk.

Hows that for a demolished lineup?

— James McCool (@Paydirt_DFS) October 27, 2019
Go ask Gary what it's like to play Coleman.
See you all next week!