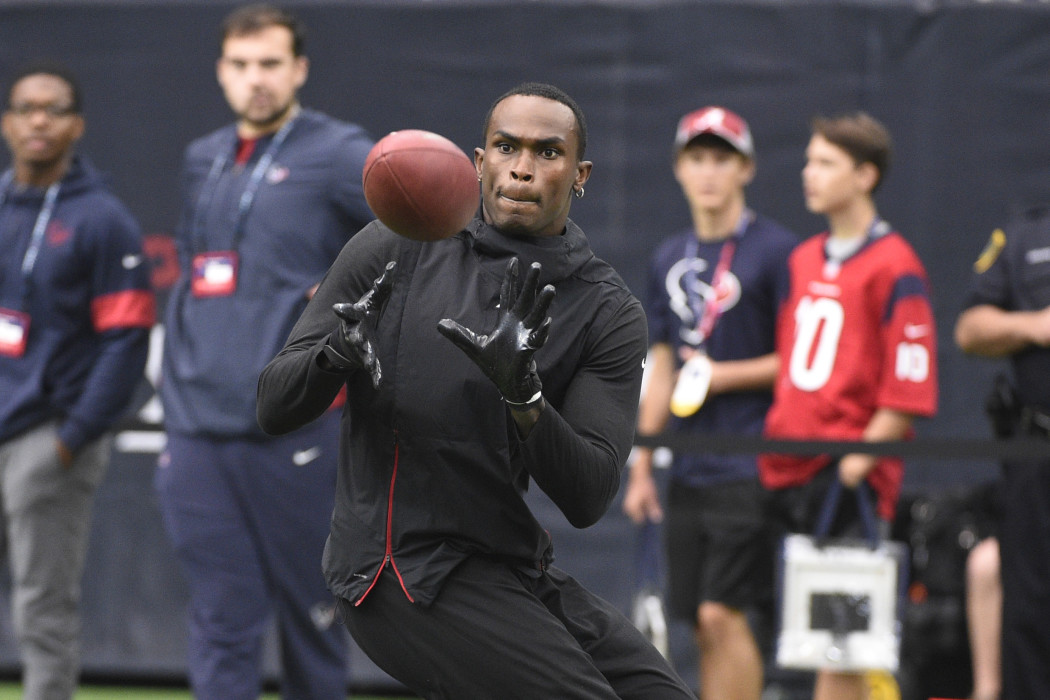 Week 5 basically came down to three players. Will Fuller, Aaron Jones and Christian McCaffrey. Did you roster those guys? If you did, congrats, you probably did well. If you didn't, you probably ended up on this article wondering what in the blue hell just happened? Either way, I'm glad you're here to indulge in some regrets. Feel free to throw any my way on Twitter @SBuchanan24.
---
Julio Jones ($7,700) 7.2
DKFP
JULIO

—

XRP

💥MAX (@Rbr062314) October 6, 2019
I'tS a JuLiO wEeK!!!!!
Yeah, I fell for the #JulioWeek trap this week as well. I mean, his individual matchup was fantastic. In coverage, he'd mostly be up against CB Lonnie Johnson Jr. Now, if you're not familiar with Johnson Jr., who has the same name as his dad, let me get you up to date. In coverage, Johnson Jr. was targeted against 15 times allowing nine receptions for 108 yards, 59 of which came after the catch. So you figure, "alright, it's a Julio Week!" In reality, it was anyone BUT Julio week. The targets went his way, as he drew seven, but he was only able to turn that into three receptions for 42 yards. It also made this his second straight week without reaching the end zone after doing so in seven straight weeks, dating back to Week 14 in 2018.
What made this sting even more was the score being 53-32. We saw Calvin Ridley ($4,900) go for 5/88/1 with 19.8 DKFP, Mohamed Sanu ($4,200) with 5/42/1. Even Austin Hooper ($4,500) had 6/59/0 against a Texans team that has been good against tight ends. If you think you aren't going to fall for this again, wait until next week rolls around when the Falcons take on the CARDINALS!!!!!!! Try fading Julio in THAT matchup.
---
Mikes Evans ($7,100)
October 6, 2019
Like many of you, I'm still waiting for Evans to make his first catch of Week 5. Sadly, I don't think it's coming. In some sick and twisted way, Evans was only targeted three times and didn't make a single catch, giving him an amazing ZERO DKFP. After the game, coach Bruce Arians said, "That was a poor job on our part. We moved him around, not enough …" He said more jargon after that but I'm not having it. Normally, I would list a bunch of players you could have rostered over Evans at a cheaper salary that would have outscored him, but it would literally be the entire league. I don't have time to type out every player listed in the "wide receiver" section on the handy dandy DK Live app (available in our mobile app store of choice). It's just amazing that Evans literally scored the same amount of points that say someone like Bennie Fowler scored. Fowler isn't even on a team. Whatever.
---
Stefon Diggs ($6,200) 7.4
DKFP
Whoever originally tweeted Diggs ended up deleting their tweet. So, maybe they didn't regret it that much after all? Either way, I agree with it and wish they didn't delete the tweet because now it doesn't look like they asked for it.
SHOW YOUR FACE, COWARD
!
It looks as if Kirk Cousins only had enough WD-40 to silence only one of the squeaky wheels for the Vikings Sunday afternoon. Diggs caught the first pass from Cousins in this one and I jokingly said to someone I was watching the game with, "That's it, the wheel has been silenced!" Little did I know, I was actually onto something here.
Diggs would only end up making two more catches for 29 yards, giving him three and 44 total in the game. That comes out to a sad 7.4 DKFP, which as you'd imagine, doesn't bode well for someone who ran you for $6,200 in salary. Hell, it wouldn't be great for really anyone, if we're being quite honest. The WD-40 was sprayed all over Adam Thielen ($6,700), who has been seen on numerous occasions vocally berating Cousins on the sideline. Thielen would draw eight targets and catch seven of them for 130 yards, two touchdowns and 35 DKFP. Some of us (maybe the person who tweeted this originally) would have rather have seen that line go to Diggs.
Do you want to see some players who outscored Diggs at a cheaper salary? Yeahhhhhhhh you do.
Will Fuller ($4,500) 56.7 DKFP, 14/217/3
D.J. Chark ($5,000) 39.4 DKFP, 8/164/2
Darius Slayton ($3,100) 16.2 DKFP, 4/62/1
Steven Sims Jr ($3,000) 14.6 DKFP, 2/1/0 (1 rush, 65 YDS TD)
To be honest, I don't know who Steven Sims is or what he does, but apparently he was a UDFA from Kansas. He had 10 total carries during his four years at Kansas and rushed for 16 yards. Go figure.
---
Here are a couple of tweets that didn't make the cut but made me laugh. So you have that going for you.
Allen

— Tee (@Teedious55) October 6, 2019
Allen. Just, Allen. Was it Josh Allen? Kyle Allen? Allen Robinson? Or maybe he just likes this video.
---
@SBuchanan24 started Evans. Chark on the bench. That's the tweet.

— Johnny O (@johnnyO73) October 6, 2019
Johhny is just becoming a staple of this article. He tweets me before I even ask for your regrets. Thank you for being regretful, Johnny.