One of my friends actually told me Kelvin Benjamin's going to score more fantasy points than Allen Robinson this season. Now I don't think that's going to happen, but it's bold (and perhaps stupid). Building on the bold prediction trend, here are 10 of my own for 2016:
10. Dak Prescott Improves Dez Bryant's Value
I'm of the belief that by the time Tony Romo's back heals he'll be out of a job. I know it's preseason, but I'm buying in big time on the Prescott hype — read all about it here. It's not like we haven't seen the chemistry between Dak and Dez (not a bad team name), as they've hooked up four times this preseason for 72 yards and two touchdowns. Maybe it's meaningless, but it's been Bryant's best preseason as a pro, and he's only played in two games.
---
9. Ezekiel Elliott Will Be The No. 1 Fantasy RB
Sticking with the Cowboys again, you may be able to tell I like their offense a lot with Prescott running the show. The rookie QB is only going to help his fellow rookie RB when it comes to the ground game. I'm not all the way onboard with David Johnson. Todd Gurley doesn't play in a diverse enough offense. Le'Veon Bell will miss three games. Meanwhile, Elliott just got a value boost with the QB change and is going to make the most of it. After averaging 6.7 YPC in college, Zeke's set to play behind the best offensive line in football. A year like DeMarco Murray's 2014 season should be a piece of cake.
---
8.

T.Y.

Hilton Will Be Colts' No. 3 WR
Donte Moncrief and Phillip Dorsett are creeping up on Hilton in season-long drafts, but they'll never eclipse him. That's a mistake. Moncrief is set up to be Andrew Luck's primary target in 2016, and I do think people are catching onto it. Dorsett will be the one to surprise everyone, though — keep in mind he was a first-round pick in 2015 and will be playing his first season with Luck healthy. Both Moncrief and Dorsett have eight catches apiece this preseason for a combined 177 yards. Compare that to just four grabs for 43 yards from Hilton. This new offense in Indy is set up for Moncrief and Dorsett to thrive.
---
7. Jameis Winston Will Be A Top-5 Fantasy QB
I'm really stretching myself on this one, but I think it will be close. Top-5 just sounds better than top-7 or 8 where I really think Winston will land. But no excuses, play like a champion. I think his value is currently being way overlooked as just the 17th most expensive QB in Week 1. Winston showed a lot of growth last season and has been fantastic in camp, we're going to see all that materialize in 2016. Winston will be bringing Mike Evans along for the ride as well — the two have connected eight times this preseason for 143 yards and a pair of touchdowns. He'll be a top-8 WR himself.
---
6. Christine Michael Will Be Seahawks' No. 1 RB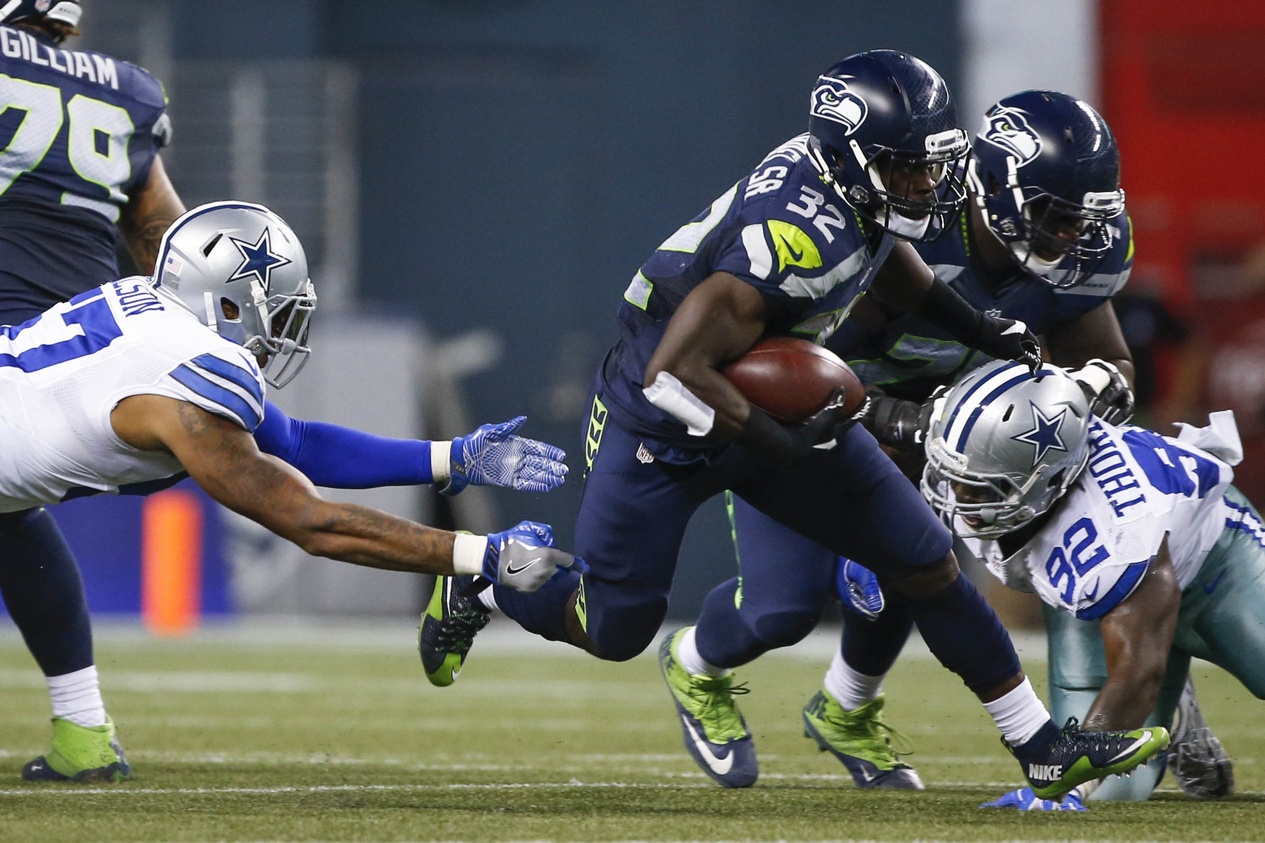 Thomas Rawls was heroic in the absence of Marshawn Lynch last season, but 2016 will be different. Coming off serious ankle surgery with a lot of talent behind him on the depth chart, Rawls is in a tough spot. The common perception is that Rawls will lose his job to rookie C.J. Prosise — who's very talented in his own right, but also beat up at the moment. Michael (now in his third go around with Seattle) has been tearing it up this preseason with 157 yards on 24 carries. There's been hype around Michael for years that he someday has the ability to be a lead dog. That day is here.
---
5. Paul Perkins Will Be Giants' No. 1 RB
Perkins is stashed away on New York's depth chart, but just look at what's in front of the rookie. The arrow is pointing downward on Rashad Jennings, who averaged just 1.5 YPC this preseason. Andre Williams has been a bust and Orleans Darkwa isn't a real threat. Shane Vreen will be the RB on passing downs and is legit, but Perkins is the Giants' best pure runner between the tackles. It won't happen right away, but I think Perkins will land NYG's starting job eventually.
---
4. Corey Coleman > Josh Gordon
Gordon looked damn good in his first appearance since 2014 (87 yards and a TD). I'm not predicting a bad year for Gordon here, I actually think he'll have a very productive 12-game season once he's available. I'm buying in big time to Cleveland's offense with a healthy RG3, though. Coleman's been banged up this preseason, but the expectation is that he's good to go Week 1. Until Gordon can play, we'll get a heavy dose of Coleman. RG3's four weeks with Coleman as his top target are going to build a lot of chemistry that's going to catch on and last all season.
---
3. Devin Funchess > Kelvin Benjamin
The depth chart still has Funchess listed No. 3, but the eye test suggests Funchess is coming on strong. He's been a major piece of the first-team offense during the preseason and has dazzled in Panthers' camp so far. Neither of these guys are likely to be a top-30 receiver, but I believe Funchess still provides a lot more value than Benjamin. Many have the perception that Benjamin is ready to step in and pick up right where he left off after missing a full season. I don't think that's true. So, outside of Greg Olsen, I believe Funchess will be Cam's top target.
---
2. Allen Robinson Will Lead

NFL

In Touchdowns
Yeah, so remember what I said earlier about Benjamin vs. Robinson? I've got Benjamin ranked somewhere in my top-50 WR this season, but I think Robinson's going to easily be top-5. Want to know a secret? Robinson was actually tied for the lead in touchdowns last season! (14 TD along with Brandon Marshall, Doug Baldwin and Devonta Freeman, who got 11 of his on the ground). So I guess saying that the TD leader is going to repeat isn't that bold. At any rate, I'm thinking something along the lines of 1,500 yards and 17 touchdowns is in play for Robinson this season.
---
1. Julio Jones

AND

Antonio Brown Will Both Top 2,000 Yards
You'll notice I said Robinson will lead the league in touchdowns and not that he'll be the top fantasy WR. That's because I think Julio and Antonio will reach unchartered territory when it comes to yardage. Again, since 2,000 yards hasn't been accomplished it's a pretty bold statement to say that two people will accomplish it in the same season, but then again, they were damn close last season — Jones (1,871) and Brown (1,834). Both guys did it on an insane 136 catches, Brown finding the end zone 10 times, while Jones scored just eight times. If both of these guys can crack 2,000 with around 12 or so touchdowns, I guess that means Mr. Robinson will just have to settle for third.
Find me on Twitter @julianedlow
---
I am a promoter at DraftKings and am also an avid fan and user (my username is jedlow) and may sometimes play on my personal account in the games that I offer advice on. Although I have expressed my personal view on the games and strategies above, they do not necessarily reflect the view(s) of DraftKings and I may also deploy different players and strategies than what I recommend above.