In one of the most predictable moves ever, ESPN has reported that Floyd Mayweather is open to boxing Manny Pacquiao in 2016 (once Manny has recovered from shoulder surgery).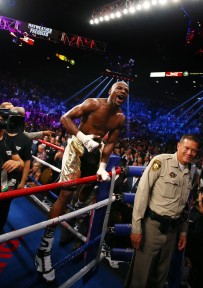 Floyd texted ESPN's Stephen A. Smith: "I will fight him in a year after his surgery."
Woohoo! Fight of the century part 2! Oh, wait … it's going to be another boring snooze-fest of Mayweather dodging and wrapping up Pac-Man all night, then hearing about how he's the greatest. The greatest boxer shouldn't be a guy who's just good at not getting hit.
Seriously, please don't fall for this again, people. Don't let the hype sweep you up and make you pay $100 expecting to see something different. If this fight were five years ago, maybe Manny gets inside and knocks Floyd out … we'll never know how that would have gone.
But fighting again one year later isn't going to change anything. Mayweather will win by decision, landing just a couple more "shots" than a far more aggressive Pacquiao.
The problem is, the storyline surrounding the rematch is going to be even juicier than it was the first time around for two reasons.
The first perception being that Pacquiao will now be fighting healthy — the reality being that he will be a 37-year old coming off serious shoulder surgery. The second perception being that Mayweather will likely be shooting for 50-0, assuming he takes a fight in the fall and defeats whoever is put in front of him — the reality being that he will simply just be continuing to stack up cheap wins.
Floyd may be the best boxer of the two, but he's certainly not the best fighter. The only way a rematch could live up to the hype is if Mayweather swallows his pride (which is laughable if you know anything about him) and decides to FIGHT Manny, not box him.
Follow me on Twitter @julianedlow