Life is good when you're the Lakers.
Sure, they had a bad season … but in classic Laker fashion, it landed them the No. 2 overall pick in the draft. Which means on top of being the most attractive landing spot for any and all free agents, L.A. now has one of the hottest trade chips in the league.
Even though he'll likely fall apart physically for the fourth season in a row, Kobe Bryant is still on the roster. Don't pay attention to any of the BS you may hear, players want to play with Kobe. We know Kevin Love has interest in his hometown team. While Rajon Rondo's name has become synonymous with the Lakers in free agency this summer (although his price certainly went down).
But this is Hollywood, they're going to set their sights higher. Another hometown product, Russell Westbrook, is going to be the Lakers' savior.
Now, Westbrook is set to become a free agent in 2017 – and obviously will command a max-contract. If OKC continues their downward trend, Westbrook could leave for L.A. in free agency then. But Kobe will be gone by then, and the Lakers may have spent all their money by the time that opportunity presents itself.
It's not going to happen this summer, but here's how Westbrook can become the new face of L.A. before the end of next season.
I don't want to wish any harm upon Kevin Durant – he's extremely valuable to the NBA to have healthy and just enjoyable to watch – but we do have to acknowledge his injury. Just look at what Derrick Rose (another young, electric player to watch) has been through from 2012 all the way up until this season. Rose's knees are still a HUGE issue.
Durant's foot injury last season was very serious. The Jones fracture is typically a reoccurring injury (not to mention anytime there's a name attached to it, it's bad) … which has already began in KD seeing he had to shut it down to have another surgery after coming back and trying to play. So what's my point?
What if things go downhill fast for the Thunder next season? If Durant were seriously injured again, would they consider moving Westbrook? Obviously, here come the Lakers knocking on the door.
Now, the trade you see above is just a start. The Lakers would be throwing in two more VERY important pieces. OKC would require the player L.A. selects with the No. 2 pick (Jahlil Okafor or Karl-Anthony Towns in all likelihood — and yes, it fits) along with at least one future first-round pick, otherwise the trade is totally unrealistic.
The Thunder, if they made this deal, would be conceding that Durant's going to his hometown of D.C. (look at this silly trend LeBron has started) come the summer of 2016. But it would give them a strong core of young bigs to work with until they can find the wing scoring they lose in their two best players.
But between Serge Ibaka, Steven Adams, Enes Kanter (who is a FA this summer), Julius Randle and Okafor/Towns, there's a ton of talent there – and probably some that needs to be traded to address other positions (starting with Ibaka given the youth of the other pieces).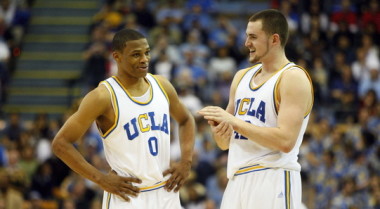 For the Lakers, this simply means that they're back. Of course, this would be a mid-season trade (since the Thunder are waiting to see how KD returns), so a couple more things would need to happen for L.A.
1. Kobe Bryant doesn't retire. Kobe has told us that Westbrook is one of his favorite players, so maybe Russ can convince his peer to stick around in the interest of winning. Something that may help that …
2. Westbrook's UCLA buddy, Kevin Love, joins in free agency in the summer of 2016. It's Love's call to stick around with the Cavs next season, but the Cavs don't want him in the long-term. They'd let him walk in 2016, and the Lakers would have to be Love's top choice with the way things are working out in L.A. by this time.
Now we play the "what if" game for the 2016-17 season. With Westbrook and Love in place … IF Kobe returns and stays healthy, and IF they can find a true center to join their "Big 3," and IF they can fill in their bench with role players, then the Lakers could be pretty good come '16-17.
All of those "what ifs" hinge on Westbrook making his way to the Lakers next season. But it's not as crazy as it sounds.
Find me on Twitter for comments: @julianedlow