In honor of the Warriors breaking the Bulls' unthinkable 72-10 regular season mark, it's the perfect time to debate the top-10 teams in NBA history. Before we get rolling, there's one exception and one rule we need to lay down.
The exception: We're leaving Bill Russell's Celtics teams off the list. Russell won 11 rings in his 13-year career, which means if we rank them, they're number one as a whole. Those championships came from 1956-1969, though … so they're really tough to gage. It was a different generation and the NBA had just under half the teams it currently does. With that said, such a title run can't go unmentioned.
The rule: A team can only make the list one time per generation. For example, Jordan's Bulls will only be on the list once and represented by their best team … otherwise the '96, '97 and '98 Bulls could arguably be three of the top-5 teams.
It goes without saying, but obviously these teams have to have backed up their regular season glory with a championship. If the Dubs fail to do so, they'll be erased right off this list no matter how dominant they may have been through 82 games.
---
10. 1988-89 Pistons
Record: 63-19
Coach: Chuck Daly
Starters: Isiah Thomas, Joe Dumars, Mark Aguirre, Rick Mahorn, Bill Laimbeer
Key Reserves: Vinnie Johnson, Dennis Rodman
63 wins isn't crazy, but this team grew late in the year and had a dominant postseason. After losing to the Lakers in heartbreaking fashion in the 1988 Finals, Detroit made a risky mid-season trade — moving Adrian Dantley (who was having trouble yielding leadership to Thomas) for Aguirre. This changed the entire team chemistry. Detroit went on to sweep Boston and Milwaukee out of the playoffs and made it through a hard fought six-game series with Michael's Bulls before sweeping the same Lakers team in the Finals.
---
9. 1970-71 Milwaukee Bucks
Record: 66-16
Head Coach: Larry Costello
Starters: Oscar Robertson, Bob Dandridge, Jon McGlocklin, Greg Smith, Kareem Abdul-Jabbar (MVP)
Key Reserves: Bob Boozer, Lucius Allen
I'm not going to pretend I know a ton about this team, but I've researched it and seen some NBA Classics before. Milwaukee was in it's second year with Kareem (then known as Lew Alcindor), and he led the league in scoring while pulling down 16 boards per game. The Big O was a mid-season addition and the duo worked out perfectly.
---
8. 1982-83 76ers
Record: 65-17
Coach: Billy Cunningham
Starters: Maurice Cheeks, Julius Erving, Andrew Toney, Clint Robinson, Moses Malone (MVP)
Key Reserve: Bobby Jones (Sixth Man)
It feels like these Sixers should have won more, but this was their lone title as the Celtics or Lakers always seemed to be in their way. Moses was brought on board from Houston before the season, and put this team way over the top. Malone (aside from winning MVP) and Dr. J were All-NBA First Team, Bobby Jones was the Sixth Man, Jones, Cheeks and Malone were ALL First-Team Defense and Toney is considered one of the most underrated players in NBA history. Philly only lost one postseason game and swept the Lakers in the Finals.
---
7. 1999-2000 Lakers
Record: 67-15
Coach: Phil Jackson
Starters: Ron Harper, Kobe Bryant, Glen Robinson, A.C. Green, Shaquille O'neal (MVP)
Key Reserves: Robert Horry, Rick Fox, Derek Fisher
I don't think I need to explain too much about the Shaq and Kobe Lakers teams to you. 2000 was their highest win total and their most challenging playoff run, but they made it through. Once they got this one out of the way, they didn't lose many more games over the next two seasons. Shaq was one of the most dominant forces of all-time at this stage in his career, and the X-factor was Kobe stepping up from a young player with potential to a championship caliber player at a very young age.
---
6. 2007-08 Celtics
Record: 66-16
Coach: Doc Rivers
Starters: Rajon Rondo, Ray Allen, Paul Pierce, Kevin Garnett, Kendrick Perkins
Key Reserves: James Posey, Tony Allen, Eddie House
I watched every game this team played. It was the perfect combination at the perfect time. The right guys (Allen/Garnett) became available at the right time and the Celtics went out and got them. Conveniently, those pieces fit perfectly alongside Pierce, Rondo developed into the ideal PG for this team and everything else filled out around them. More importantly, the personalities couldn't have meshed better. Two things I'll argue till the death of me — KG's 2008 MVP snub was one of the biggest of all-time and had Garnett not gone down with a knee injury in 2009, the Celtics would have won it all that season and the next.
---
5. 1971-72 Lakers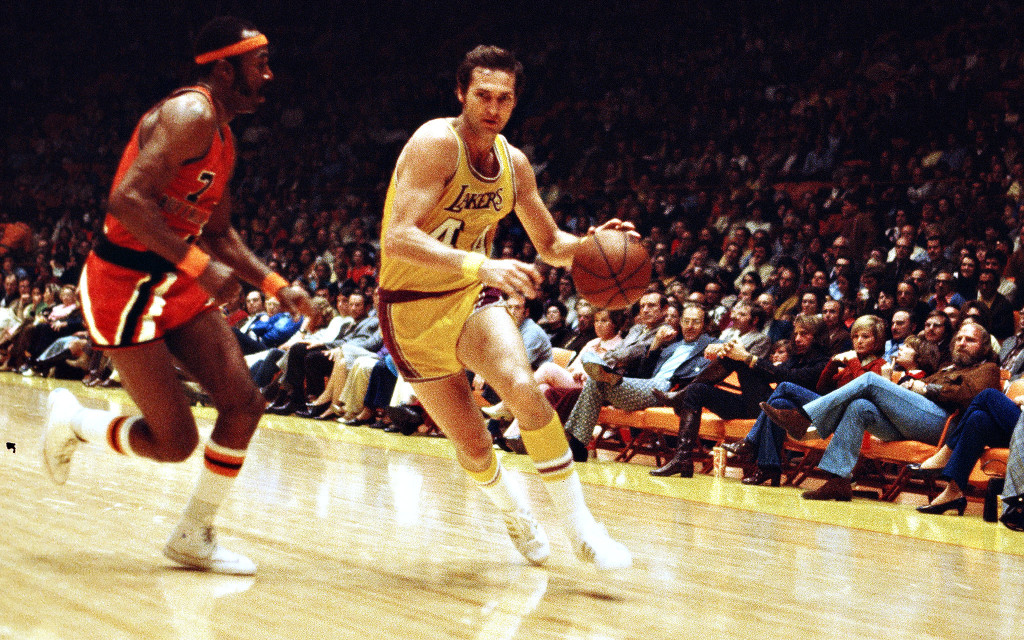 Record: 69-13
Coach: Bill Sharman
Starters: Jerry West, Gail Goodrich, Jim McMillian, Happy Hairston, Wilt Chamberlain
Key Reserves: Flynn Robinson, Pat Riley
This was a very interesting team. Kareem's Bucks were the up-and-coming team in the league, fresh off a championship, while the Lakers were getting up there in age. So much so that Elgin Baylor retired nine games into the season. West and Goodrich both averaged over 25 PPG, though, and carried the team along with defense and rebounding from Wilt. This squad actually held the win record all the way up until the 72-win Bulls, thanks to a 33-game win streak that still stands today.
---
4. 1986-87 Lakers
Record: 65-17
Coach: Pat Riley
Starters: Magic Johnson (MVP), Byron Scott, James Worthy, A.C. Green, Kareem Abdul-Jabbar
Key Reserves: Mychal Thompson, Michael Cooper
This team had seven double-digit scorers on it, headlined by Magic's MVP season. Kareem may have been getting older, but he was still a force. Magic was making those around him so much better that it didn't even matter anyway. The Lakers got out of the West with ease and set up another classic showdown with Larry Bird's Celtics in the Finals, winning in six. Probably the most shocking thing here is that A.C Green was the starting PF on this team and the 2000 Lakers.
---
3. 2015-16 Warriors
Record: 73-9
Coach: Steve Kerr
Starters: Stephen Curry, Klay Thompson, Harrison Barnes, Draymond Green, Andrew Bogut
Key Reserves: Andre Iguodala, Shaun Livingston
What the Warriors have done is absolutely amazing. HOWEVER, there are two teams that I would narrowly pick over them. The season for Golden State really begins now. They have to make a playoff run that not only ends with a banner, but they need to do it convincingly if they want to be taken seriously as the greatest team in NBA history. Let's see what they've got.
---
2. 1995-96 Bulls
Record: 72-10
Coach: Phil Jackson
Starters: Ron Harper, Michael Jordan (MVP), Scottie Pippen, Dennis Rodman, Luc Longley
Key Reserves: Toni Kukoc, Steve Kerr, Bill Wennington
All of Jordan's championship teams are potentially the greatest team of all-time. The '96 team just happened to be the most angry of the group. MJ returned from retirement and got bounced out of the playoffs by the Magic in the previous year. Rumor was that Michael had lost it. He hadn't, and he was out to prove it. Jordan was at his best and had as good a supporting cast around him as ever. I'll admit that the Warriors had a more impressive regular season than the Bulls, but I see Chicago as the better playoff team with the more dominant player. Again, Steph and crew have the chance at least make this a closer argument.
---
1. 1985-86 Celtics
Record: 67-15
Coach: K.C. Jones
Starters: Dennis Johnson, Danny Ainge, Larry Bird (MVP), Kevin McHale, Robert Parish
Key Reserves: Bill Walton (Sixth Man), Scott Wedman, Jerry Sichting
This team was unstoppable at the old Boston Garden, going 50-1 at home including the postseason. The Spurs actually just tied their 40-1 mark at home this season (we'll see if they keep it up in the playoffs). This was the last season of full health the Celtics had with Bird at the helm, McHale and Parish rounding out the greatest front court of all-time with a healthy and refreshed Walton off the bench.
---
Honestly, I'd just like to see these top-four teams play a timeless tournament of their own. This is how I'd rank them, but we'd have to play the games and find out. As for the Warriors, whether they're the greatest team or not, it's absolutely amazing that they rank at the top with Jordan's Bulls, Magic's Lakers and Bird's Celtics.
Follow me on Twitter @julianedlow