Jamal Crawford, Zach LaVine, Isaiah Thomas, Stanley Johnson, Trevor Ariza, Baron Davis, Nate Robinson, Malcolm Thomas, Dorell Wright, Bobby Brown, Spencer Hawes and more.
We've featured The Drew and Seattle Pro AM here before but this is a whole new level of #ballislife. Somehow the Basketball Gods shined favorably on this offseason day and gave us the matchup no one knew they needed but definitely, absolutely wanted.
Most importantly though, how do I get one of these Drew warmup shirts B-Diddy?
Hopefully it's not related to anything Zach Lavine can do because in that case I am SCREWED.
Yea nevermind about the shirt I guess. Just give mine to my main Green man Isaiah Thomas… he may only be 5'8" but that little Seattle boy has got some hops doe! Yo Trevor Ariza..
DON'T BE BRINGING THAT WEAK SAUCE INSIDE ISAIAH'S EMERALD HOUSE!!!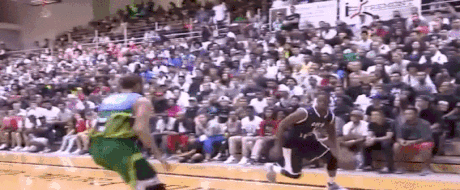 Cmon fam @TrevorAriza https://t.co/FwzNi6ZScd

— Davane. (@YoItsKenneth) August 29, 2015
😂😂https://t.co/M9W9TND8Zr — trevorariza (@TrevorAriza) August 29, 2015

The Drew VS Seattle Pro AM was 4 years in the making and it definitely did not disappoint. Very interested to see how Zach LeVine brings it in the NBA this season too. Every clip I've seen of him this summer he's been dominating like whoa. The NBA is a tad different than some scrubs and old men on a YMCA court but that's what Coach Garnett is for right?
Also I'm a little disappointed Steve Nash and Snoop Dogg didn't make it out for the game but guess that'll have to be next year. Really do miss seeing that sweet Canadian stroke… RIP to the magic that was Phoenix Steve running the pick n' roll…