Everyone meet Brandon McCartney….
He is professionally known as 'Lil B', and commonly referred to as 'The Based God'. He is a part-time hip-hop "mogul"…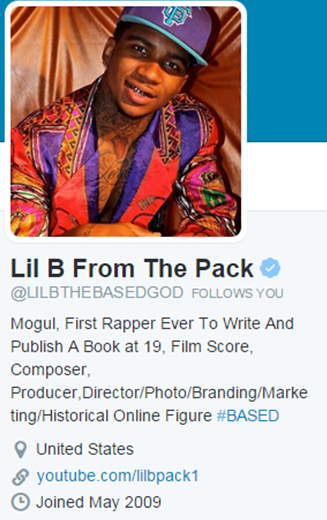 …and full-time jynxer of NBA superstars and franchises.
It all started in 2011 with Kevin Durant calling out Lil B publicly:
Little did Durant know what he had just spawned with these 98 characters…
Shortly after this tweet went public, the original Based God curse was unleashed…
KEVIN DURANT WILL NEVER WIN THE TITLE AFTER HE SAID "LIL B" IS A WACK RAPPER,

"THE BASEDGODS CURSE"#THEBASEDGODSCURSE ON DURANT – Lil B

— Lil B

THE BASEDGOD

(@LILBTHEBASEDGOD) May 26, 2011
Along the way, there was a 'Treaty of Versailles' — if you will…
I WANNA SAY THAT "THE BASEDGODS" CURSE IS GONE FROM KEVIN DURANT THE THUNDER ARE FREE NOW TO WIN FUTURE GAMES, U CANT WIN HATING – Lil B

— Lil B

THE BASEDGOD

(@LILBTHEBASEDGOD) June 22, 2012
And just like the Treaty of Versailles, it lived a short life and was the basis for instigating an even bigger war…
AND FUCK KEVIN DURANT LIL B FOR LIFE – Lil B

— Lil B

THE BASEDGOD

(@LILBTHEBASEDGOD) February 17, 2014
Well, guess what people? Despite being "ringless", Kevin Durant won the NBA's Most Valuable Player award for the 2013-2014 season. The curse appeared to have been lifted and/or defeated.
However, little did we know: even Lil B didn't have control of the Based God Curse's powers anymore….
I HAVE WORDS FROM "THE BASEDGOD" HE SAYS HE WILL BE GIVING HIS THOUGHTS ON THE KEVIN DURANT CURSE AND IF IT ITS NO LONGER IN EFFECT – Lil B

— Lil B

THE BASEDGOD

(@LILBTHEBASEDGOD) September 28, 2014
Just a week or so later, right before the NBA regular season was scheduled to begin, Kevin Durant was diagnosed with a Jones Fracture in his right foot — which required immediate surgery, and was expected to keep him sidelined for 6-8 weeks minimum.
Lil B realized he had unleashed an animal that he didn't have dominion over anymore…
I THOUGHT THE CURSE WAS OVER BASEDGOD! PLEASE I NEED TO TALK TO " THE BASEDGOD " I THOUGHT THE CURSE WAS OVER ! (SCREAMING) – Lil B

— Lil B

THE BASEDGOD

(@LILBTHEBASEDGOD) October 12, 2014
Or did he….?
Eventually, Kevin Durant returned to the Thunder lineup. All was quiet on the Based God Curse Front…
…until…
dunzo.
So, where are we today?
Well, Lil B is back to making music and videos. More specifically: he has claimed to create a "pot stir" dance move, which we all know James Harden has essentially made his own throughout the season.
Lil B is not pleased that his trademarked move has been infringed on, and spawned the same Based God Curse he once swore to bury.
Go warriors @warriors and let James harden no he doing the Lil B cooking dance if he doing that flickin wrist or whipping he mark – Lil B

— Lil B

THE BASEDGOD

(@LILBTHEBASEDGOD) May 21, 2015
He went as far as to tell TMZ: "If Harden doesn't tell what he is doing, which is the Lil B cooking dance, he will be cursed. He needs to stop stealing Lil B swag without showing love."
Well, by now, you're pretty aware what happened last night at Oracle Arena in Oakland. Despite having a mammoth
38

PTS

(13-21 FG)
10

REB

9

AST

3

STL
effort vs. the Warriors in Game 2…
Harden had an opportunity to win the game in the final seconds — only to fumble the ball away and never even get up a shot attempt…
https://vine.co/v/eqZOMapuXqt
This is what makes The Based God Curse so deadly, you don't know when it's going to rear its ugly head nor in what form. It is so evil, that it will let you post a near triple-double in the box score, only to harvest your soul when it matters most — making your valiant effort completely erroneous.
If you think Lil B is calling off the dogs, you are sadly mistaken….
People that steal from Lil B will pay now or later all you have to do is pay respect to the original and the leader blind ones will – Lil B

— Lil B

THE BASEDGOD

(@LILBTHEBASEDGOD) May 22, 2015
https://twitter.com/jaycaspiankang/status/601592510469840898
The Based God has shifted its focus to Harden, and until James "pays tribute" to this invisible force of nature — we all know what is in store for Harden and his Rockets…
…doom.
By now, you're probably thinking to yourself: "This is the single dumbest blog post I have ever read in my life. At no point in your stumbling, stupid article were you even remotely close to anything that would be considered a rational opinion. Everyone on DraftKings is now dumber for have reading it. I award you no points, and may God have mercy on your soul."
You may be right, but, before I go — I want to warn you to tread lightly. The Based God Curse is essentially the Santa Claus of Voodoo and Death. It may not be a tangible thing you can touch, but, it is a fictional figure that exists in the form of belief…and this alone has the powers to heal/reward… or in The Based God's case: curse anyone who displeases Lil B.
Things have gotten so serious that NBA franchises are going as far as reaching out to Lil B in advance, just to insure he puts a good word in to The Based God for them.
Dear @LILBTHEBASEDGOD:

We're not like the others. Please show mercy and spare us #THEBASEDGODSCURSE. 🙏

Sincerely,
The Hawks

— Atlanta Hawks (@ATLHawks) May 22, 2015
It's pretty simple, NBA players, you're either with Lil B — or, you're against him. Either meet his demands, or, suffer the consequences…