Hi, guys. Good morning. Rob here. An important game of professional basketball was played in Cleveland, Ohio last night between two teams named the 'Warriors' and 'Cavaliers', so, let's recap the action while listening to the best DFS lineup-building song on Planet Earth right now: 'Pia Mia- Do It Again' (cc: DraftKings' resident "Fire Jam Friday" DJ)
https://www.youtube.com/watch?v=HfHl_Vrizyo
I'm totally serious, click 'play' above, otherwise: this article won't be nearly as fun — I promise…
Ok, guns up, let's do this!
—-
If ya'll haven't met this gentleman yet…
….let me take this opportunity to introduce you. His name is Joey Crawford, and he is a 63-year-old NBA referee from Philadelphia who was the crew chief for Game 4 last night. He may or may not have a notorious reputation of making sure NBA Finals series get extended the full 7 games for ratings purposes and/or being an utter, complete asshole to everyone on Earth.
I just wanted to get this formality out-of-the-way now, as you're going to be seeing his motor-boating face throughout this post…
—-
Look who's in the bulding! It's the Stylin', profilin', limousine riding, jet flying, kiss-stealing, wheelin' n' dealin' son of a gun — RIC FLAIR!!!!
WOOOOOO!!!!
—-
J.R. Smith showed up to Quicken Loans Arena on some form of a hands-free Segway…
I have a couple questions:
1) Can you get a DUI on one of these things?
2) If no, then, what are the odds that J.R. was too intoxicated to drive a car to the arena: (-10000)?
3) Is there an athlete on Earth you'd expect to be riding one of these other than J.R. Smith? Short answer: no.
4) Speaking of J.R., did you guys see that graphic from SportsCenter early yesterday when they documented (literally) LeBron's schedule between Games 3 and 4?
LeBron James' off-day routine looks simple. pic.twitter.com/UKjBsNNDVw

— SportsCenter (@SportsCenter) June 11, 2015
I thought this was kind of hilarious, so, I decided to take a stab at one of these would look like for J.R. Smith.
I know this is kind of a joke, but, i'm only half-kidding when I say he probably did do about 85% of those things.
—-
Speaking of J.R. Smith and his segway, someone grabbed video of it … so, I decided to add the appropriate, overlying music to this amazing moment in J.R. Smith history:
🎶J.R. Smith enters arena on Segway vs. 'Chamillionaire- Ridin' Dirty' Music Remix🎶 https://t.co/LDMRebVk60

— Rob Perez (@WorldWideWob) June 11, 2015
🎶J.R. Smith on segway vs. 'Mario Kart Theme' Remix🎶 https://t.co/LoxXCLnM8J

— Rob Perez (@WorldWideWob) June 12, 2015
—-
I promise they actually played a game of basketball, so, let's move on…
'Usher' sang the National Anthem, and while he performed a rendition that no-one really comprehended … the crowd turned itself into one giant American flag and it was badass…
—-
The Warriors started slow … AGAIN … subsequently permitting the Cavaliers to come flying out of the gates to a quick 7-0 lead. For a couple minutes, you started to get the feeling like: "Holy Sh*t, the Cavs might actually do this…" Evident by this LeBron James no look, behind-his-head dime pass to Timofey Mozgov.
…and this Matthew Dellavedova post-up … POST-UP! pwnage of Steph Curry
—-
But, the Warriors called timeout and regrouped. The Cavs tried to blow the doors off of Golden State by turning up the tempo, and all it did was ignite the Dubs' unstoppable freight train transition offense.
Before you knew it, GSW was back in front … and then Emperor Joseph Crawford spawned from the depths of hell like the grim reaper.
LOOK AT WHERE HE MADE THIS (absurdly late) FOUL FROM.
When the camera zoomed in on Joey after the call, everyone quickly got the vibe that the Cavs had absolutely no chance of winning Game 4: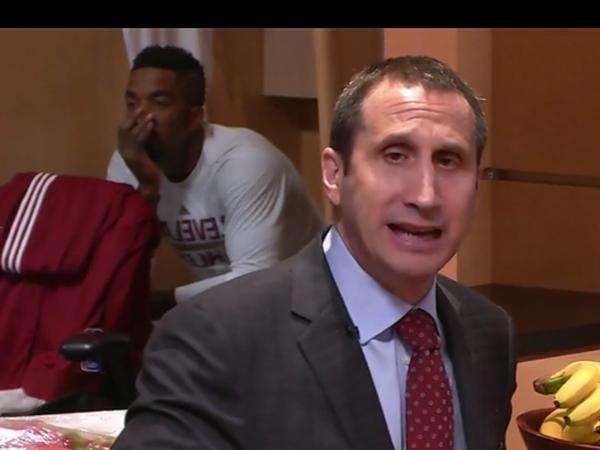 —-
It took all of about 8 minutes for Matthew Dellavedova to go from 'Hero' to 'Oh, now I see why he wasn't drafted…'
—-
At the end of the 1st quarter, Delly walked straight through David Lee and Stephen Curry en route to the bench — causing a 'tiff' that, honestly, Dellavedova clearly instigated.
—-
LeBron then attempted to become the first player to ever win an NBA Championship and an Oscar in the same season.
—-
The result of his flagrant fall 1 was a pretty vicious cut/dent in the back of his head, after he fell into a camera…
—-
As LeBron laid on the floor for a good three minutes, the crowd's soul drained out of Quicken Loans Arena — and the team lacked energy for the remainder of the contest. The result: it was open season for Joe Crawford to eviscerate the entire city of Cleveland without repercussion.
…telling Cavs Center Timofey Mozgov: "Do me a favor: SHUT UP!!!!"
The only thing more popular than Crawford in the entire United States, at the time, was the new announcement of the Orange is the New Black season.
—-
With the game getting out-of-hand, the camera found Kanye … who did what Kanye does best: be having a great time, and then when you realize you're on camera: act like someone just crop dusted you with a stinky SBD fart.
—-
The Cavs tried to come back. It was really cute, but, then LeBron had to take a breather and Cleveland sent out a lineup of …
PG: Matthew Dellavedova
SG: Iman Shumpert
SF: J.R. Smith
PF: James Jones
C: Tristan Thompson
I promise i'm not lying. That's a real lineup that was in an NBA Finals game.
Steph quickly put this joke of a squad to rest…
…and the game was officially dunzo.
—-
It got so ugly that Andre Iguodala even got away with mocking LeBron, by acting injured after a soft foul…
—-
J.R. Smith had a really good game, though, he went 2-11 from-the-field and 0-8 from 3-point land … and only managed to have a (+/-) of -27! Yay, J.R.!
—-
Riley Curry got a postgame victory smooch from daddy…
…and we're headed back to Oracle Arena for Game 5, all knotted up at 2.
—-
Until next time, #AllHailJoeyCrawford…