The season's over. It's like — really over….
Anyways, Congratulations to the Golden State Warriors: wire-to-wire 2014-2015
NBA
Champions. They were the best team from the get go, and everyone knew it. Did they get a little lucky along the way (Clippers knocking off the Spurs, Mike Conley's face shattering, Patrick Beverley wrist surgery, entire Cavs roster dying)? Yeah, but, so does everyone who wins the
NBA
Championship. You create your own luck in this league, and no one deserves to hoist the Larry
O'B
rien trophy more than the Dubs.
Let's recap the series-deciding 6th game that crowned Golden State champions of the basketball world…
—-
Marlana VanHoose sang the National Anthem, and she friggin' killed it.
https://www.youtube.com/watch?v=YOgS4nDbeg4
Per her website: Marlana was born with the Cytomeglo virus (CMV), and by the time she was a few weeks old it was discovered that she was blind. Her optic nerve never formed, and she was not expected to live past one year. You can learn more about her story and her passion for singing here.
—-
Cleveland can't blame this guy for the series result, that's for sure….
Without LeBron James on the floor this series.
JR Smith 0/9 FG
Delly 0/7 FG
J. Jones 0/3 FG
Shumpert 0/2 FG
Total 0/21 FG

— Tom Haberstroh (@tomhaberstroh) June 17, 2015
LeBron James in the 2015 Finals.
G1: 44 p 8 r 6 a
G2: 39 p 16 r 11 a
G3: 40 p 12 r 8 a
G4: 20 p 12 r 8 a
G5: 40 p 12 r 8 a
G6: 32 p 18 r 9 a

— Tom Haberstroh (@tomhaberstroh) June 17, 2015
Highest Pct of Team Points Finals History.
1993 Michael Jordan 38.4%
2015 LeBron James 38.3%

— Tom Haberstroh (@tomhaberstroh) June 17, 2015
—-
"When I was in Miami…."
Wait a friggin' second, did Dwyane Wade just subtweet the world that he's opting out and leaving Miami?
—-
Steph teardrop layups will never, ever get old….
—-
MOZGOD
Mozgov monster block on Iggy pic.twitter.com/hmDQEdew8q

— gifdsports (@gifdsports) June 17, 2015
—-
The Warriors are basketball porn.
https://vine.co/v/ee9E153aAiL
—-
And Steph Curry is Jenna Jameson.
https://vine.co/v/eeVAg1MtiTz
—-
Nothing says "Championship" quite like J.R. Smith's body language…
—-
Did someone say something about J.R. Smith being completely checked out of this series?
https://vine.co/v/eeVnTtjBJVJ
When you text your girl, dont get a response, and then you see her posting pics from the club on Instagram.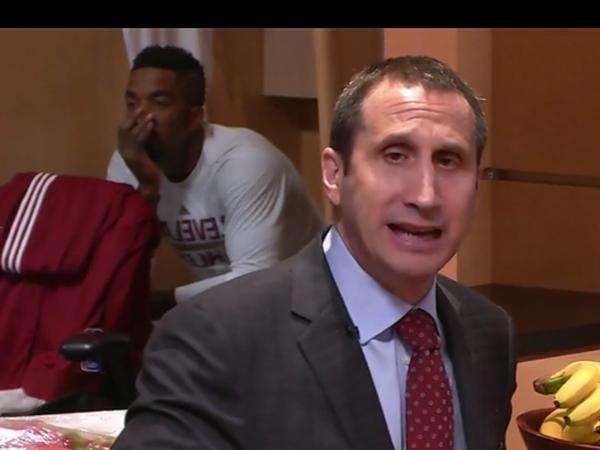 —-
Those damn bananas…
—-
Win or Lose: LeBron James is a freight train from hell.
https://vine.co/v/eeVT5HQMKl3
—-
Ok, I laughed….
Hard.
https://twitter.com/BobbyBigWheel/status/611004937535930368
—-
Curry Vision.
https://vine.co/v/eeVUnO1UVgP
—-
STEPHEN FLURRY
—-
He tried to tell ya'll…
if only lebron JR smith and Kyrie knew that flicking ur wrist is not for champions.. lil b cooking dance wins you titles lil b music – Lil B

— Lil B

THE BASEDGOD

(@LILBTHEBASEDGOD) June 17, 2015
—-
Nice gesture of sportsmanship by LeBron, as he exited the game for the final time this season…
—-
"Soon."
—-
When your golf group wins a team scramble and they used zero of your shots the entire round…
—-
Champs.
—-
Once, just once … I want to be this excited about something. Anything.
—-
SMOOCHIES
—-
Just a couple of MVPs doing MVP things…
—-
Steph didn't get one Finals MVP vote.
Final tally:
P.S.
Akron Beacon Journal
's Jason Lloyd voting for Iguodala instead of LeBron is
HARSH.
If you're in the mood for some
NSFW
content, check out his twitter mentions from last night…
"Sorry, no kisses for regular season MVPs — Finals MVPs only…."
https://vine.co/v/eeYuKMz9YZj
—-
"Stop standing around and go get my mic ready…"
—-
Appropriate music added to Steve Kerr's Celebration…
—-
Alvin Gentry, who will take over as New Orleans Pelicans Head Coach next season, outchea trollllllin'…
"AD (Anthony Davis), WE GONNA BE RIGHT BACK HERE NEXT YEAR."
Alvin Gentry has a message for AD. Get excited, @thebirdwrites. (Via @oakleyandallen) http://t.co/oguQ20dqFQ pic.twitter.com/rWvEF2hMlq

— SB Nation

NBA

(@SBNationNBA) June 17, 2015
—-
Harrison Barnes had never consumed a drop of alcohol until the locker room champagne party….
Enjoy your first hangover, Harrison! You'll swear off alcohol forever, and then find yourself drinking away the pain a mere 30 minutes later!
—-
SHADE CITY, POPULATION: KLAY THOMPSON.
https://vine.co/v/eeYrLEXQqdI
—-
Whether you Win or Lose the NBA Title, just a reminder: getting to the club is always faster on a hands free Segway:pic.twitter.com/Icpxe3Wp1z

— Rob Perez (@WorldWideWob) June 17, 2015
—-
Like father, like daughter…
Awesome.
—-
Maybe next year, Cleveland…