Whether you were under a rock, had to miss Warriors vs. Cavs, watched Game of Thrones instead, or, just want to relive an epic Game 5 at Oracle Arena last night — please join me in recapping the action…
—-
"Ok, God, send me a sign! If I make this shot, i'm going to get my play time back! Or, hit me in the face with a basketball if Coach Blatt is going to bench me for no reason again…"
https://vine.co/v/eevel2rjYve
—-
People always ask me: "Why do you obsess over J.R. Smith so much?" From now on, i'm no longer explaining myself. I am just going to show you this picture:
J.R. Smith had found a way to record a !!!-48!!! (+/-) IN A TIE SERIES. Only J.R., man…
Welp, by now, we all know what that means: J.R. is going to come out in the first quarter, try to make up for his terrible past couple of games by launching 10 horrible shots that miss by a collective 500 feet — right?
—-
WRONG.
Just as the Cavs were getting in deep down a quick 9 points, running out of casino chips, credit card maxed out…all that was left to do was put the final $25 on snake eyes…
UNLEASH J.R. SMITH.
UNLEASH J.R. SMITH.
UNLEASH J.R. SMITH.
—-
Of course: This is nothing unusual with J.R…. He catches fire faster than Stannis Baratheon's children, and unconscious basketballing is just one half of #TheJRSmithExperience. The other half is what I like to call "Bad J.R." — said in the same tone as "Bad Dog!" when your new puppy takes a dump on your carpet. "Bad J.R." does this things like untying other players' shoes, staying out until 5 AM the morning of a noon playoff game, dribbling around for 20 seconds only to turn the ball over, or receiving a flagrant foul…
https://vine.co/v/eevXYi7pUbx
For the record, if JR picks up one more flagrant in these playoffs he is suspended for the next game, he is at the point limit.

— Kurt Helin (@basketballtalk) June 15, 2015
You're not gonna believe this, but, J.R. came back down to Earth after EXPLODING/recording almost half the team's points in the 1st quarter — and didn't make a single field goal during the second half.
And remember when I said "WRONG" in re: to the predictable J.R. Smith 30-foot airballs? Ok, maybe that was only "kinda wrong"
—-
Anyways, moving on: Draymond Green and Matthew Dellavedova got into another skirmish during a rebound — as it appears Dray DDT Rock Bottom'd Dellavedova into the ground, and then tried to step on him?
It's much better with WWE's Jim Ross narrating it…
—-
No big deal or anything, but, LeBron James was two assists and two rebounds away from recording a triple-double…
…in the first half.
—-
This is unfathomable. Win or Lose, LeBron James is the MVP of the Finals — not sure it's close either…
Cleveland's last 16 FG:
LBJ ast
LBJ
LBJ ast
LBJ
LBJ ast
LBJ
LBJ ast
LBJ
LBJ ast
LBJ ast
LBJ
LBJ
LBJ
LBJ ast
LBJ
LBJ ast

— Tom Haberstroh (@tomhaberstroh) June 15, 2015
There have been 18 instances in these playoffs of someone having 20-8-8 in a full game.

LeBron now has nine of them.

(And 24:00 to go.)

— Tim Reynolds (@ByTimReynolds) June 15, 2015
—-
Timofey Mozgov got Mozgov'd by Harrison Barnes….
—-
And then LeBron and Steph decided that the other mortals on the court were insignificant, so, they decided to square off in a 1-on-1 battle for the ages…
—-
Which eventually turned into The Steph Show, presented: by Chef Curry.
Chef Curry decided to cook up some Delly meats…
And was kind enough to let everyone know Dinner was ready…
https://vine.co/v/eer6aUA06Bv
—-
"He can dunk too…?"
"…oh hell nah."
—-
Sonya Curry, Queen of the Bae Area, made us all fall in love with her for the 100th time this season….
And celebrated with Steph's wife like the burrito maker at Chipotle just gave them a fat scoop of chicken….
P.S. New idea for a gameshow: "What would you do to be adopted by the Curry family?"
—-
Everybody stop … HAMMER TIME.
—-
Hey, look, it's LeBron James taking a team photo with his Cavalier teammates!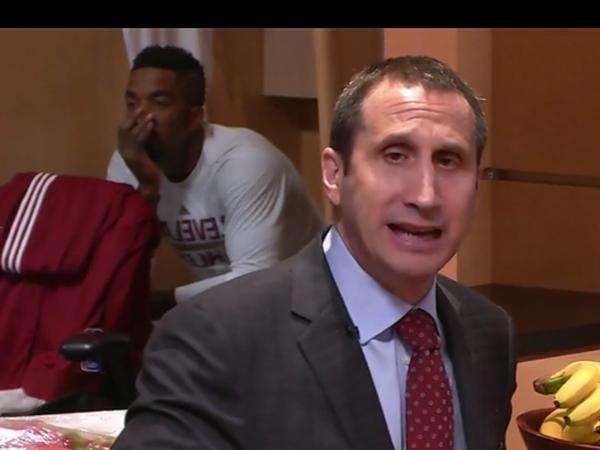 And while we're on the topic, obviously someone had to do this…
—-
After the game, Kung Lao from 'Mortal Kombat' made an appearance at the press conference…
Or is Tristan Thompson the guy from the front of the Quaker Oatmeal box? Can't tell…
—-
And finally, when asked: "do you feel added pressure because your team is undermanned?" by a reporter, LeBron James had this to say…
—-
On that note, prepare for World War III in Game 6 — and see you guys Tuesday night…