I mean…. how do you even begin to put that game into words? You can't. I am sitting in the corner of my apartment with a blanket over my head typing this, convulsing, mumbling obscenities i'm not even sure I know the meaning of. So, instead of attempting real journalism and getting fired for accidentally typing something inappropriate — i'm going to now summarize Game 3 of the NBA Finals with pictures and videos.
—-
LeBron James was GEEK'd during pregame warm ups. It's like every time an important Cavaliers player gets injured, it's a bad thing for the opposition because it just set LeBron's "I am going to drop a triple-double in the first half and kill every single person that stands in my way" rage on absolute fire.
—-
"Winter is coming."
This mutant is 1.7 Assists Per Game away from averaging a triple-double during the Playoffs. Simply unfathomable.
—-
"WE WHO ARE ABOUT TO DIE, SALUTE YOU!"
—-
Thank God Matthew Dellavedova doesn't have a history of being a "dirty player", otherwise, someone might record a vine of him diving at Draymond Green's knees, after getting shouldered to the floor, and then publish it on the internet.
—-
Believe it or not, this was LeBron's first dunk of the NBA Finals.
—-
J.R. Smith made his first three and I was consuming an adult beverage so I made this. Sorry.
🔥🔥🔥🔥🔥🔥🔥🔥🔥🔥🔥🔥🔥🔥🔥🔥🔥🔥🔥🔥🔥🔥🔥🔥🔥🔥🔥🔥🔥🔥🔥🔥🔥🔥🇺🇸🇺🇸🇺🇸🇺🇸🇺🇸🇺🇸🇺🇸🔥🔥#TheJRSmithExperience pic.twitter.com/owIueQqgoY

— Rob Perez (@WorldWideWob) June 10, 2015
and this…
CAUTION AHEAD: PIPE AT WORK. pic.twitter.com/NpG31G6GWu

— Rob Perez (@WorldWideWob) June 10, 2015
—-
AMBER ALERT.
—-
This guy makes it look so easy it is unfair.
—-
Eventually, the Cavaliers built a 17 point lead going into the 4th Quarter. Then, Happy learned how to putt….
—-
And then LeBron said I have had enough of you heathen mortals, I am now going to dunk on all of you.
—-
And Matthew Dellavedova continued to overachieve at levels we've never seen in "NBA overachieving history" since Chris Dudley single-handily won a game for the New York Knicks in the 1999 NBA Finals.
—-
Did I mention that Matthew Dellavedova was friggin' everywhere?
—-
BLATT BLATT BLATT BLATT.
No, i'm not screaming the last name of the Cleveland Cavaliers' Head Coach. Instead, i'm making noises coming out of second amendment supporter LeBron James' finger guns.
—–
The Warriors came back, as they always do. They cut the lead to 3 with ~20 seconds left when this happened…
The officials ruled this OFF CLEVELAND, WARRIOR BASKETBALL.
Remember when everyone on Earth complained: "WHY DO WE HAVE REVIEWS? ALL THEY DO IS DISRUPT THE FLOW OF THE GAME!!!" Good times.
—-
Game wasn't over though, because the Warriors have this guy….
—-
Steph hit an absurd 3 over Mozgov to almost force overtime…
—-
Butt, the Cavs ended up winning, butt, not before Matthew Dellavedona cashed in on all his hard work doing important jobs around the rim/his recent jump to stardom…
—-
Grantland then created the greatest YouTube video in the history of the internet.
https://www.youtube.com/watch?v=0gpxZSSPvxk&feature=youtube_gdata_player
—-
Life comes at you fast…
…and by "life", i mean: LeBron James.
—-
No caption needed for this one….
LeBron James in the #NBAFinals2015
PTS: 41.0
REB: 12.0
AST: 8.3
STL: 1.7
BLK: 1.0
PER: 31.9
USG%: 42.8
MIN: 47.4http://t.co/qiHYHH0UPQ

— RealGM (@RealGM) June 10, 2015
Or this one….
Total score of #NBAFinals after Game 3:
Warriors: 292
Cavaliers: 291http://t.co/bIZi0Nc8LM

— RealGM (@RealGM) June 10, 2015
—-
When you lay a banana on the ramp at Koopa Troopa Beach, 1st place spins out, and your boy steals the Win.
—-
Awesome moment here as Dwyane Wade interviewed LeBron James on the set of SportsCenter after the game…
—-
LeBron may have his own mural overlooking the city, but, Matthew Dellavedova gonna get a statue if he keeps this up…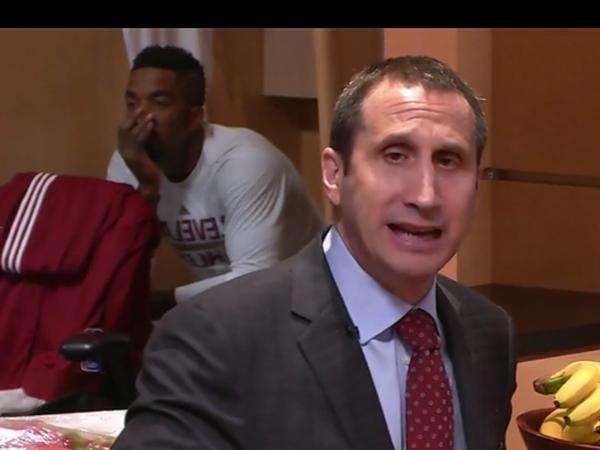 —-
And then Matthew Dellavedova died.
Strange scene: Walking out of Cavs Arena at 1:35 am and I see Matthew Dellavedova get on a stretcher and get taken away in an ambulance.

— Jim Barnett (@uograd66) June 10, 2015
The Cavs announce Delly experienced severe cramping in the game and required an IV. He's going to the Cleveland Clinic for more treatment.

— Dave McMenamin (@mcten) June 10, 2015
No, seriously though — he better be ok. This series, this playoffs, this season is too awesome to lose him.
—-
I'm going to go for a walk now and collect my thoughts. Bye.