The Heat might be denying that Hassan Whiteside's name is involved in any trade talks. But the internet (who's never wrong) suggests otherwise.
With Dwight Howard and DeMarcus Cousins also both rumored to be on the block, Whiteside has been mentioned as the centerpiece of packages to add either disgruntled big man.
Let's say Miami doesn't want a potential locker room problem, but decides keep their core while using Whiteside to obtain pieces for the future. Here's some places not being mentioned that could be suitors for Hassan.
Breakdown: It feels like the Celtics and Lakers are in a race to see who can get through the rebuilding stage first. Landing Whiteside would be a huge piece towards winning that race.
Bass can help Miami battle for position below Cleveland in the east, but it's the Lakers that stack another chip. Add Whiteside onto the young core of Russell, Randle and Clarkson and all the sudden L.A. feels like its one piece away if all those youngsters develop.
The Heat, of course, need something for the future in exchange for downgrading to Bass over Whiteside. With the player being of much less value than what the Celtics offer below (assuming Miami likes Sullinger), it'd probably have to be a top-10 draft pick going back to Miami.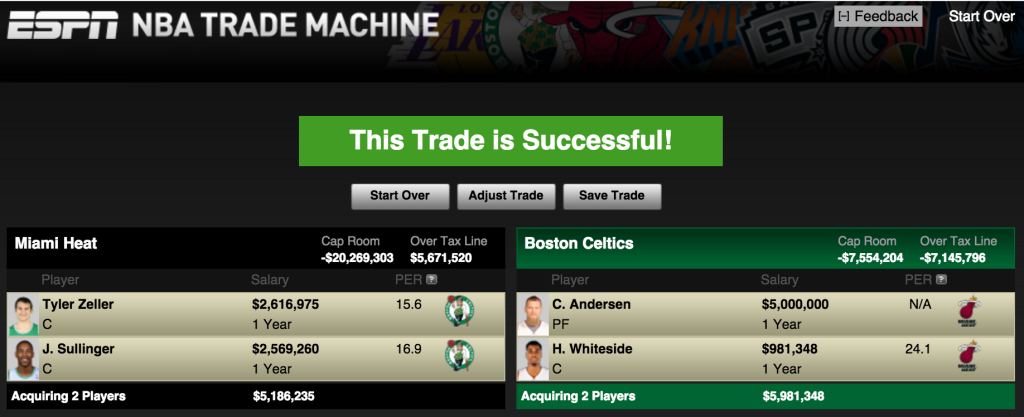 Breakdown: What do the Celtics continue to say they need? A rim protector. So if a young one is available, they'll go all out to get him.
The C's have a logjam of mediocre big men, so the opportunity to flip a couple of them for an elite shot blocker with true center size would be a no brainer. Miami should still be able to win in the short term with Sullinger and Zeller filling in, although they'd certainly have some struggles on D.
What makes the trade, as is always the case with Boston, is draft picks. If Pat Riley and Danny Ainge agree on a price, this has win-win potential.
Breakdown: Here's a little something different for you.
If you're Miami and you're giving up Whiteside, why not get a proven player that does some of the same things in exchange? Ibaka can step in and provide what Whiteside currently does, but with the ability to extend out to the 3-point line (and plenty of playoff experience under his belt). In exchange for giving away the future asset in Whiteside, Cameron Payne has potential to be the PG of the future for the Heat.
OKC takes a risk here, but they've done that before in attempts to win a title. Parting with Ibaka would be tough. They'd particularly miss his shooting, but Whiteside is capable of doing everything else. Sacrificing that shooting is worth adding Deng. The Thunder would then have the potential to go big against a team like the Spurs: Westbrook/Deng/Durant/Whiteside/Kanter. But also go small against a team like the Warriors: Westbrook/Waiters/Deng/Durant/Whiteside. Flexibility will be key to win the west.
Follow me on Twitter @julianedlow