In tournaments it's vital to find plays that contain both upside and the potential to be overlooked. Take two players that are priced at $8,100 and projected for similar output. If one is 33% drafted and the other is 5%, you want to take the 5% player every time. When he outscores the higher drafted player, you're passing 27% of the field with that play. That's a very good thing. Below are a few plays from tonight's games that fit that mold.
Guards
Greivis Vasquez ($3,800) – Michael Carter-Williams has been ruled out. That opens up roughly 34 minutes to be soaked up by Vasquez and Bayless. Most people will gravitate to Bayless who is coming off a very strong performance. Vasquez is a bit cheaper and likely to be less owned. His production could easily outpace Bayless'.
Ty Lawson ($6,100) – Lawson struggled the first few games of the season but finally found his rhythm last game. He will likely be plagued with inconsistency throughout the season due to sharing the court with Harden. However, he still has elite upside for his price tag. He will typically be a good target in up-tempo games.
Damian Lillard ($9,000) – Lillard has a horrific matchup. Sometimes volume and ownership can trump matchups in GPPs and I think this is one of those spots. Lillard is averaging 20.8 shots a game. Up from 16.6 last year. We know the volume will be there. He also had decent success against Utah last year. I believe his ownership will be sub 2%. He's an intriguing way to add some unique flavor to your GPP team.
Check Out Common Picks for the Common Man by KMarko HERE
Forwards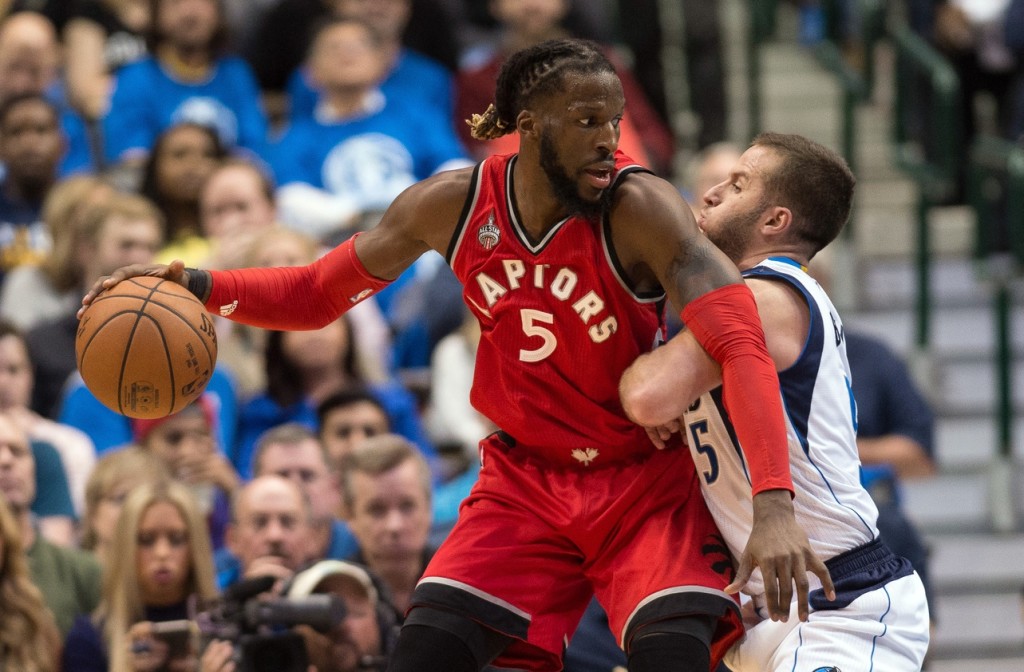 DeMarre Carroll ($5,800) – Carroll has so far struggled to get acclimated to his new team. However, his minutes, usage, and assist rate are all up compared to last year. His price is not. He's bound to break out sooner or later and an uptempo game against OKC might be that spot.
P.J. Tucker ($3,600) – Tucker has been losing minutes to T.J. Warren so far this year. I suspect he will be asked to play a few more minutes tonight to guard Rudy Gay. If he surpasses 30 minutes, it won't be difficult for him to pay off his $3,600 price tag. He can help you pay up for some of the high priced studs.
Derrick Favors ($7,300) – Derrick Favors never gets his proper due. He's likely to get price blocked (when a sexier play has the same price – people tend to herd to that player) by Greg Monroe tonight. Portland's frontcourt is not what it was last year and Favors should have no trouble getting his against Meyers Leonard and Miles Plumlee. He's a safe play with plenty of upside.
Centers
Myles Turner ($3,600) – Andre Drummond ate Turner for breakfast, lunch and dinner last night. That led to Turner only playing 15 minutes despite Ian Mahinmi leaving the game in the first quarter. Tonight's matchup against a soft Boston front court is much better and Mahinmi is questionable. If Mahinmi is out, deploy Tuner at will.
Dwight Howard ($6,900) – Dwight's reputation is far from stellar at this point of his career. He's been plagued by injuries and, at times, a bad attitude. Luckily, that can actually be a benefit in DFS. People tend to shy away from those types of players even though we only care about what he does tonight. His price is very reasonable and he's played well in the two games he's played. He's likely to have his way with Vucevic and the Orlando frontcourt all the while being underowned.