Winning in tournaments requires a nice mix of roster differentiation and high upside.
For our purposes, we're going to focus on the high-ceiling plays by position, and salary tier (top end, mid tier and low end), for tonight's games, 'fire up your new week' nine-game slate. These are plays that could go for about, on average, six times what their salary is. (Ex. $6,000/1,000 * 6 = 36 DK points equals value.)
Let's line em up! Ask any questions on Twitter @JasonWalker_72
Guards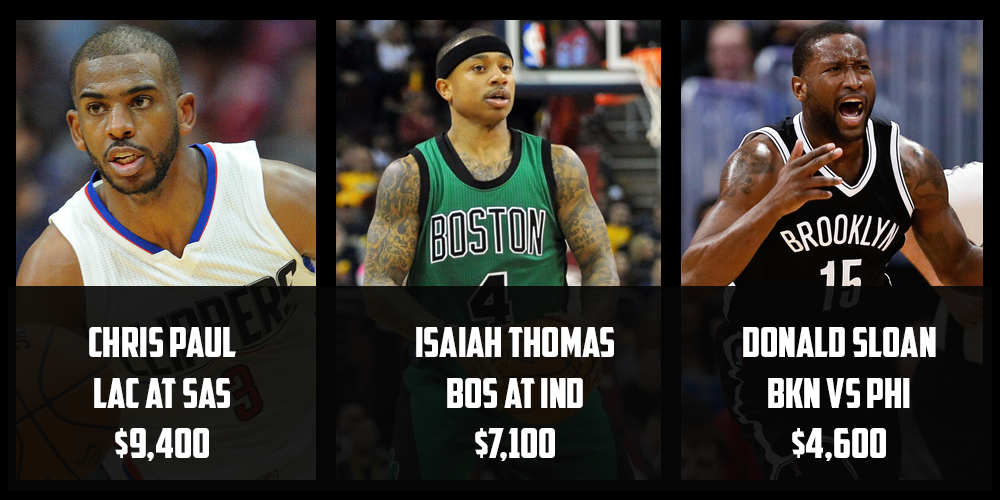 Chris Paul – LAC @ SAS – $9,400 – No way a lot of people are going to pay up for Paul in San Antonio when they'll be trying to spend up for DeMarcus Cousins is a sweet, sweet matchup against the Lakers. Paul, however, has averaged 55 DKPPG against SAS this season and rostering opponents in San Antonio is super contrarian. Love this play.
Isaiah Thomas – BOS @ IND – $7,100 – Another under the radar play with big upside, Thomas' salary has quietly slid down to almost 7K but his raw and scoring usage are still quite high. This game has sneaky upside and Thomas will have to be a large reason why.
Donald Sloan – BKN vs. PHL – $4,600 – There are trust factors in play when it comes to the People vs. Donald Sloan. Still, Sloan has been effective against PHL, evidenced by his 41 DK point game against them four days ago. Make sure he's starting then get him in the lineup if you need a low salary guard play.
---
Dig Deeper into Tuesday Night's
NBA

Slate
---
Forwards
Paul George – IND vs. BOS – $8,200 – Still over 30% raw usage for the season and has scored 42 DraftKings points per game (DKPPG) over his last 15 games. The Celtics are tough against wings but PG13 has averaged 45 DKPPG against them in three games this season.
Rudy Gay – SAC @ LAL – $6,100 – All eyes, and money, will be on Boogie Cousins in this game, leaving Gay underowned. Rudy has had success against the Lakers, even with Cousins doing well and on the floor in the same games, averaging 36 DKPPG this season against them.
Carl Landry – PHL @ BKN – $3,700 – He'll be more highly owned than I usually like in tournaments, unless people are scared off by the fact he only got 24 minutes against Detroit. Still, he's a high raw usage player in a game and a team that's going to need someone to hoist up some shots where they have the advantage over the Nets, the frontcourt.
---
Centers
DeAndre Jordan – LAC @ SAS – $7,300 – He has averaged 41+ DKPPG against the Spurs already this year and can frequently be the target of fouling attention by the Spurs at the behest of Gregg Popovich. As I said in the Paul summary, going against the Spurs is a great way to get some lower ownership since, you know, they are awesome and all. Paul and Jordan are the ones that have consistently produced against them.
Greg Monroe – MIL vs. TOR – $6,100 – Monroe doesn't get a lot of minutes, and with Nikola Jokic and Jared Sullinger drawing attention around the same spot, Monroe may be the lowest owned of those three and has a positive matchup against the center defense of the Raptors. Now, if Jason Kidd could allocate 30 minutes to Monroe….
Bismack Biyombo – TOR @ MIL – $3,700 – We might see a start from Biyombo, with Jonas Valanciunas listed as questionable with his hand injury. If Bismack starts, he has a plus matchup and can easily pass value at his $3.7K salary. In the 17 games this season that Valanciunas has missed, Biyombo averaged 30 minutes and 25.5 DKPPG.
---