Winning in tournaments requires a nice mix of roster differentiation and high upside.
For our purposes, we're going to focus on the high-ceiling plays by position, and salary tier (top end, mid tier and low end), for tonight's games, a classic, big tournament, ten-game slate. These are plays that could go for about, on average, six times what their salary is. (Ex. $6,000 * 6 = 36 DK points equals value.)
Let's line em up! Ask any questions on Twitter @JasonWalker_72
Guards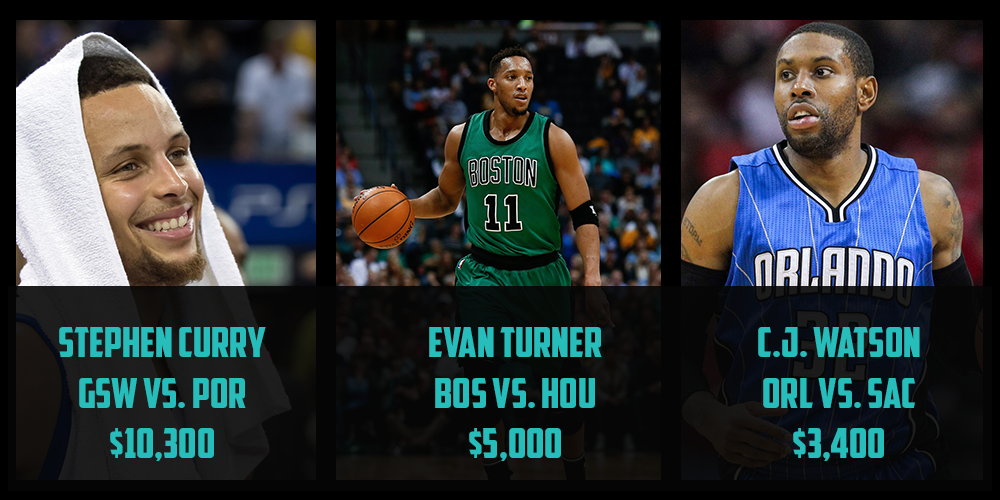 Stephen Curry ($10,300) – Curry can go surprisingly underowned, especially on large slates, yet has the highest ceilings around. Lillard is less expensive and on a huge run and will be playing in this same game, with a huge total and his own massive usage. So there are those who are more apt to go to Lillard because of the (correct) assumption he'll use more possessions. But even over the last four games, where Lillard has used an amazing 36% of possessions, Curry has 31% usage and they are nearly even in the True Usage category. Recency bias will also cast doubt onto Curry's viability with recent huge games from not just Lillard, but Russell Westbrook, too. All three are in positive spots, so my tourney pick is Curry, because he'll likely be lower owned than the other two.
Evan Turner ($5,000) – This is a great spot for Turner, who gets the absent defense of the Rockets' wings, a huge game total (223) and some solid run/production lately, including a 34 DK point effort last time out against the Grizzlies. With so many people locked in on the Memphis situation and Vince Carter's role in the post Conley/post Chalmers backcourt, Turner will be less owned, even in his matchup.
C.J. Watson ($3,400) – Elfrid Payton is OUT and it was Watson, not Brandon Jennings, who got the minutes against the Lakers the other night. Who knows what lurks in the anger-addled mind of Magic coach Scott Skiles but Watson seems to be the teacher's pet at the PG position, a place where Skiles turns for stability. This game against the Kings will be a high total itself and a fantastic value opportunity for the Magic fill-ins on a big slate.
---
Forwards
Kevin Durant ($10,500) – There will be a ton of value options at SF tonight, with Lance Stephenson and Rudy Gay likely leading the way. With the high profile PGs on the slate tonight, and the lesser point effort last time out for Durant, there could be less appetite for paying up for KD tonight. Durant has had seven straight games of 57 DK points or better and the matchup against the Timberwolves shows to be a positive one, fantasy wise.
Thaddeus Young ($6,600) – With Rudy Gay at 6K with no DeMarcus Cousins, it'll be easy to see folks looking at the forward position and going with Rudy. Even at PF, there's Aaron Gordon just 100 bucks more in a high total matchup and Draymond Green at 8K to lure people in. Young has solid peripherals against a team in Philly that gives a lot of those to their opponents. Also, Young loves to play against his old team, going for well over a DraftKings Point Per Minute (DKPPM) in the two games against them this season.
Jason Smith ($3,500) – No Vucevic tonight and Orlando's other option at center, Dewayne Dedmon, has a personal foul issue leaving at least half the center minutes to Smith. Also it's likely the Magic will need some size with Kosta Koufos, Willie Cauley-Stein and Quincy Acy tonight with Boogie out. Jason Smith can provide that size, which they'll need maybe more than they did in Los Angeles and Golden State, where those games went small more often.
---
Centers
Karl-Anthony Towns ($7,900) – It's not a great spot for him, going against Steven Adams, but the KAT has been matchup-resilient lately, leading the team in usage at 28% over the last four games and scoring 43 DKPPG. This game will be high scoring, and the Wolves will need their athletic big man to be very active to stay in the game. So with eyes looking for value at center tonight, KAT will be lesser owned, despite the high game total.
Brook Lopez ($7,800) – There's something about a large slate that Lopez often gets overlooked more than a guy who produces as much as he does should be. Alas, while the Sixers matchup should garner more attention to him, he's likely to still be overlooked for plays like his own brother against the Clippers, and our value play center down below. Lopez has had 30% usage over his last four games and averaged over 44 DKPPG in that span. Great matchup, solid salary, steady role/production.
Kosta Koufos ($3,000) – It wouldn't be the worst thing to fade Koufos tonight, if you feel he'll be too wildly owned as a min play against the Vuc-less Magic team tonight. The Kings could go small but Koufos has had solid games when given the chance. The last 30 minute game he played he dropped 24 DK points against the Bucks. His game log is not impressive and there are other solid options out there, so the ownership may not be as large as it would be on a six or seven game slate. However at min priced, in a good matchup with no Boogie Cousins, he might be too solid to pass on tonight.