In tournaments it's vital to find plays that contain both upside and the potential to be overlooked by the public. Take two players that are priced at $8,100 and projected for similar output. If one is 33% drafted and the other is 5%, you want to take the 5% player every time. When he outscores the higher drafted player (which will happen often), you're passing 27% of the field with that play. That's a very good thing. Below are a few plays from tonight's games that fit that mold.
Guards
Kyrie Irving ($6,500) – Kyrie has been very average of late and has a giant spread to deal with. I think both of those aspects will keep people away. The shot volume has been there. He's taken 18, 16 and 18 shots in his last 3 games. The matchup tonight is elite against a banged up Suns backcourt that's traveling for a back-to-back. His price is way too low given his skillset. Take the discount and hope the game stays competitive. If Kyrie gets hot, you'll have a huge leg up for only $6.5k.
Nik Stauskas ($3,500) – Stauskas is coming off 38 minutes last night. Isaiah Canaan and JaKarr Sampson are questionable which clears the way for him to log heavy minutes again tonight. He's a guy that loves to chuck and Brett Brown has no problem giving him the green light. His price is right at $3.5k. He can open up a lot of space to fit in the studs tonight.
Andrew Wiggins ($6,600) – If it weren't for Devin Booker continuing to be underpriced, I'd consider Wiggins for 50/50s. I think he's that solid of a play. Since Booker's ownership will be so high, it makes any pivot at SG a good GPP play. On the Oklahoma City side, Andre Roberson is injured which means Wiggins will matchup with Dion waiters. On the Minnesota side, Kevin Martin is injured which solidifies Wiggins minutes and shot attempts. It all lines up for him to have a monster game.
Forwards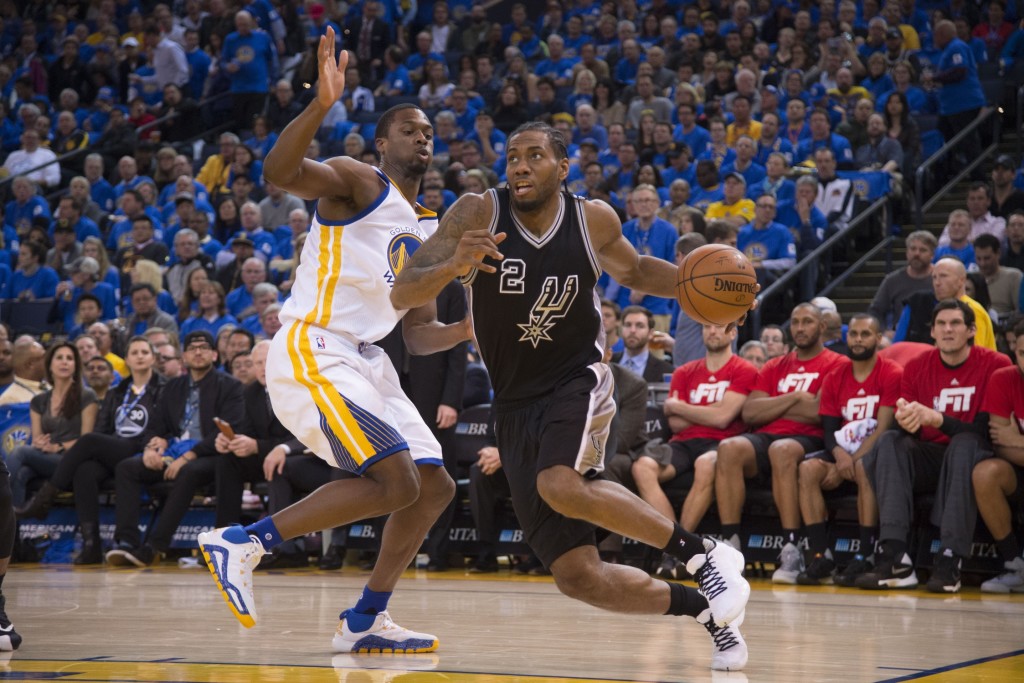 Kawhi Leonard ($8,200) – I'm sure that the Spurs shellacking against the Warriors is fresh on everyone's mind. That's going to keep all of their ownership down. For their own pride's sake, I think the team is in a prime spot for a bounce back night. The spread is reasonable at -9.5 and the matchup is elite against the Rockets. The Spurs don't play until Saturday so look for them to get a little extra run if the game starts to get out of hand.
LaMarcus Aldridge ($7,100) – The narrative is strong for Aldridge. After one of the worst games of his career on Monday, he deleted all of his social media accounts; Twitter, Instagram, hell, probably even snapchat. He's focused on his game. He gets a Christmas matchup against the Rockets front line. With Duncan on the sidelines, his numbers approach those he had with the Blazers. There is everything to like about LMA tonight.
Marcus Morris ($5,400) – Morris is so inconsistent that he's only ever a GPP consideration for me. He's capable of big games, but it's hard to predict when they will occur. That definitely keeps his ownership down. He gets a good matchup against a 76ers squad traveling on a back-to-back. In his one game against the 76ers this year, he scored 40.5 fp. He's also at a difficult position to fill tonight and I expect most people to spend up for Kevin Durant. At $5.4k he gives you a unique approach to your roster construction.
Centers
Rudy Gobert ($6,700) – Gobert is finally starting to find a rhythm. He's coming off one of his best games of the year with 45 fp. His price is up, but he's still underpriced for his skillset. He gets to matchup with Spencer Hawes tonight which will draw him away from the hoop some but also gives him opportunity for blocks. This is likely one of the last chances to play Gobert at really depressed ownership levels.
Andre Drummond ($8,500) – The game log watchers will surely shy away from Drummond. He's scored 17 fp in consecutive games. His price has dropped to reflect this. He's at a $1k discount compared to his peak last month. Drummond matches up against an undersized 76ers team that's on a back-to-back. He dropped 51 fp on the 76ers in their lone meeting earlier this year. I also don't expect them to try hack-a-Drummond since they aren't trying to win games. That should help keep Drummond on the court.