Winning in tournaments requires getting not just good efforts from your roster, but some extra high point production. Sometimes this requires differentiation in roster and other times it's just identifying the high-ceiling plays for the slate.
For our purposes, we're going to focus on the high-ceiling plays by position, and salary tier (top end, mid tier and low end), for tonight's games, a peppy five-game slate. These are plays that could go for about, on average, six times what their salary is. (Ex. $6,000 * 6 = 36DK points equals value.)
Let's line em up! Ask any questions on Twitter @JasonWalker_72.
---
CHECK OUT MORE NBA CONTENT FROM THE PLAYBOOK TONIGHT:
NBA Tournament Plays
NBA Game Breakdown
Daily Fantasy Basketball Edge Podcast
NBA Top 5s by Position
NBA Cheat Sheet
NBA Targets
---
Guards
Kyle Lowry ($8,700) – Lowry laid an egg last night, big time, but gets the Suns tonight, which is the magic offensive cure for all that ails you. Lowry is expensive, the line is borderline blowout and he has that stench of you burnt me all over him. It all makes for a nice, contrarian tourney play.
Ricky Rubio ($6,500) – Could be a little more owned than I might like here, but given some of the other strong options at the position, I'll give Ricky the nod. It's not that I'm worried about producing against the Lakers, laws no…..It's just that the Lakers draw everybody's attention, making a lower owned (relative to the slate) play in the game harder.
Patrick Beverley ($4,500) – Another guy whose performance recently may attract a few more people than you'd like, but the price and game are right for Bev here against the Heat. Bev's scored 30+DK points in his last two games as Ty Lawson and Jason Terry have faded from view.
Forwards
Carmelo Anthony ($8,400) – Melo is one of those guys that, when the price gets a little too high, folks jump off. 8.4 is right on that cusp, but a game that Jae Crowder might miss gives Anthony an Evan Turner/Jared Jerebko matchup, which is nice. The game total is solid and Anthony's role in making it so is as well.
Jabari Parker ($5,300) – Played a lot of minutes last night in Sacramento, but he's a young man and if John Henson misses again, he'll be needed to attack the Blazers frontcourt.
Jonas Jerebko ($3,100) – Talk about tourney play only. This is strictly if Jae Crowder misses, as Jerebko has been getting solid minutes even with Crowder and Turner in the rotation. At almost minimum in a game that Melo will almost certainly get Turner or whoever into foul trouble, Jerebko's chances at mid 20s minutes look good, and he's shown the production to make 7x-8x value if he gets that run, scoring about one DK point per minute.
Centers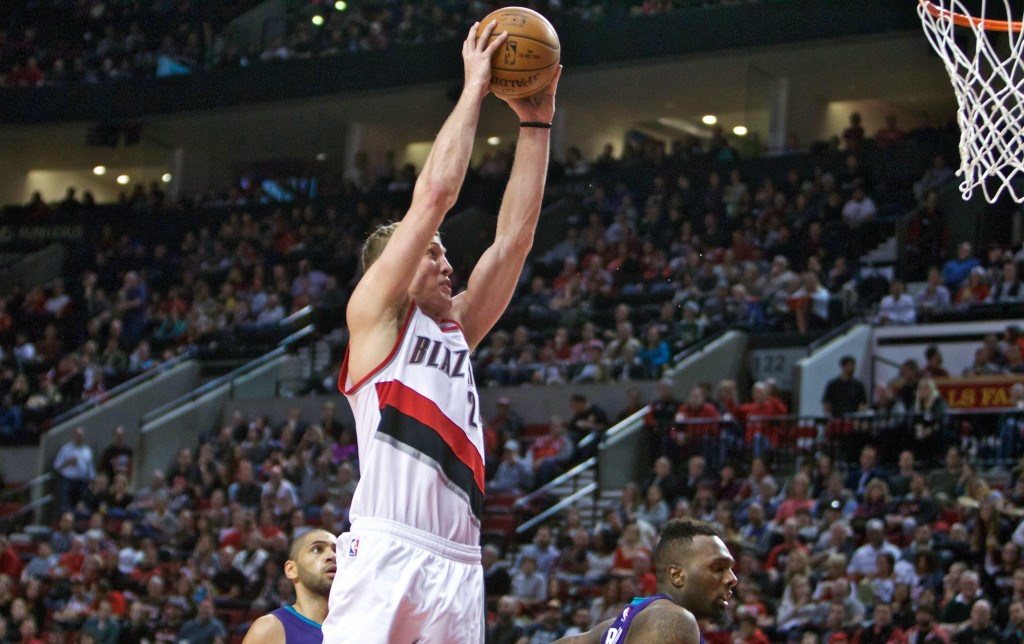 EDITOR'S NOTE: Dwight Howard is OUT tonight.
Dwight Howard ($7,300) – His last two games look bad and Harden's look good, which should throw some folks off the Howard scent. But he was tossed in both of those games. Howard should return to his January productivity and have the Rockets production look like more of an even split between he and Harden. Looks like no Hassan Whiteside is out as well, making the sledding that much easier.
Mason Plumlee ($5,500) – Plumlee has been producing, but just not playing long minutes. Greg Monroe's presence should summon additional time for Plumlee, who has been excellent per minute this season. Plumlee rates at nearly 34 DKPP32 minutes so his 5K range salary is constantly in value watch anytime he looks to go above 25 minutes in a game.
Alex Len ($4,600) – The small lineup the Suns deployed last time out should not be in service against Jonas Valanciunas and the Raptors tonight, making Len an excellent upside/bounceback play as he's still a DKPPM player, he just needs the additional minutes, which he should get tonight.