In tournaments it's vital to find plays that contain both upside and the potential to be overlooked by the public. Take two players that are priced at $8,100 and projected for similar output. If one is 33% drafted and the other is 5%, you want to take the 5% player every time. When he outscores the higher drafted player (which will happen often), you're passing 27% of the field with that play. That's a very good thing. Below are a few plays from tonight's games that fit that mold.
Guards
Brandon Knight ($7,300) – I recommended Knight last week and it didn't pay off. Three of his last four games have been subpar. He was also moved to the bench last game. So what's to like? For starters, I think the bench move is actually good for him. Last game, he still saw 35 minutes. More importantly, it staggered his time on the court with Eric Bledsoe. He has a fantastic matchup tonight against a depleted Nuggets. He's also shown he has as much upside as nearly any guard. His ownership will be low tonight and he's in a perfect spot to succeed.
Elfrid Payton ($6,300) – Payton is questionable at the moment, but it looks like he's going to play. If he does give it a go, he's one of my favorite tournament plays. This game is one of the better ones to target tonight as he gets to face the up-tempo Rockets. Payton has played very well as of late. The biggest concern with him is if the minutes will be there. I expect a close matchup where Payton plays between 32-34 minutes. If that's the case, he possesses plenty of upside to have a fantastic game.
Monta Ellis ($5,500) – There are several very good SG players today (Bledsoe, Crabbe, Evans, McCollum). I have Ellis projected as a similar value. He gets to face one of the fastest teams in the league in the Kings. The Kings are also very weak at defending SGs. It's a great spot for Ellis. He's going to get lost in the crowd of the other SG plays which should give him very low ownership.
---
Forwards
Paul George ($8,900) – You'll notice see a theme of attacking players coming off a string of bad games. There is always an ebb and flow to the NBA season and players are bound to see dips in production. They nearly always bounce back. George is the victim of some poor play, tough matchups and a recent illness. He's healthy now and in a great matchup. He'll spend a lot of time at the 4 today as both the Pacers and Kings will go small. I love George's chances of having a monster game like we saw regularly earlier in the season.
Tobias Harris ($6,500) – The Rockets are a great fantasy matchup overall, but in particular to forwards. Tobias has been a very volatile player this year. In the last 10 games he's ranged from 3.5 to 51 fps. It makes him a dangerous proposition for 50/50 style games but a great target in tournaments. I think most people will either go with a really cheap SF play like Oubre or spend up for one of the elite PFs. Using Harris gives you a unique approach to roster construction will still maintaining plenty of upside.
Demarcus Cousins ($10,000) – I suspect that most people will take their chances with Anthony Davis tonight. I prefer to save the $300 and go with Boogie Cousins. Boogie has not been particularly good since coming back from an injury about 10 games ago. He's eventually going to get on track and I'm hoping it happens tonight. The Pacers don't have the size to match up with Boogie. It will be an up-tempo. Cousins should look to establish himself down low. If he does that, he will be able to get whatever he wants tonight.
---
Centers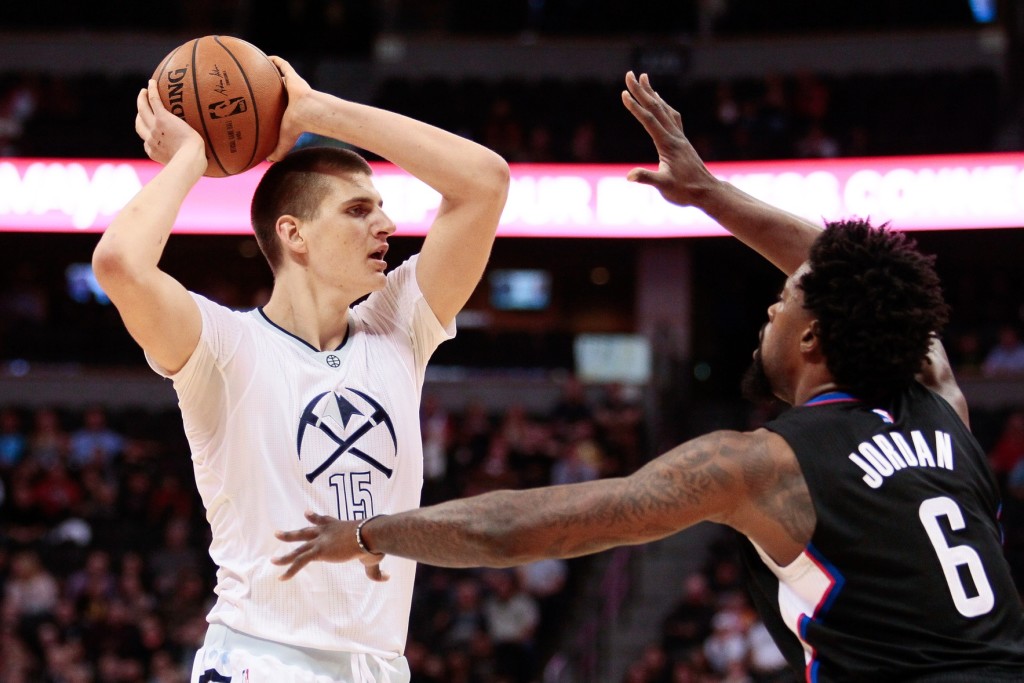 Greg Monroe ($7,100) – Another theme of this article is playing Bucks and Magic players when they are in good matchups. Both of these teams deal with inconsistent rotations. It makes them prime GPP candidates as when they play well, they are typically rewarded with more playing time creating a positive feedback loop from a fantasy point perspective. The 76ers front court is one of the best matchups to attack.
Nikola Jokic ($4,000) – Jokic had one of his best games of the season last night scoring 35 fp in 30 minutes. The Nuggets are thin overall which created a trickle down effect to help Jokic's minutes. His solid play earned him more. The matchup isn't great tonight, but I think the minutes will be there if he plays well. Jokic has shown he can put up monster stats in limited minutes, if he can get up to 30 minutes tonight, he could pay off huge.