A good 7-game NBA schedule tonight shows many potential high-level players in favorable matchups as well as great mid-to-low salary quality options. Let's get started on tonight's targets.
Need More NBA Research for Monday? Check Out Our Other Content:
Point Guard
Stud
Stephen Curry ($10,500) –Stephen Curry is hands down the best player on the slate tonight & is absolutely worth the money, even against a Pistons team that is extremely solid defensively. Reggie Jackson may give Curry a bit of a tough time, but due to the Pistons playing the backend of a back-to-back, Curry should be able to take advantage of some possible weak legs & give you his usual production which normally consists of a floor of around 35-40 & be a player who can easily go for 50-55 DK points.
Damian Lillard ($8,500)- Lillard should be able to exploit rookie Nuggets phenom Emmanuel Mudiay in this matchup. Yes, Lillard is coming off of a hard-fought game against the Pistons on Sunday night & going into the altitude of Denver can always be a tricky scenario, but given Lillard's recent string of 5 straight games over 40 fantasy points & the lack of defense that the Nuggets will bring, Lillard shouldn't have a problem reaching & exceeding value.
Other Options- Reggie Jackson ($7,400), Mike Conley ($6,100), Jeff Teague ($6,700)
Value
Austin Rivers ($3,000) – Rivers is a strong play in a tournament format on Monday due to Chris Paul's groin injury. As of this writing, Paul has been listed as out for the game against Memphis & Rivers looks to be the starter. In his first game starting on Saturday night, he put in 10 points, a block & steal equaling 15.5 fantasy points in 31 minutes. He should get a high amount of minutes again on Monday & with his ability to get hot from the 3PT line, Rivers should be able to hit value for the $3,000 he is worth right now & allow for spending in other areas.
Rajon Rondo ($6,500) – Rajon Rondo has been absolutely on fire during the last few games. He had a triple-double on Saturday against the Warriors & did a great job of holding Stephen Curry in check for most of the ball game, compared to what the rest of the league has been able to do against Curry this year. The effort on Saturday earned Rondo 62 DK points, the highest for him this season by far. Overall, Rondo is averaging 35 fantasy points per game, & for this price, that is absolutely a must play in all formats. Rondo has been extremely aggressive offensively & could be an even bigger force with DeMarcus Cousins coming back as well as Rudy Gay playing much better lately. This could be the last night we see Rondo's salary down at $6,500 so it would be smart to take him now against an older Tony Parker.
Other Options – Tony Parker ($4,400), George Hill ($5,900), T.J. McConnell ($5,300)
Shooting Guard
Stud
Victor Oladipo ($7,600) – No matter who the opponent is, Victor Oladipo has been absolutely steady all year. Will he wow you with his shooting? No. Will he give you the 40-45 point game? No. However, he will be a sure thing for his 16 points, 7 rebounds, 4-5 assists per game & a ceiling of about 35 fantasy points, which makes him a solid play each night. His style of play is not gameplan specific as he is very much a blue collar, tough player who will get his points anyway possible. That trait will make him someone who I would target in a cash game every night.
Klay Thompson ($6,600)- Thompson is sometimes considered the forgotten scorer on the Warriors because of the greatness of Steph Curry, but Thompson has been very consistent every game in the young NBA campaign. He has 5 straight games of over 27 DK points & with all of the attention that will be on Curry, this leads to open shots for Thompson. He will draw the defense of Kentavious Caldwell-Pope & possibly Marcus Morris at times & one or both of those guys will have to leave Thompson to go double-team Steph, which will leave Thompson open for many 3PT opportunities. With the Pistons coming off of a late game & travel, look for Thompson to do everything he can to get open & wear the defense down with trying to play man-to-man on him. Another consistent 35 DK point night is expected here.
Other Options – C.J. McCollum ($6,500), Kentavious Caldwell-Pope ($5,000), Monta Ellis ($5,600)
Value
Kent Bazemore ($4,900) – Bazemore has been outstanding during the season & he has been under the radar quite a bit. On Saturday, the starting SG put up 40.5 DK points after 5 straight games of over 22 DK points, with many of those games being near or over 30 DK points. With so much attention being paid to Horford, Millsap, Korver & Teague, Bazemore is almost the forgotten person in the Hawks rotation & Bazemore as taken advantage of it & another 30-35 point night should be expected here & for a great value.
Manu Ginobili ($4,200) – Even at Manu's advanced point in his NBA career, he is still putting up strong contributions off the bench, filling up the stat sheets. With the talent around him now, Ginobili can be counted on to have a floor of about 20 DK points per game & a ceiling of around 30-35. With the Kings very depleted in the backcourt, look for Manu to have another solid night where the stat sheet will be filled out & you get great value out of that $4,200.
Two Weeks into the NBA Regular Season, Danny Emerman Has the NBA Team Power Rankings HERE
Other Options – Danny Green ($4,300), Jamal Crawford ($3,600), J.J. Redick ($4,500)
Get even more picks and plays with the

NBA

Game Breakdown —

READ NOW
Small Forward
Stud
Kawhi Leonard ($8,100)- Kawhi Leonard has been a consistent offensive force so far this season, which says something especially with the offensive talent that the Spurs have & Pop's willingness to not work his starters in games that don't really matter. Leonard draws one of his toughest matchups in Rudy Gay on Monday night, however, Gay has to also deal with Leonard's relentless defense, which could wear down Gay in trying to find a shot, which will bode well for Leonard to get his shot going.
Al-Farouq Aminu ($6,100) – Aminu is a tough-rugged player on both offense & defense, which means he is a great stats filler, which is great for DraftKings. He is averaging 30.5 DK points per game & like Leonard, he will work to lock down the other team's best player. Aminu is on the backend of a back-to-back & playing in Denver's higher altitude could be something to look at, but Aminu is an effort player & if he is allowed to play his usual 30-35 minutes, he should his 25 point floor at a great value and have a ceiling of around 35-40 DK points.
Other Options – Paul George ($8,600), Marcus Morris ($6,200), Evan Fournier ($6,000)
Value
Andrew Wiggins ($6,000) – There aren't many values tonight that I am high on in the SF position, but Wiggins at $6,000 is a great deal. He has a great matchup in the Atlanta Hawks, who are 28th against the SF position & Wiggins should have a field day against Kyle Korver, who is not known at all for defense. Wiggins is coming off of his best game in his young career on Saturday against the Bulls, where is put in 31 points, & 4-5 from 3PT range. Wiggins has been up & down this season, but he is getting comfortable in the offense & should go for 28-30 DK points.
Power Forward
Stud
Blake Griffin ($9,600) – With Chris Paul out & DeAndre Jordan having to deal with Marc Gasol, Griffin will be looked at as the #1 option on the Clippers, which bodes great for fantasy. Griffin is normally a lock in cash games, but because of the offensive output he will be counted on bringing against Memphis, he is also a good tournament play. Griffin currently has a floor of 48 points & I could see a ceiling of around 55-60 points. He is expensive at $9,600 especially if you go for Curry, Leonard or Drummond, but his scoring & rebounding will make the high cost worth it.
Paul Millsap ($7,700) – A safe bet at nearly $2,000 lower than Blake is Paul Millsap. Millsap has been very consistent this season, averaging 40.8 DK points per game. Minnesota does not guard the power forward position well, & even with KG starting in that position, age has caught up with him & he can not defend as well as he used to. Millsap is a great value & where you may like him more than Griffin is that Millsap is proficient at shooting the 3PT shot, where Griffin's game is 90% in the low post.
Other Options – Pau Gasol ($7,300), Nerlens Noel ($7,000)
Value
LaMarcus Aldridge ($6,900) – Aldridge at $6,900 is a great pickup for Monday's game against Sacramento. If DeMarcus Cousins comes back, he can only cover Aldridge for so long & the skills of Aldridge could get Cousins in foul trouble & the other big men on the Kings do not have the skill to give Aldridge a challenge in the post. Aldridge has been putting in a normal 30 minutes a game & his salary went down because he was in foul trouble on Saturday night & the Spurs had a 20-point victory so Pop pulled him for rest. Aldridge will be back to being a focal point in the offense & benefit from man-to-man defense due to more attention being paid to Kawhi Leonard. Expect a 35-point DK game from Aldridge, gaining great value for his price.
Draymond Green ($6,800) – Green may be the ultimate energy player in the NBA right now. He averages 33,3 DK points per game, second highest on the Warriors behind Curry, & his style of game is immune to gameplans that teams can put together. He will be looked at to guard Marcus Morris & possibly Andre Drummond at times & box out both of them, but he can be counted on for nearly a double-double each night & at $6,800, is the type of player who will definitely be effective in cash games.
Other Options – Kenneth Faried ($6,400), Tim Duncan ($6,000), Nemanja Bjelica ($4,300)
Center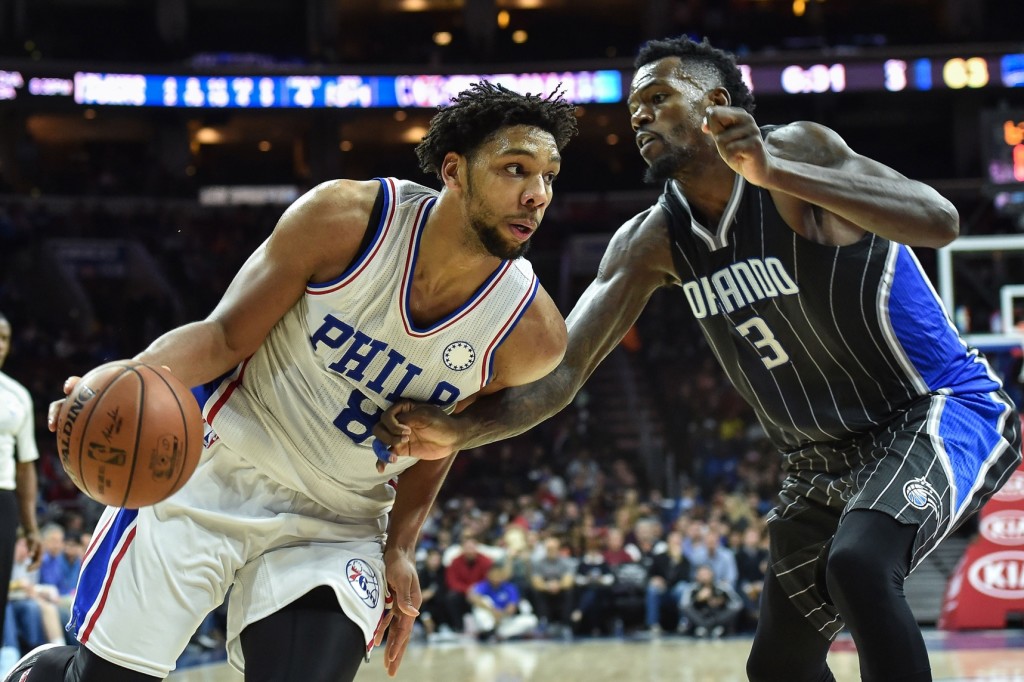 Stud
Andre Drummond ($9,100) – Andre Drummond against anyone, any game, anytime, is an extremely smart move. Drummond & Curry are the only players in the league that I can justify starting any night against all teams in cash & tournament style. I wrote last week on DraftKings Playbook that Drummond was on a historic start to the season & that he is going to be gaining 70 fantasy point games this season. Drummond is averaging 20 points & 20 rebounds this season. The Warriors may have a returning Andrew Bogut in this game, but whether you have Bogut, Festus Ezeli or any other big man in the NBA, you start Drummond & you will guarantee yourself at least 40 fantasy points & many nights, you will be in line for 60-70.
Jahlil Okafor ($6,300) – Okafor is pretty much the 76ers offense this season. Okafor is in line to be the NBA Rookie of the Year & has put in strong numbers to start this season, with a floor of 20 points per game & has a high of 38. At 6,300, Okafor is a great play to save a bit of cash, especially if spending on Drummond or other high-priced areas tonight.
Other Options – DeAndre Jordan ($7,800), Karl-Anthony Towns ($7,400), Al Horford ($7,100)
Value
Dewayne Dedmon ($4,600) – Dedmon has proven that he can be a great starter while Nikola Vucevic has been injured. The Orlando Magic big man has been averaging 25 DK points per game over the last 3 games & at the $4,600 price, does a great job of making value & being a great stats filler either starting or coming off the bench, which he will still get high minutes as the team watches Vucevic closely with his bone bruise injury.
Marc Gasol ($6,900) – Gasol has been playing through a neck injury the last two games, but he has been able to put up big numbers, including his first double-double of the young season against Utah on Saturday. Gasol & DeAndre Jordan will have a great big-man battle on Monday night, but Gasol should be able to have a solid scoring & rebounding night & get his teammates involved in the offense, filling up stats & matching his value at under $7,000. His last two games, Gasol has had 29 & 36 DK points respectively so it looks as though he is getting healthier by the day, making him a safer pick for cash games.
Other Options – Kosta Koufos ($4,800), Meyers Leonard ($3,900)