Which players should you turn to on an NBA Sunday? Let's dive in!
POINT GUARD
STUDS
Russell Westbrook – OKC vs PHO – $10,800 – I don't want to miss out on Westbrook in the Sunday games. While he is the most expensive overall option, he is projecting to put up 20% more fantasy points than the next best point guard and at least 10% more production than the next closest player. Now of course, real life is different than a statistical modeling exercise, so keep in mind that Phoenix has been league average at best against point guards and Westy is a couple standard deviations above league average.
George Hill – IND at CLE – $5,800 – Hill is a sneaky option, which feels crazy to say since he is averaging just over 37 minutes per game. The Pacers are thin and also dealing with some injuries, so Hill will be seeing another huge helping of minutes against the Cavaliers. While Cleveland has been better against point guards with Kyrie Irving on the shelf, they still can be exploited by savvy veterans.
VALUES
Matthew Dellavedova – CLE vs IND – $4,300 – While Delly's production has tailed off a bit with back-to-back sub-20 DraftKing point performances, he is still at a favorable price point and in a good matchup on this short five game Sunday slate.
---
SHOOTING GUARD
STUDS
C.J. McCollum – POR vs DET – $6,400 – It is nice to see McCollum available at the two-guard since things have been a little thin at the position so far this season, depending on the schedule. The Pistons have been middle-of-the-road this season against shooting guards and this is a nice matchup for Portland's fantasy darling who sees a ton of offensive attempts.
Eric Bledsoe – PHO at OKC – $7,800 – The Thunder are down in the dregs and vying with the other porous teams to allow the most fantasy points to opposing shooting guards this season. At this price point, you can double dip with both McCollum and Bledsoe and still construct a very solid roster for all formats on Sunday.
VALUES
Langston Galloway – NYK vs LAL – $4,500 – Though Galloway is a combo-guard, it is nice to see him slotted here on DraftKings. This matchup should be played at a fairly rapid pace and this is a nice spot to roll with a value option.
---
SMALL FORWARD
STUDS
Kevin Durant – OKC vs PHO – $9,600 – The Suns are in the bottom third of the league against opposing small forwards and KD is coming off back-to-back 52 fantasy point games and the Thunder last played on Thursday night. There is not much else to say.
Al-Farouq Aminu – POR vs DET – $6,100 – Aminu has been quite the acquisition for Portland and he is also providing tremendous value and production for those DFS gamers who have been paying attention. He has been averaging just over 33 minutes a game and a healthy 30.5 DraftKings points per outing. He will be on the majority of my Sunday rosters in all formats.
VALUES
Richard Jefferson – CLE vs IND – $3,500 – If Old Man Jefferson draws another start, he is a fine deep discount option. There is a little risk of course that he puts up a single digit fantasy outing, however, he has averaged just over 20 DraftKings points in his last two games against Philadelphia and the New York Knicks.
---
POWER FORWARD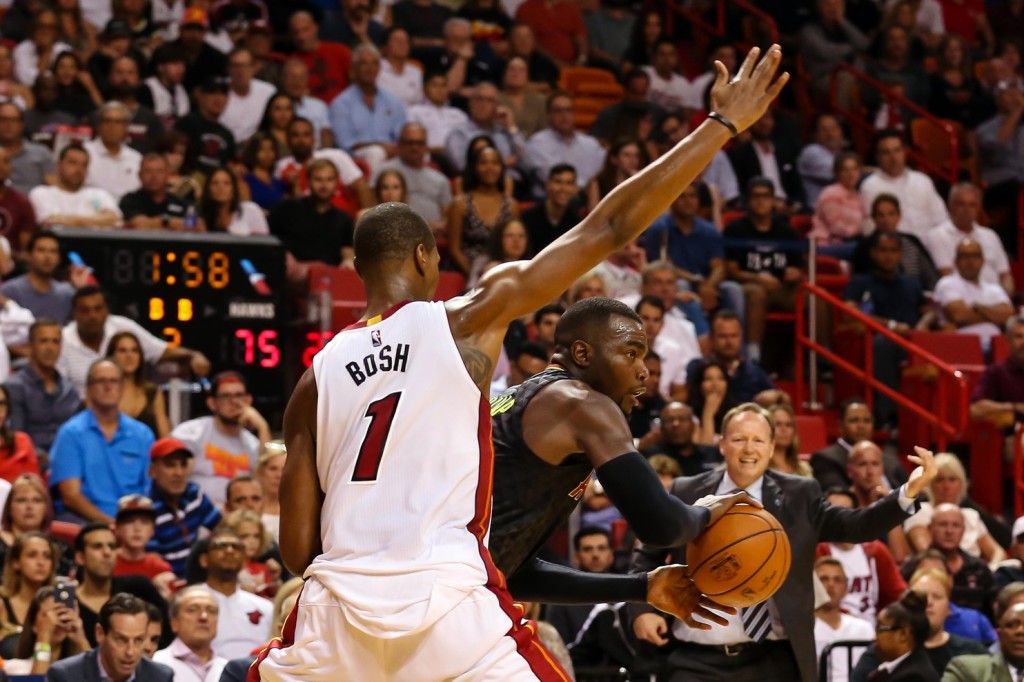 STUDS
Chris Bosh – MIA vs TOR – $7,000 – This is a familiar matchup for Bosh against his old squad. In his last three games he has been outstanding posting 40ish DraftKings points per contest. This is a very favorable price point for that kind of production, making Bosh a top option at this position Sunday.
VALUES
Ersan Ilyasova – DET at POR – $4,300 – Forever the fantasy tease, Ilyasova is relegated to tournament-only status these days. However, this is exactly the type of game that will favor his skills and he is shaping up to be a difference maker in large field tournaments.
Ed Davis – POR vs DET – $4,400 – Davis is the exact opposite of Ilyasova and betters suited to H2H contests where his solid 18-20 fantasy point floor can be appreciated…if things go well, we could see him flirt with a double double and thirty fantasy points, but he mostly relies on putbacks and garbage buckets so that is a bit of a stretch.
---
CENTERS
STUDS
Andre Drummond – DET at POR – $9,000 – It would not be a shock to see Drummond post his third 20/20 game in his last for outings in this matchup. He is an excellent play in all formats Sunday.
Jonas Valanciunas – TOR at MIA – $6,300 – Big Val is in the pricing sweet spot where most gamers will either pay up for Drummond or Hassan Whiteside – MIA at TOR – $7,600 at the pivot position. Valanciunas is savvy enough to stay out of foul trouble against Whiteside and he is a very sneaky matchup who does sport 35-40 fantasy point upside.
VALUES
Ian Mahinmi – IND at CLE – $3,700 – Mahinmi returned from a back injury on Friday to post a solid 22 DraftKings points against the Miami Heat. He will be needed to deal with the Cavaliers BIGs and he should be in the mix once more for 18-20 fantasy points, which will definitely pay off this price point.