Ahhhh, NFL on in the background and constructing lineups for the 6:00pm ET NBA games while snacking on holiday leftovers…does it get any better? Oh yeah, DraftKings has nearly $400,000 in guaranteed contests for us to jump into. On to the analysis!
POINT GUARDS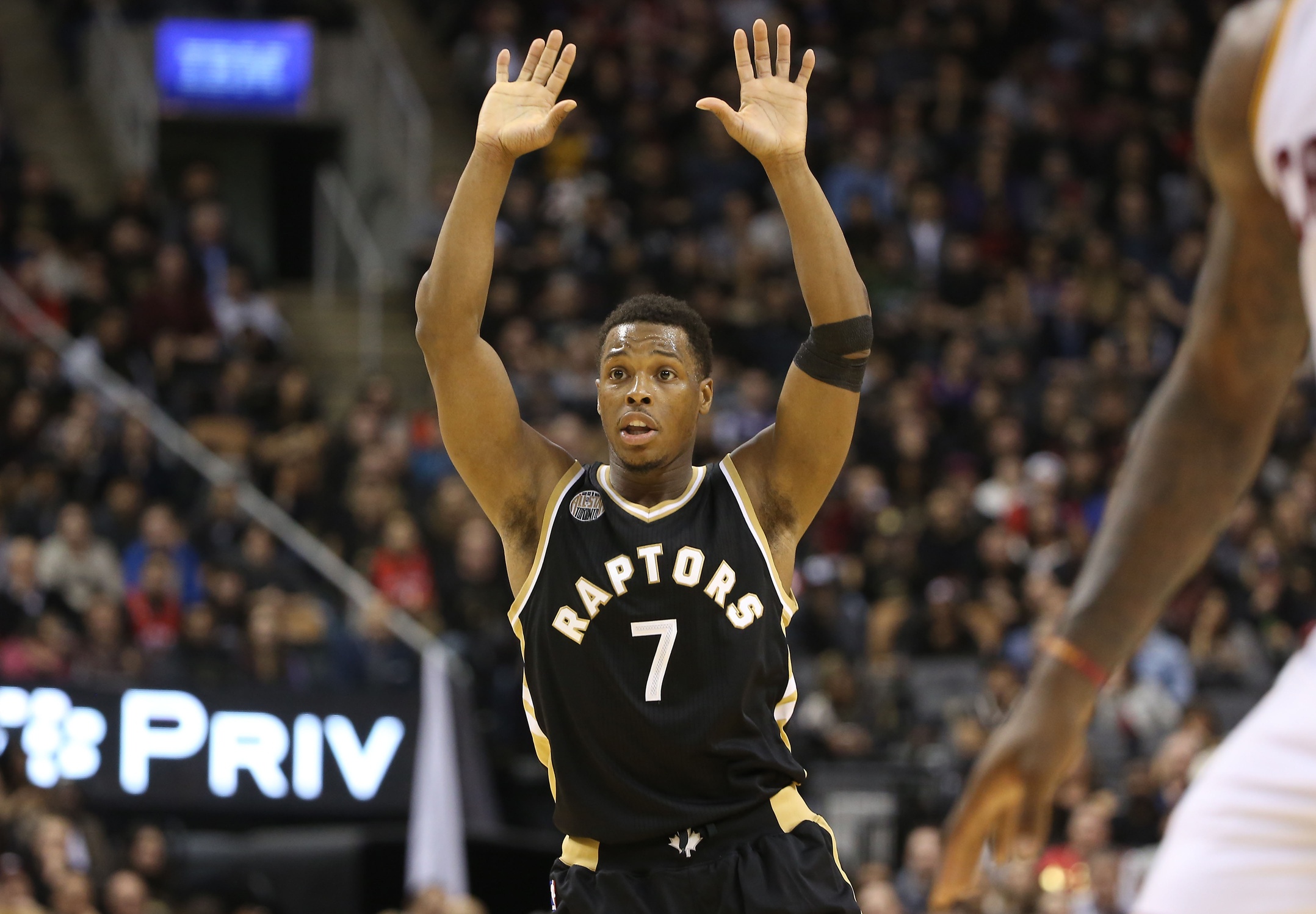 STUDS
Kyle Lowry – TOR vs TOR – $8,500 – Despite this being a back-to-back for Lowry, he has been so phenomenal this season that I have no qualms with making him a featured player on my rosters in all formats. Despite having Brandon Knight, the Phoenix Suns have been in the bottom five against point guards this season from a fantasy perspective. Over his last ten games, Lowry has been below 42 DraftKings points just twice and as a bit of an offset, he has been over 50 fantasy points twice in that same stretch. Lock him in tonight!
Isaiah Thomas – BOS at ORL – $7,500 – The former University of Washington star has been outstanding since moving into the starting lineup for the Celtics and he is continually flirting with a forty burger. The Orlando Magic have been a bottom five team against point guards this season and I like this matchup against Elfrid Payton. Thomas is a solid mid-priced option and useable in all formats.
VALUES
Isaiah Canaan – PHI at MEM – $4,300 – Doubling down on the Isaiahs is definitely feasible on the Sunday slate as Canaan has been confirmed the starter today for Philly. Memphis has been in the bottom third of the league against opposing point guards this season and this price is just right for a nice profit.
---
SHOOTING GUARDS
STUDS
James Harden – HOU at NYK – $10,200 – In his last five games, The Beard has been below 59 DraftKings points just once. Let that sink in for a moment. During that stretch he has averaged 36.2 points, 3.8 three-pointers (which are worth a bonus half point on DraftKings), 7.0 rebounds, 7.8 assists, 2.6 steals and 1.2 blocks on the way to 64.1 fantasy points per game.
VALUES
Jordan Clarkson – LAL vs IND – $5,000 – Clarkston is by far the most polished player on the Lakers and with this being a back-to-back, there is a chance that Kobe Bryant takes the night off. Removing the 8.5 fantasy point dud against the Warriors in Golden State two games ago, Clarkson is averaging 30 DraftKings points per game. He should be in line for that level of production tonight and he is a fine discount option.
Rondae Hollis-Jefferson – BKN vs DET – $4,700 – Still off the radar of most daily fantasy gamers, RHJ has started the last eleven games for the Nets. Over his last four games he is averaging nearly 34 fantasy points and he has 13 steals in that time frame which are worth a two fantasy points on DraftKings.
---
SMALL FORWARDS
STUDS
Paul George – IND at LAL – $10,100 – PG13 is back and better than ever after his horrific leg injury. He has finally crested over into the world of five figure price tags, but he is still an outstanding play. The Lakers are just not equipped to deal with him and if you can work both George and James Harden into your lineups, it is highly advisable.
VALUES
Robert Covington – PHI at MEM – $6,000 – Yes, this is not the easiest of matchups, however, at first blush most gamers will be moving on too as Bobby C's price has jumped by a full third in the last week. Just look at those game logs though, he has been phenomenal and is coming off a 63 fantasy point outing on Friday in Houston. Covington has posted 32+ DraftKings points in every game where he has exceeded thirty minutes of playing time.
Matt Barnes – MEM vs PHI – $3,900 – Sticking to the same game, if Barnes gets another start with Zach Randolph questionable yet again, he is one of the best bargains in the player pool.
---
POWER FORWARDS
STUDS
Kristaps Porzingis – NYK vs HOU – $7,500 – The Houston Rockets have struggled against power forwards this season as they have been cobbling together their frontcourt rotation. Just last Saturday 'Staps hit for 24 points, 14 rebounds, 2 assists and 7 blocks against the Rockets in Houston on his way to 59.5 fantasy points. While the blocks will be hard to replicate, he should be a near lock to surpass the forty fantasy point plateau.
VALUES
Luis Scola – TOR vs PHO – $5,300 – Though he struggled against the Wizards in Washington last night, he had been solid in his previous three games as the starter. He at a fair price point today and he should have a 20 fantasy point floor with the ability to approach 30 DraftKings points in this matchup.
JaMychal Green – MEM vs PHI – $3,600 – If Zach Randolph is out again, Green is in play as a discount dandy. Despite all the talented young BIGs, the 76ers are in the bottom five against power forwards this season from a fantasy perspective.
---
CENTERS
STUDS
Andre Drummond – DET at BKN – $8,900 – This is a fine matchup for Drummond who is going against the rebound averse Brook Lopez. AD is a fine tournament option as he has a terrific chance to post a 20/20 game against the soft Brooklyn Nets frontcourt.
VALUES
Clint Capela – HOU at NYK – $4,900 – It looks like Capela will be starting regardless of Dwight Howard's status. He is a steal at this price and last weekend against the Knickerbockers he put up 37.5 DraftKings points. He should be able to approach 6-7x value again tonight and is a fine play.
Roy Hibbert – LAL vs IND – $4,800 – Like Forrest Gump's proverbial box of chocolates, you never know what you are going to get from Hibbert. However, this is a game against his former team and he should be motivated enough for a double double tonight.