A short slate of games on the NBA calendar on Monday night features some great talent & good matchups. However, you have to be smart & see the great values & not go out & overspend. With that in mind, here are the targets for November 16th.
---
Looking for more NBA content? Check out these articles:
NBA Game Breakdown
NBA Tournament Plays
NBA Cheat Sheet
---
Point Guard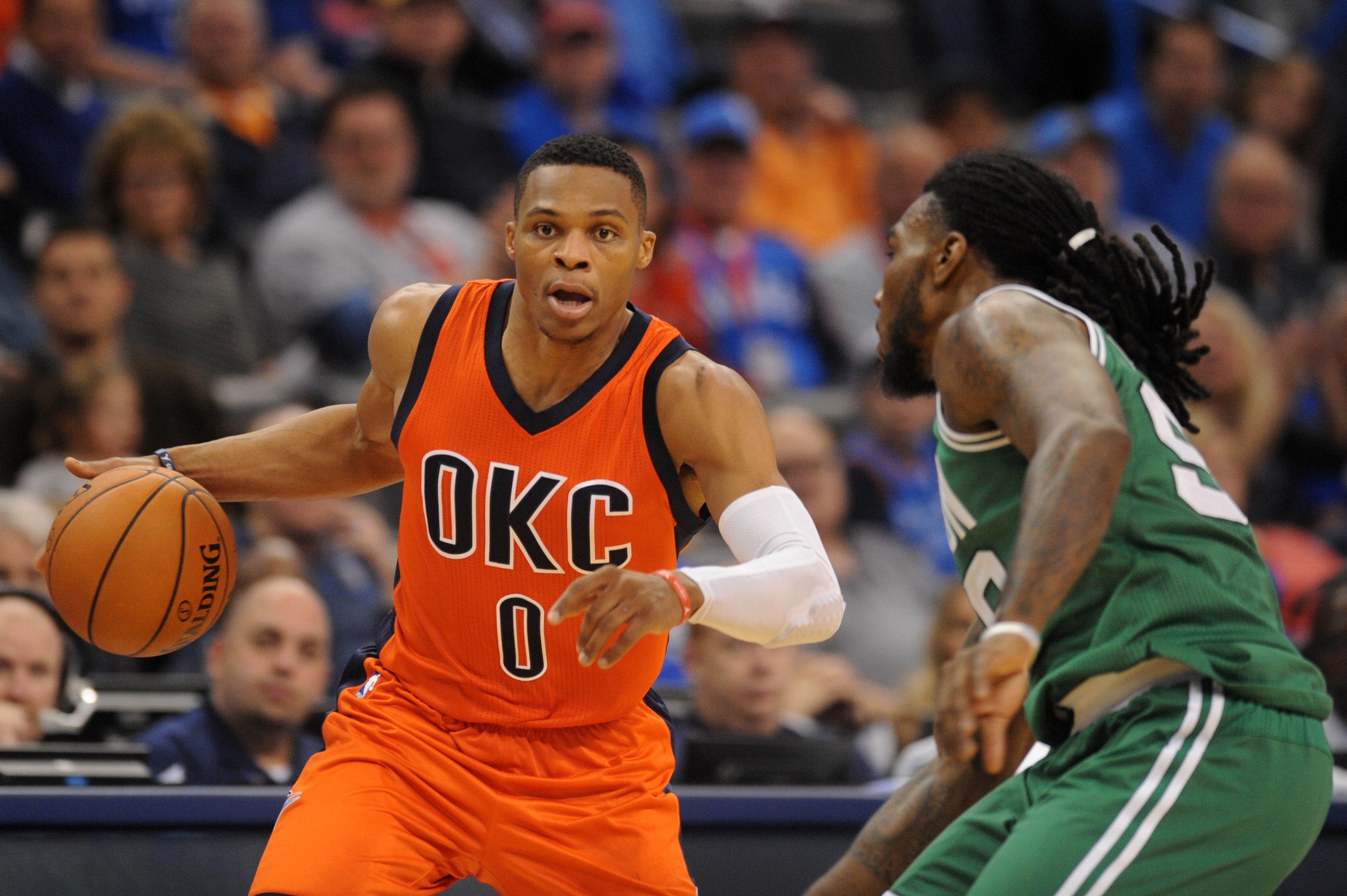 Stud
Russell Westbrook – OKC ($12,200) – We all know that Russell Westbrook is probably the most dynamic player in the NBA & on any night can have a triple-double, but if you are playing tonight, you really have to ask yourself, "is he worth just over 12k?" Westy is putting up massive numbers this season, especially without Kevin Durant in the lineup & averaging just over 57 DK points per game, but keep in mind that you will have to make sure that the rest of your lineup is a complete value play in most areas.
You MAY have room for a James Harden or Kawhi Leonard, but after that, your job of selecting players of value will get much harder on such a short slate. Westbrook is a lock for big numbers, just make sure you have completed your player research extensively before building your whole roster around someone who is going to leave you cap stricken.
Isaiah Thomas – BOS ($7,100) – I love Isaiah Thomas in this matchup against Houston. Boston & Houston are both ranked in the top 10 in the NBA in terms of pace numbers & Thomas should get plenty of possessions & usage. He will have no problem going up against Ty Lawson, someone not known for being a lockdown defender. Thomas has been the Celtics #1 option on offense & not only has been a strong scoring threat but he has been great with the assists & his defense has been strong.
No, he's not nearly the scorer or player that Westbrook is, but Thomas is a great fantasy play if you want to be able to build a solid, winning roster of proven scorers much easily.
Other Options – Damian Lillard ($8,700), Brandon Knight ($7,000)
Value
Ty Lawson – HOU ($5,600) – While I am not a fan of Lawson on the defensive end, he is a great value play here, especially if you are the type of player who likes to stack from one game or target a particular starting five. Lawson doesn't mind getting his own shot but knows how to get the ball to James Harden & Dwight Howard effectively. At $5,600, I like the chance for him to hit 25 DK points pretty easily & his ceiling is 45. Yes, the Celtics have been strong defensively this season, but I believe the Rockets will keep the pace maybe too high for the Celtics' talent to keep up with & the Rockets have the far better offensive lineup, so take Lawson & feel comfortable that you have good value here.
Jordan Clarkson – LAL ($5,200) – Ok, I know the Lakers are absolutely terrible & Clarkson is not the point guard of the future, however, the way the Lakers are treated D'Angelo Russell by trying to find ways to not play him in key situations. The Lakers & Suns are in the top 10 in pace & Clarkson is a player that, with minutes, could get to 30 DK points. He has been the one steady player in their backcourt this season & if Kobe doesn't take a ton of shots (ha!) on a given night, could be their #1 option on offense.
Other Options – Deron Williams – DAL ($5,600), T.J. McConnell – PHI ($5,400)
Shooting Guard
Stud
James Harden – HOU ($10,300) – At $10,300, James Harden is actually a great value over Westbrook here. Harden is without question the #1 scoring option in Houston & with having a high pace with the Celtics, this game should play right into Harden's strengths. Harden averages 50.1 DK points per game & even with him shooting 5-21 in his last game, he still brought in 53 DK points because of his ability to get to the free throw line & his rebounding (7) & assist (10) totals.
The turnovers may be a bit of a concern, however, the upsides are going to be far greater than the downsides & Harden is going to be a consistent stat-filler every night.
Other Options – Jimmy Butler – CHI ($7,800), C.J. McCollum – POR ($6,700)
Value
Kobe Bryant – LAL ($6,100) – Kobe is a value play simply because he just doesn't realize in his heart that he isn't the same player anymore, which means – LOTS OF SHOT TAKING. Bryant is just out playing to just play at this point & because he is going to take the majority of the shots for the Lakers when he plays, the numbers will tell you that he is going to gain a good amount of points. He can still rebound & plays decent defense, but at this point & price, you are getting Kobe to be a scorer. And there is nothing wrong with that.
Dion Waiters – OKC ($4,600) – Dion Waiters is going to benefit from the extra offensive opportunities due to Kevin Durant being out & he is going to be worth this price. 2 of the last 3 games Waiters has put up over 30 DK points & the last game was a 21 point effort, which is a good score at $4,600 & with playing with a constant scorer like Westbrook.
Memphis is not playing the same level of intense defense they have played in the past & have had problems this year with high-paced teams like OKC. With Westbrook drawing double-teams each time down most likely, Waiters should be left open for shots consistently.
Other Options – Evan Turner – BOS ($5,000), Nik Stauskas – PHI ($4,500), Danny Green – SA ($4,200)
Small Forward
Stud
Paul George – IND ($9,200) – Paul George is undoubtedly the Pacers' #1 option, & for good reason. He has come back from his gruesome injury last year to be the George that he was starting to become in 2012 & 2013. He is consistently putting up 45 DK points each night with a ceiling of 64. He has been an excellent stats filler in the rebounding, 3pt shooting & assists area.
George will be going up against the Bulls, which means Jimmy Butler may be guarding him most of the night, which is my only concern with Butler being an elite defender. But, because George is the #1 focus of the entire Pacers offense & most everything runs through PG-13, he is a safe play, especially for cash games on Monday.
Kawhi Leonard – SA ($8,200) – Leonard is one of the most consistent players in the NBA right now, & on a night where there aren't a lot of stud players that I feel comfortable playing, Leonard is always a safe bet. He has been under the weather the last few days so he may not get the 40-45 DK points, & he will have Al-Farouq Aminu guarding him, who is an elite defender in his own right. But, Leonard, if even close to healthy, will be pretty much a guarantee to give you 33-35 points, which should be enough to take down some cash games.
Other Options – Al-Farouq Aminu – POR ($6,000)
Value
Trevor Ariza – HOU ($5,500) – If you are looking to punt in this area, Ariza is a great value at $5,500. He only had 4 points last game, but because of his stat-filler ability with his 6 rebounds & 3 steals, he still ended the night with 20 DK points. Ariza's shooting has been atrocious the last 5 games, but his role player ability & the way he is a good setup man for Harden & Howard makes him a solid value tonight. He should get a few scoring opportunities against a lackluster Celtics defense in a high pace game.
Jerami Grant – PHI ($4,600) – Grant has one of the consistently strong players for the winless 76ers this season. Because of the lack of wins, Grant has had ample time each night to get involved in the flow of the game, even if his offense isn't great. He fills the stat sheets each night & his floor over the last 5 games is 18. I do see Grant having more opportunities against Dallas, who will most likely put their attention on Nerlens Noel & Jahlil Okafor, opening up opportunities for defensive plays & a few offensive rebounds, the place where Grant's value will truly come through.
Other Options – Jae Crowder – BOS ($5,500), T.J. Warren – PHO ($3,800), Doug McDermott – CHI ($3,600)
Power Forward
Stud
Pau Gasol – CHI ($7,400) – Gasol has been playing great for fantasy owners this season, averaging 35.5 DK points per game. The Pacers are 18th in defending the power forward position this year & Gasol should have a field day going against Jordan Hill & Ian Mahinmi. Gasol is averaging nearly a double-double each game & with the attention focused on Derrick Rose & Jimmy Butler, Gasol should be able to do his work down low & on the rebounding side without a problem.
Serge Ibaka – OKC ($6,900) – Many times, people forget about Ibaka being one of the most dominant two-way players in the league, but in DraftKings, Ibaka is absolutely outstanding in both cash games & tournament play. With Durant out for Monday's game, Ibaka will receive more offensive opportunities & he is the unquestioned best defensive power forward in the NBA. He is more athletic than Zach Randolph & Marc Gasol & should be able to have a solid offensive showing. However, I expect most of his points to come from the defensive end, especially with a slow-paced Grizzlies team.
Other Options – LaMarcus Aldridge – SA ($7,100)
Value
Nerlens Noel – PHI ($6,800) – Noel has been very inconsistent in his last 4 games, much of that is because of his sore wrists. When he is off, he is flat out terrible, but when he is on, you can see why the 76ers used a top-10 pick on him. While he is averaging 30 DK points per game, his ceiling is 50 & his floor is 7. If he is healthy though, Noel should be back to being a consistent scorer & rebounder; I love his matchup against an aging Dirk Nowitzki & against Dwight Powell, who is having a good season, but athletically is not anywhere near what Noel is capable of – if fully healthy.
Terrence Jones – HOU ($6,000) – Jones has been outstanding since he has come back from his eye injury. In the last 2 games, he is averaging 23 points, 6.5 rebounds & 4 blocks while averaging 40 DK points per game. With the weak frontcourt of the Celtics & the high-pace, Jones should continue to get great offensive opportunities as he is now the 3rd scoring option to James Harden & Dwight Howard.
Other Options – Jordan Hill – IND ($4,600), Jared Sullinger – BOS ($5,800), Ed Davis – POR ($4,400)
Center
Stud
Dwight Howard – HOU ($7,400) – When Dwight is rested, he has looked like one of the best centers in the NBA. He has been on a fantasy tear the last 5 games, having a ceiling of 53 DK points & a floor of 28 (he took only 6 shots in the game). Keep your eye on the injury report to make sure he is starting against Boston, but it shouldn't be a problem since the Rockets had Sunday off. He has a great matchup against Kelly Olynyk & Tyler Zeller.
Jahlil Okafor – PHI ($7,200) – Okafor is playing as though he will be the NBA Rookie of the Year. Okafor has been the 76ers lone consistent offensive weapon & that fact won't change against Dallas. The matchup isn't the best, especially with Zaza Pachulia playing surprisingly well this year, but Okafor will always have the ball go through him & will have as many offensive opportunities as he wants on any given night.
Other Options – Marc Gasol – MEM ($7,000), Tim Duncan – SA ($6,200), Zaza Pachulia – DAL ($5,700)
Value
Mason Plumlee – POR ($5,500) – Take advantage of Mason Plumlee at this price while you can. He has played outstanding this year with LaMarcus Aldridge gone. He has been a great role player & has been a great defensive force in the middle. He has been averaging 26 DK points per game & his floor is 17, which was more of a blip on the radar rather than what is to be expected consistently. In the last few games, he has kept his turnovers down, which has helped his numbers stay in the 20-27 range. He should have a decent matchup against an older Tim Duncan.
Tyson Chandler – PHO ($5,300) – Tyson Chandler should have a field day against the very weak frontcourt of the Lakers led by Roy Hibbert. Chandler has gone over 20 DK points in the last 2 games & has been a force on the rebounding side, especially with the pace the Suns play & how Brandon Knight & Eric Bledsoe get up so many shots. Chandler, even at this advanced age in his career, is still more athletic than Hibbert could dream of being & stronger in the post than Julius Randle.
Other Options – Enes Kanter – OKC ($5,400), Steven Adams – OKC ($3,800), Ian Mahinmi – IND ($3,900)