There are eleven games Wednesday night, and as seems to be the case more often than you might think, the best game of the slate is the last one – Spurs @ Trailblazers. There are a few great fantasy options playing in that one, so you'll have to sweat out any wins until the very end.
---
Looking for more NBA content? Check out these articles:
NBA Cheat Sheet
NBA Game Breakdown
NBA Tournament Plays
---
Today's NBA targets breakdown looks at Wednesday's 11-game slate, with an eye towards the studs, sleepers and mid-range players you want to have rotating in your lineups.
POINT GUARDS
Studs
Stephen Curry @ MEM ($10,500) – I mean, wow. This team is on fire, and Curry has 40-point fantasy nights without even seeming to do anything out of the ordinary. He has only had 38 and 40.75 in his last two games, but those are his only two under 45 (he has more than that over 60).
Damian Lillard vs. SA ($8,900) – Lillard has been over 40 fantasy points in every game but one this year, compared to the next couple of guys on the list who have both shown sub-30 point downside already. He will need to score in this one, and if there is a weakness on defense for the Spurs, it's in the backcourt. I am pretty sure the Blazers aren't getting shut out, so this is a good choice for me.
Values
Ish Smith @ ATL ($4,800) – Jrue Holiday played last night, which means we should expect to see him on the bench in this one, because he has not yet been cleared to play both halves of a back-to-back. That should mean 30+ minutes for Smith, who has been over 30 fantasy points in each of his last three.
Jerryd Bayless @ DEN ($4,600) – He is getting right about 30 minutes a night with MCW out, and has a solid matchup with Denver in this one. Hopefully he and his whole team will get up a few more shots than usual, and if he can score in the double-digits, you have a chance for a 30-fantasy-point night with all his other contributions.
SHOOTING GUARDS
Studs
James Harden vs. BKN ($10,100) – I don't know if $400 is enough for me to want Harden instead of Curry, but he has been turning it on lately, for sure. With 40+ points in each of his last two (that's actual points, not fantasy points), he has apparently decided that if the Rockets are going to work their way through their early-season struggles, they're going to do it riding on his shoulders. He is averaging 24 shot attempts in his last four and is averaging over 55 fantasy points per game over the same stretch.
DeMar DeRozan @ PHI ($7,200) – All he does is score, and Philly is not the team to stop him, despite their rankings on paper against shooting guards. You would think a guy who can put the ball in the bucket like DeRozan would have a higher fantasy ceiling, but he basically does nothing else. But in a matchup that should allow him to hit all his averages, he is a solid cash-game play tonight.
Values
Monta Ellis @ BOS ($5,700) – The Pacers just don't have a lot of depth in the backcourt, which has allowed Ellis to play a lot of minutes – more than I might have expected coming into the year, anyway. So far he is averaging 33 minutes per night, which is the only reason he has close to 40-fantasy-point upside. Even with all that run, you're still seeing sub-20 point downside, but in this matchup, I would expect something in the middle – 25-30 fantasy points seems reasonable, and is a decent value at the price in a thin position.
Kentavious Caldwell-Pope @ SAC ($5,000) – He is averaging over 37 minutes a game, which you do not normally see in this price range. And maybe that says something about his efficiency (of course it does), but we don't have to care about all that – we just care that he is routinely scoring in the mid-twenties, perfectly solid value for this price, and he has a matchup that says he might be able to improve on that tonight.
SMALL FORWARDS
Studs
Paul George @ BOS ($8,800) – He has 26-10 with three assists and two steals last time they faced Boston, and that was in only 31 minutes (a little foul trouble). He's usually playing more like 35-38, and has quickly re-established himself as the best of everything on the Pacers. He's their best scorer, creator, rebounder and defender. One way or another, the fantasy points always seem to come.
Giannis Antetokounmpo @ DEN ($7,400) – The hope here is that Denver is a good influence on Milwaukee and this ends up being a higher scoring game than the Bucks are used to playing. Because if that's the case, Giannis is going to be involved. He is averaging 19-7 in 35 minutes a game, good for 33 fantasy points when you throw in his defensive stats. If his scoring is even slightly higher than usual, you should see a solid return on your investment at this price.
Values
Evan Fournier vs. LAL ($6,000) – He is playing a ton of minutes (five games of 40+) and tonight, he is getting the Lakers. For me, that's all I really need to know for a guy who costs $6,000, but he is a player who can score. He is averaging 19 ppg so far on the year, and he's come by that average honestly, with only one game under 17 points since the opener (when he played only 27 minutes).
Andre Iguodala @ MEM ($4,600) – He is a reserve on the best team in the NBA, but he is still getting his minutes. He does a lot of things to help the Warriors win, and that translates to some fantasy usefulness – over 20 fantasy points in every game but one this year is good value for the price, and makes him a helpful add at the end of your bench, especially in a cash game.
POWER FORWARDS
Studs
Blake Griffin @ DAL ($9,500) – He has had four straight double-doubles and is now averaging 28-10. For a guy who will also pitch in with defensive stats and a handful of assists from the high post, that's a seriously solid baseline. He could perform above those averages in this matchup.
LaMarcus Aldridge @ POR ($6,900) – Not only do I feel like he'll be motivated for this one, I also feel like Pop is the kind of coach who wants to let his players succeed in these kinds of situations. He is averaging fewer than 30 minutes a game so far, because the Spurs don't need him playing more than that, but I could see that figure spiking tonight, just because he wants to be out there.
Values
Tim Duncan @ POR ($6,000) – The upside might not be there just because Pop says so, but if you're playing in a cash game, you are looking at probably the most efficient player in the game. Without doing any math whatsoever, I like to think of Duncan's production as almost a straight-line correlation between fantasy points and minutes. You are rooting for Portland's guards to shoot their way into a close game that gets Duncan closer to 30 minutes than 20.
Jordan Hill @ BOS ($4,700) – Boston is coming off a nice win last night, but the Pacers handled them last week in Indiana, and hill was a big part of the reason why. He went for 16-10 in 29 minutes in that one, and should see a similar role tonight.
CENTERS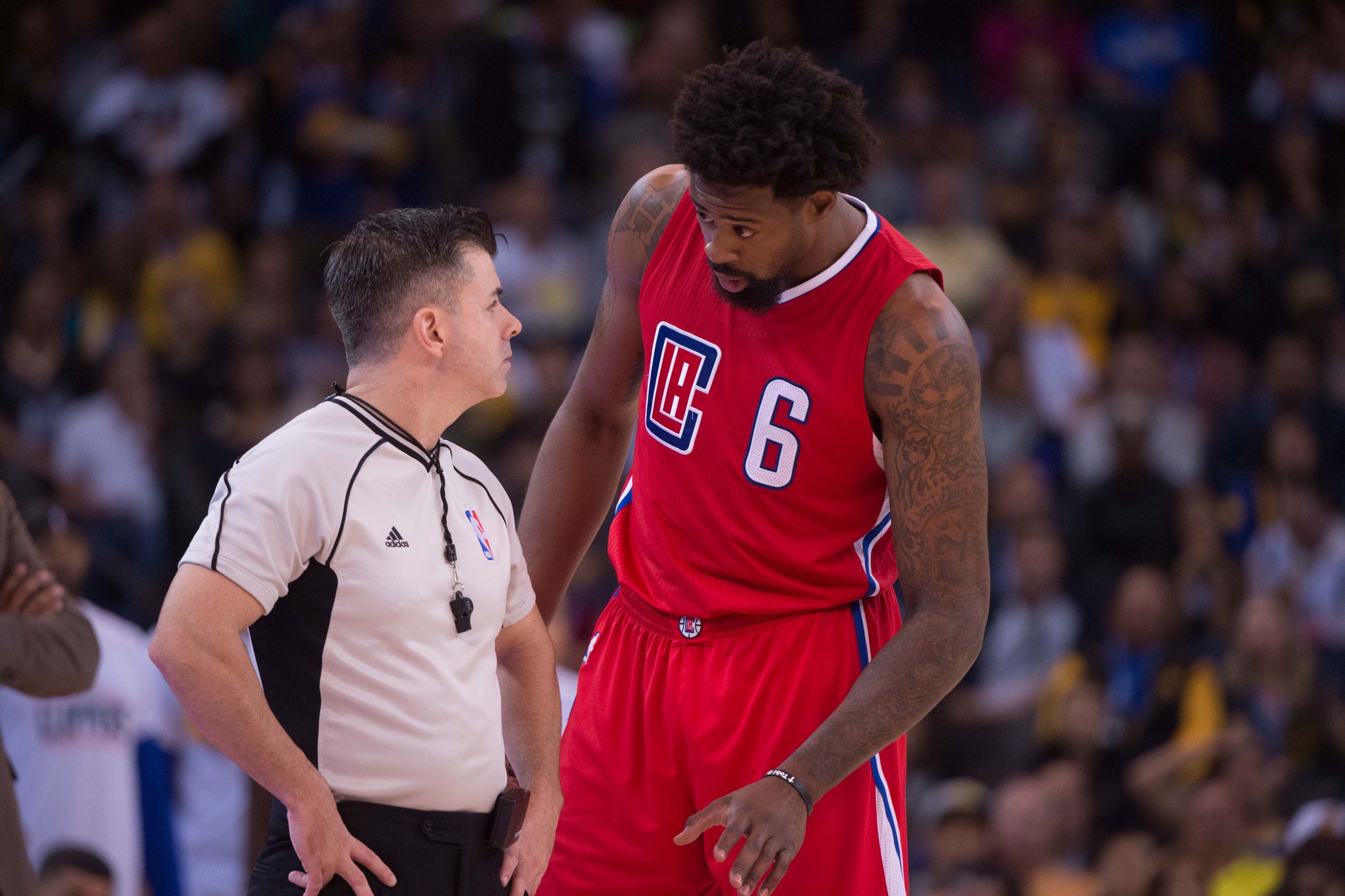 Studs
DeAndre Jordan @ DAL ($7,800) – This isn't a great matchup, necessarily, but with Drummond and Cousins battling each other, and a bunch of other tough matchups on the board, this might be the best option if you're looking to spend money on a big man. He just isn't scoring like he did down the stretch last year when Griffin was out, but the talent is still there and he is a nightly threat for a double-double.
Al Horford vs. NO ($7,100) – He had 14-5 at New Orleans last week, but with Anthony Davis dealing with that banged up hip, even if he is out there, he might not be 100% and might not play his normal full complement of minutes. All that could leave plenty of opportunities for him to grab some rebounds, which is basically the difference, for him, between a 28-fantasy point outing and a 40-point outing.
Values
Dewayne Dedmon vs. LAL ($4,800) – You always have to love a matchup with the Lakers for a big man. And it's even better when he's cheap. Dedmon is filling in for the injured Vucevic, and has been averaging almost 30 minutes a night, with good defensive and rebounding stats. If he can grab a few buckets against this defense, he could be a candidate for a double-double.
Meyers Leonard vs. SA ($4,200) – He put up 17 points in a matchup with Drummond last week, and even if he only had two boards in that game, he has shown more of an ability to rebound in matchups that are not quite as tough. He is what the Blazers have, and has been a staple in their lineups, routinely out there for 30+ minutes.