You're used to it by now, but with only two games, we cover almost all of the possibilities here – so not all of these are recommended plays. For some, you'll get a reason or two NOT to start them. But with possible close-out games for the Clippers and the Cavs, these two games should still make for plenty of action. Good luck.
Enter the $90K Sharpshooter – Only $3 Entry >> DRAFT NOW!!
POINT GUARD TARGETS
Studs
Derrick Rose vs. CLE ($8,700) – Despite looking a little banged up in Game 5, Coach Thibodeau says he doesn't expect him to be slowed down at all in Game 6. That is good news for the Bulls, who are banged up enough without him being hobbled. Long term, the real good news is how well Rose and Butler play together in the backcourt, and they are going to need the most from both of them to extend this series. He is averaging just over 40 fantasy points per series, and you should expect more of the same.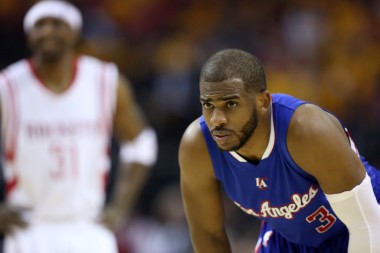 Chris Paul vs. HOU ($8,600) – Paul has been noticeably slowed by the hamstring injury, to the point that he appears to maybe not have the 50-60 point upside he flashed during the regular season. Or maybe he has realized that the Clippers are a better unit when the big men are flashing those monster games while he just plays the role of ship captain. You know the saying "steady as she goes?" Well, that looks a lot like the 18-11 on 50% shooting he has averaged over the last two.
Values
Kyrie Irving @ CHI ($7,700) – You know the deal with Irving. He is breathtaking. Fun to watch. Really, really good. And he's a point guard, in name – but you need him to score for himself to make him a good fantasy option. He scored 30 in game 1 and 25 in game 5, and was right at that 40-point fantasy threshold in both. And in the others, he got you a really expensive 25 fantasy points.
Austin Rivers vs. HOU ($4,500) – He could be an interesting play to finish out the bottom of your lineup, since he has been seeing just about 25 minutes a night in this series, more than he is used to so far in his career. Even with Paul back, he has been seeing 10 shot attempts a night, plenty of opportunity to get you a cheap 20 fantasy points.
_____________________
SHOOTING GUARD TARGETS
Studs
James Harden @ LAC ($9,600) – Harden left game five early with an apparent illness, but not one that should slow him down any in game 6. Even with the early exit, he has scored 40+ fantasy points in every game in the series, and has gone over 48 in four of five.
Jimmy Butler vs. CLE ($8,200) – Butler and Rose are just an imposing tandem. It makes you hope Rose has ten healthy season left in him, because watching these guys feed off each makes any concerns about Rose's return hurting Butler's production people had earlier in the season seem ridiculous now. Even with Rose's playoff uptick, Butler is still averaging better than his regular season numbers across the board in this series. Three combined blocks and steals is just gravy for a guy who can score and board as well as Butler.
Values
J.J. Redick vs. HOU ($5,000) – At the same price, I go with Redick over Crawford in this one because his defense has been very useful, and there is more potential for his shot opportunities to be of the three-point variety. If he can drain a couple of those, it will give him output that extra little boost you need to have an investment like this one make you really happy with yourself.
J.R. Smith @ CHI ($5,000) – Shooting guard was actually one of the positions tonight where there seemed to be more options than you're expecting. Redick and Crawford are on the same team and cost exactly the same. The Cavs have Smith and Shumpert and there is Jason Terry and Corey Brewer going for Houston. I am going with Smith because if Shumpert is slowed at all by the soreness he was experiencing after game 5, it could mean a few more minutes for Smith. And every minute he is out there is an opportunity to help, because he gets his volume in a hurry.
_____________________
SMALL FORWARD TARGETS
Studs
LeBron James @ CHI ($11,400) – LeBron will be looking to move on. To take the Bulls and all their nice storylines and tell them it's not enough. Even without Kevin Love. He might not pull it off, but he will make sure he has something to say about it one way or the other. And that, right there, shows how he has improved over the years. You never used to know – really know – that he would at least try to assert himself but now? Now he looks like the best player in the world when his team needs him to. There have been moments in this postseason where watching LeBron has reminded me of watching Jordan in the mid-ninties: sometimes he does something, or a series of things, that make you just laugh out loud at the idea that someone else won the MVP. Hahaha.
Values
Trevor Ariza @ LAC ($6,200) – The second highest price guy on the board, he's a risk. He means you decided you laid your hopes with Blake, or maybe you just went middle of the road and left both the big guns on the table. He's had four out of five games in this series with over 36 fantasy points, doing it with scoring, rebounding and defense (averaging more than two steals a night for the series).
Josh Smith @ LAC ($5,000) – For a while now, Smith and Ariza have looked about the same – similar minutes and similar fantasy production, and that is what you'll see if you look at the long term numbers on these guys. But don't be fooled – Ariza is the one you want tonight. Ariza keeps scoring in the mid to high thirties, while Smith has only cracked 25 points once – the exact opposite of the last series, when Smith was the one averaging over 30 fantasy points.
Mike Dunleavy vs. CLE ($5,000) – He's had off and on games in this series, based entirely on whether he is hitting his threes or not – it's his quickest route to fantasy points by far. So if you don't mind your success hinging on Mike Dunleavy's three-point shooting, then have at it. But be warned, it's basically a 50/50 proposition. I am not going to pretend to know if those shots are going to bounce off the rim or rattle through, and neither should you.
_____________________
POWER FORWARD TARGETS
Studs
Blake Griffin vs. HOU ($10,300) – Blake has been a revelation in these playoffs, finally showing the outside-inside combo game that makes him all of a sudden look more like LeBron out there than just some lumbering power forward. It's hard to imagine anyone having a single guy capable of guarding his combination of speed and power.
Pau Gasol vs. CLE ($7,500) – It's too bad he is contending with this hamstring injury, because it has definitely tilted the balance of power back towards Cleveland. Initially, when Love was ruled out of this series, Gasol was the guy who could take advantage. And he says he is good to go for game 6, and the risk is baked into this price. If Gasol is at full-strength, this is a value.
Values
Tristan Thompson @ CHI ($5,300) – Now if there is one person who is happy that banged up and Love is out, it's Thompson. Who would have thought he'd end up as the best power forward in this series? He is averaging ten boards a game in the series, and has had two double-doubles in the last three, to go along with seven blocks in five games. Those are the kinds of numbers that make a young, developing player look like he is turning the corner in a way that could help Kyrie and LeBron have that third leg to support their title runs for years to come.
Taj Gibson vs. CLE ($4,800) – Honestly, at this point, it just does not at all seem like it's worth saving the $500 to go with him over Thompson. If that's what your lineup comes down to, find the $500 somewhere else – it counts for more here.
_____________________
CENTER TARGETS
Studs
Dwight Howard @ LAC ($8,500) – Howard has been a difference-maker in this series, getting 44 of more fantasy points in four of five (with his game four derailed by foul trouble, he never got it going). He was a main reason the Rockets extended the series in game 5, going off for 20-15 with two blocks and a steal. In a matchup with Jordan, who has been proving himself consistently of late, Howard is providing a reminder that he can still be a dominant force in this league, no matter who he is facing.
DeAndre Jordan vs. HOU ($7,900) – Just the fact that Howard is playing well does not mean Jordan isn't. He is still averaging over 40 fantasy point per game in the series (boosted somewhat by a monster 26-17 game while Dwight was struggling with foul trouble in game 4). But for a $600 savings, you are getting very similar production on a consistent basis with basically the same upside, so it is really about which one you think has the better chance of leading his team to a victory.
Values
Joakim Noah vs. CLE ($5,900) – Of course in game 5 he got to that elusive double-digit mark in points, but stopped short of the double-double with only nine boards. You are basically rooting hard for 10-10 with a block and a steal, but for $5,900, if that happens you are in great shape.
Timofey Mozgov @ CHI ($5,300) – He had 35 fantasy points in game 4… and 9 in game 5. He had one point and six rebounds in 23 minutes, unable to play effectively against the Bulls' quicker front court, and as a result only played 23 minutes, which could definitely recur here in game 6. He is too much of an unknown to trust.
Good luck!