As the regular season winds down, today's NBA targets breakdown looks at Wednesday's nine-game slate, with an eye towards the studs, sleepers and mid-range players you want to have rotating in your lineups. Good luck!
DRAFT YOUR NBA TEAM
POINT GUARDS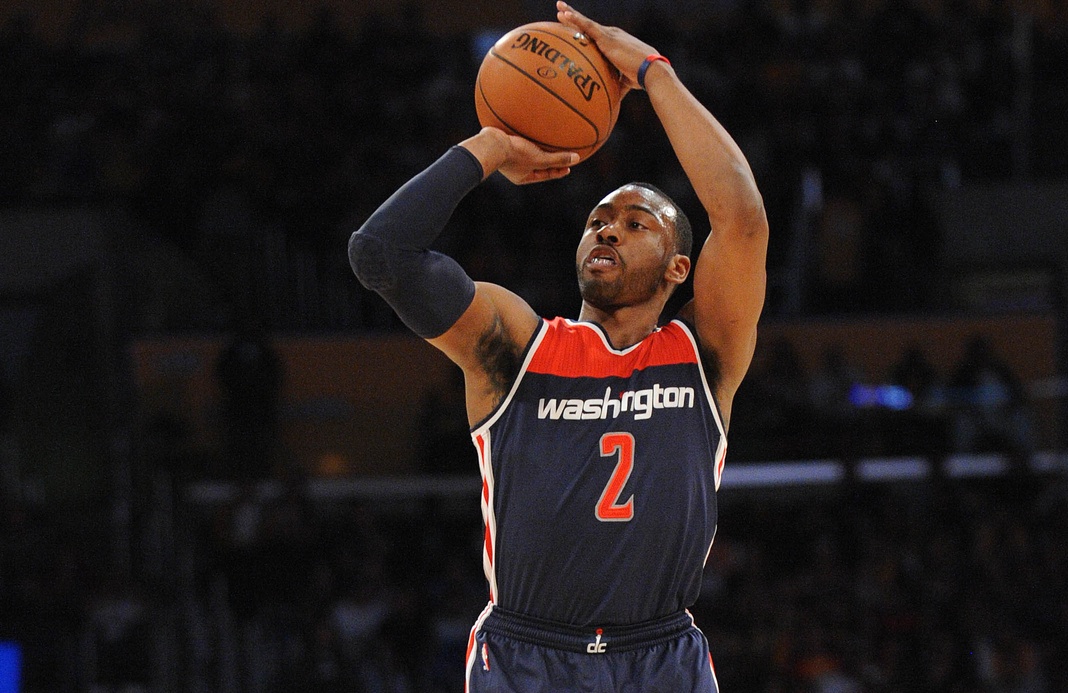 Studs
John Wall – WAS @ SAC – $10,000 – Wall only recorded eight points last night against Golden State but he lands in a much softer matchup tonight in a game that the Wizards need to win to stay in the playoff race. He's highly motivated to play hard, something that you can't always guarantee out of your players this late in the season. Even with just eight points last night, he did put up 39.75 DK FP with 11 assists, 5 boards, 4 blocks and a steal. The guy does whatever it takes to win and a lot of those things score you fantasy points.
Brandon Knight – POR @ MIL – $7,300 – On paper, Milwaukee is not a great matchup for an opposing point guard, but Knight hasn't had fewer than 16 shot attempts since his return from injury. Milwaukee's defensive length may be able to slow him down but the usage volume still puts him in a position to post big fantasy numbers against any opponent. The matchup makes him a less sexy tournament play, but his volume makes him a good cash game option every night – he has ended up with fewer than 30 fantasy points only twice since his return (and in both of those games he was at 27 DKFP).
Values
Emmanuel Mudiay – DEN @ MEM – $5,600 – He's a rookie. Rookies are unpredictable. But this guy can score. In a good matchup against Memphis, if his outside game is working even a little bit, I would expect to see him to reach value. The amount of run Augustin has been getting makes Mudiay too much of a risk for me to trust in a cash game, but if I'm looking for upside plays, his ability to score the ball puts him squarely in that category.
Toney Douglas – NO @ SA – $4,900 – I am not going to spend a lot of time convincing you to play the Pelicans' third-string point guard against the best defensive team in the league, when I likely never would have recommended Holiday in this spot. But Douglas did come through with 16-5-4 in 25 minutes two nights ago, and someone is going to have to shoot the ball on occasion for New Orleans in this matchup. I like his chances of serving as a decent value in a cash game situation for you tonight.
---
SHOOTING GUARDS
Studs
Dwyane Wade – MIA @ LAL – $6,900 – Dwyane Wade is not the Wade of a decade ago, but that guy is still lurking. He can make so many shots and he is the type of scorer that can serve as "instant offense" from the perimeter, which is hard to find. If you're looking for a bit of a narrative here too, if Kobe plays this will be the last time he and D-Wade face one another. Over the course of Wade's career, the two have played against each other 19 times and Wade has averaged 43.8 DK points.
Devin Booker – PHO @ MIL – $6,700 – Booker has really surged with Knight in the backcourt along with him, showcasing the importance of having running mates out there to share the defensive attention and pressure. He got the minutes and exposure he needed with Bledsoe and Knight both out, taking his lumps and fighting through, and now things have opened up for him somewhat, and that is no coincidence. He has been over 20 points scored in five of his last six, with the one outlier being an 18-point performance against Memphis last week. He is continuing to see a ton of minutes on a team where all the fantasy production is consolidated into just 3 or 4 guys on any given night, and that makes him, in my mind, both a stud and a value for these contests tonight.
Values
Zach LaVine – MIN vs. LAC – $5,800 – It's interesting, with LaVine and Wiggins both listed as SG, because on paper, they both have bad matchups against the Clippers tonight. But the Clips are #5 in terms of fantasy points allowed to SG in large part because of Redick, and Redick isn't guarding both of them. They are not terrible against small forwards, but more middle-of-the-pack than elite. Redick could see time on both of them, sure, but you might assume he'll be focused on locking down Wiggins, and if that frees up LaVine even occasionally, he could prove to be a nice value at this price, especially in a tournament format, where his 30+ upside could really help out your chances.
Josh Richardson – MIA @ LAL – $4,700 – He is playing a lot of minutes, often alongside Wade. If tonight's game gets out of hand, he could even end up being out there somewhat more than usual. He is more of a scorer than anything else, not contributing much in other categories, but at this price, someone who could get you 20 points plus even a small number of assists, rebounds and defensive stats is likely worth a shot in some of your lineups.
---
SMALL FORWARDS
Studs
Giannis Antetokounmpo – MIL vs. PHO – $9,300 – He is the kind of freakishly athletic that is the worst possible mismatch for this Suns roster. The Suns are third worst in defensive efficiency this season and have struggled preventing big fantasy games all year long. I am not even really sure what they'll try to do to slow him down, but I am sure it won't work. The one thing that will come and go with him is scoring, but he should be able to fall backwards into 15 points in this one. When you combine it with everything else he does on the floor, he is a safe option with big upside on Wednesday.
Gordon Hayward – UTA vs. GS – $6,900 – He is in a sweet spot, too big for Klay, and on a team with another forward to occupy Draymond's attention. Last time out against the Warriors, he had sixteen points on 5-for-15 shooting, but if he is able to knock down a few more jump shots, the chance is there for him to exceed his value at this price. On a slow night for small forwards, it might be a good time to try to save money on the position, but if not, Hayward could be a good mid-priced option.
Values
Tony Allen – MEM vs. DEN – $4,300 – Still averaging just over 26 minutes and just under 15 points a game over the past week or so, Allen is exactly what Memphis needs right now: a healthy body, who can guard multiple positions. His last two games have seen a drop in both minutes and production, but both of those games were against the Spurs, the Grizzlies never really competed, and his underperformance seemed to be as much about game flow as anything else. He could get in rhythm against this Nuggets team and see his fantasy value turn around again.
Harrison Barnes – GS @ UTA – $4,100 – Barnes isn't seeing an appreciable difference in minutes with Iguodala missing some time – the Warriors are deep and versatile enough to have more subtle responses to a situation like that. But he does seem to be getting a few more looks from the field, which has led to four straight games with double-digit scoring. For this price, a solid chance at 20+ DK FP makes him an intriguing option in a cash game, especially in the second night of back-to-back games, where he could also see a few extra minutes.
---
POWER FORWARDS
Studs
Draymond Green – GS @ UTA – $8,100 – He is coming off a game last night in which he finished with 15 points, 16 rebounds, 9 assists, 2 blocks and a steal. One assist shy of a triple-double is never a bad place to be in terms of fantasy production, but Draymond also showed how he can be a real driver for success for this team. Of course the 26 points including six threes from Steph were a big part of the reason they won but when the Warriors need an energy boost, just as often it is Draymond to provide it. That energy has led to three consecutive 50+ DK fantasy point games.
LaMarcus Aldridge – SA vs. NO – $7,700 – Coming off back-to-back 50+ point fantasy games, the statistic I actually care more about is the 30+ minutes in four of his last five. Just as Pop has been credited as a genius for the way he has managed minutes for his veterans over the years, he deserves credit for this, too. Aldridge might be a veteran, but he has never faced a playoff gauntlet the way he will in his first season with San Antonio. He is about to enter the crucible, and Pop is going to need to be able to rely on him for big minutes and big production night in and night out. He might as well start getting used to now, against a New Orleans team whose defensive ranking for the season is meaningless with all the attrition they have had lately.
Dirk Nowitzki – DAL vs. NY – $7,100 – The fact that I am going with three "studs" at this position is intentional: these guys are all great options, making this position a good place to spend your salary cap dollars tonight. The great thing is, these options aren't even going to really bust your budget. Pushing for the postseason (currently 9th, 1/2 game behind Houston), Dirk is averaging 34 minutes over his last four games, so even though the scoring has been down in each of the last two, the opportunities are going to be there against a team like the Knicks. New York will allow Dallas' guards to get the team into their sets, and once they're settled in the half court, Dirk is not easy to stop.
Values
JaMychal Green – MEM vs. DEN – $5,000 – You would think that this pick might be impacted by whether or not Randolph ends up going tonight, but Green was getting lots of minutes even before this most recent ankle injury for Randolph. Even with Randolph, they just don't have a lot of big bodies to throw out there, and if anything, having another guy to take some of the pressure off actually helped Green some. He's been wildly inconsistent, which you expect from someone who was expected to be a bench warmer this year, but he has shown enough upside to be a consideration in tournaments on Wednesday. With 25+ fantasy points in both of his last two, you could talk yourself into the idea that he is trending in the right direction at the moment.
---
CENTERS
Studs
Karl-Anthony Towns – MIN vs. LAC – $8,400 – This matchup is a perfect example of two teams who have a bunch of shooters surrounding one dominant big man. In this style, these guys are out there to rebound, protect the rim, keep the ball moving on offense most of the time and serve as instant offense in the half court when necessary. Towns can do all of those things and he should be able to put together a strong stat line in an uptempo game on Wednesday.
DeAndre Jordan – LAC @ MIN – $7,900 – The other side of a fun matchup in tonight's game, DeAndre has a few left with no Blake Griffin as he serves out his suspension, following his medical clearance. While Clippers fans know they need Blake back to have a legit shot in the playoffs, you might as well take advantage of the Jordan you get without him around while you can – after last season, and this, it's not hard to see the straight line causality of Griffin being out meaning a lot more chances on offense for DeAndre. And tonight, as I mentioned above, should be a game where the big man for each team has an easy chances at a nice rebounding total, so a few blocks and double-digits in points are all you're going to need to have a productive fantasy option on your hands.
Values
Alex Len – PHO @ MIL – $5,800 – While not quite the double-double machine he was earlier in the month, Len is still seeing plenty of minutes after Chandler's return from injury. He is still averaging just about 30 minutes a night, and 12 points and 8 boards, good for 26-ish fantasy points. When all you need to do to your averages is snag a couple of extra rebounds to get a double-double, a good matchup can easily mean the difference between 26 and 35 DK FP.
Willie Cauley-Stein – SAC vs. WAS – $4,300 – Cauley-Stein has seen big minutes over the last few nights with Cousins out and the Kings are playing with a really thin roster. In 30 minutes a night over three games, he has given you a nice, clean 20 point, 9 rebound average. If Cousins comes back tonight, you might want to temper expectations, but you have to think someone in the front office is encouraged by these performances out of the young player and may be wanting to see some more down the stretch with Sacramento out of contention anyway.