Today's NBA targets breakdown looks at Wednesday's 11-game slate, with an eye towards the studs, sleepers and mid-range players you want to have rotating in your lineups.
POINT GUARDS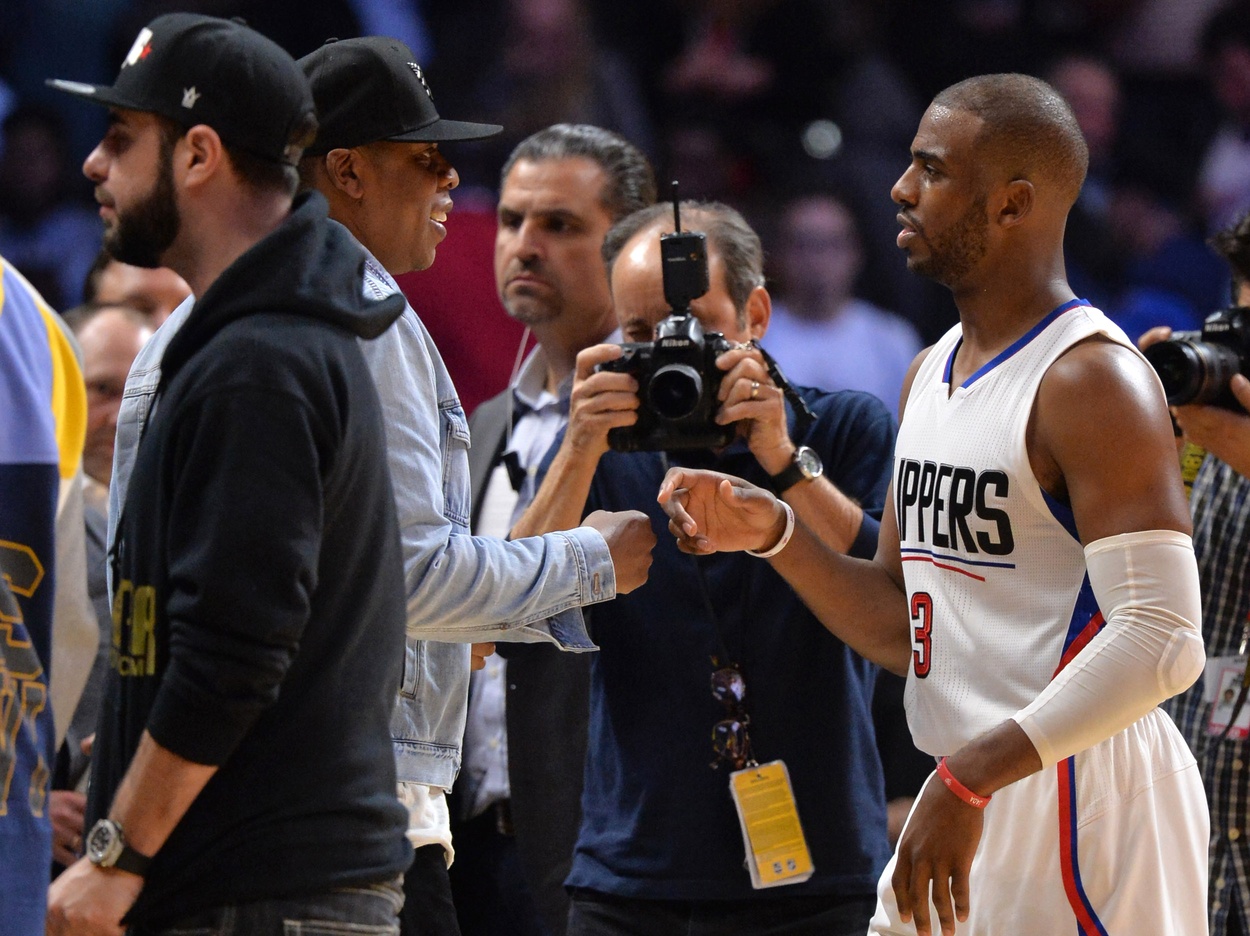 Studs
Chris Paul vs. OKC ($9,800) – The last time these two teams faced each other, back in December, Paul and Westbrook went at each other, finishing with 32 and 33 points, respectively. Paul's final line that night also included 10 assists, five boards and a pair of steals, and as you know, the Clippers are a different team since then, playing without Blake. If anything Chris is more involved, more central to his team's success – and that has shown up in the box scores, as his points, assists and rebounds are all up over the short terms opposed to the whole season thus far.
Tyler Tobin prefers Westbrook to CP3 tonight. Where do you fall in the debate?
John Wall @ MIN ($9,700) – If there is a strength on defense for the Timberwolves, it's up front, which is kind way of saying, the Timberwolves don't have a strength on defense. And with Wall serving as the primary catalyst for everything the Wizards are doing on offense, that means plenty of opportunities for success for the dynamic point guard. With three games in a row and four of five with 49.75 DK FP or more, it's easy to have high expectations, and he is not likely to disappoint in this matchup.
Values
C.J. Watson vs. CHI ($3,100) – Watson played 30 minutes last night for a Magic team that was missing Evan Fournier. Fournier is doubtful again tonight and while Watson's production wasn't stellar (20 FP last night), he still hit over 6X value at that number and should be able to match that tonight against the Bulls. He opens the door to fit in some of the superstars that are on Wednesday night's slate and projects as one of the premiere value options tonight.
---
Check Out Tonight's Top Guards
---
Derrick Rose @ ORL ($7,000) – He missed three games with his hamstring injury, but returned to log 24 minutes last night. Even in limited action, he managed 17 points and 3 assists, as the Bulls are just completely missing any other options to handle the ball, so when he is out there, fantasy-point-scoring opportunities are his for the taking. The hamstring was unfortunate, as he was just starting to come into his own trying to fill the void left by Butler, and had averaged 39.75 DK FP in the three games prior to the injury.
D'Angelo Russell @ DEN ($5,800) – He is averaging just over 32 minutes per game over his last five (up about 5 from his season average), and scoring just about 36 DK FP per game over that same stretch (up more than 10 from his season average). His price has gone up, but not that much. If his usage continues like this, and there is no reason it shouldn't, there is automatic value already baked into this price. And that value is only greater against a fast-paced team like Denver that doesn't scare you on the defensive end.
---
SHOOTING GUARDS
Studs
James Harden vs. NO ($10,400) – He has 50+ DK FP in seven of his last eight, with the one blip coming last Saturday against San Antonio. He basically averaged a 31-7-7 for the entire month of February, and he is not slowing down. If anything, he is gaining steam, as evidenced by his 34-6-5 in the five games since the All-Star Break. The upside is worth the price, and right now he has the consistency to also give you peace of mind. The Pelicans are not the Spurs.
C.J. McCollum @ BOS ($7,300) – Boston is not a great matchup on paper for either guard spot, but as I have discussed before, they accomplish this by actual good defense. What I mean by that is that they are the rare team that isn't a great matchup for guards, but also plays at an uptempo pace. Which means that, despite the good D, the volume of opportunities is still going to be there. And on Portland, who else is going to shoot it? Contested or not, Lillard and McCollum are going to try to lead the way because they have no choice. Of the two, I think McCollum ends up with more open looks and if he can be the more efficient guard option for the Blazers, while playing in a fast-paced game, he is a good option in cash game and tournaments.
Can John Wall continue his recent hot streak? Analysis and more in today's NBA Game Breakdown – READ HERE
Values
Zach LaVine vs. WAS ($5,500) – He is still relatively inconsistent, but his minutes are WAY up from earlier in the year, which makes him something of an automatic value right now. If he had been averaging 35 minutes a night since September, he'd probably cost you another $1,000 of salary cap room right now. He has scored over 30 DK FP in each of his last two, and been over 25 in six of seven, and will need to assert himself again in this one against the Wizards backcourt. He is averaging more than 5 boards a game over the last couple weeks of February, a nice added bonus of fantasy value for an off-guard who can score.
Avery Bradley vs. POR ($5,100) – While the minutes for many of Boston's players have fluctuated over the course of the season, Bradley is one guy consistently spending well over 30 minutes out there for the surging Celtics. That is certainly going to be the case tonight, as they will want his elite-level defense out there trying to contain Lillard and McCollum. His upside is probably only in the mid-30's, but with the amount of opportunities he gets, he still makes for a good cash game option.
---
SMALL FORWARDS
Studs
Kevin Durant @ LAC ($10,200) – Durant has been at 57 or more DK FP in each of his last three, averaging 32 points, 12 boards and 6 assists. He has hit 14 threes and has five blocks and three steals. He is scoring fantasy points every way possible, and the Clippers don't have anyone with the remotest chance of stopping him from keeping that up for another night. The only potential here is if he defers to Westbrook as he battles it out with Chris Paul, but there have been plenty of fantasy points to go around for both of them. Spending up on a guy with 60+ point upside is always a little easier when a reasonable floor feels like the high 40's.
Paul George @ MIL ($8,600) – George is trying to do everything for Indiana right now, but unfortunately, he is not really a shooter. I mean, he can shoot, don't get me wrong. But the Pacers are trying to rely on him both spreading the floor and attacking the lane right now, a combination that isn't going to work night in and night out. But when his shot is falling, the sky is the limit on his upside. For their part, the Bucks are middle of the pack at best at defending the three-point line, and if George can find a few open looks and get rolling, he could be the piece that puts your fantasy squad over the top.
Values
Jae Crowder vs. POR ($6,300) – Crowder does not do the kinds of things normal small forwards do, so the fact that Portland isn't a great matchup for the position on paper doesn't matter much. He can grab a few rebounds to help out the Celtics' big men, help move the ball around the perimeter to find their shooters, and slash through the lane himself looking to finish in close. He is a key part of what the Celtics have been doing, even if it hasn't always translated to fantasy points, but tonight it should.
Jeff Green vs. OKC ($5,000) – He has played 31 minutes in each of his two starts with the Clippers, and has been productive. He has always been an up-and-down fantasy commodity, and that isn't likely to change, but at least his upside appears to be back. He is an athletic swingman who can defend, rebound and occasionally score when asked – there has to be a better way to take advantage of that than we saw while he was in Memphis. And $5,000 is a price-tag that does not reflect his potential, but rather his performances so far this season.
---
POWER FORWARDS
Studs
Anthony Davis @ HOU ($10,100) – Last time these two teams met, Davis only played 19 minutes after getting elbowed in the head by Tyreke Evans. But in the two contests prior to that, Davis played, and played well, averaging 26.5 points, 13 boards and 2.5 blocks against the Rockets. And that was in a period of the season when, generally speaking, his numbers were down. Well, lately, his numbers are up with two 20-rebound games in his last three, and three of his last four with more than 30 points. This seems like too low of a price for a guy who flashed 90+ DK FP upside just last week against the Pistons.
Aaron Gordon vs. CHI ($6,900) – Up until a little blip against Dallas last night, he was consistently getting right around 30 minutes a night, if not more, for the past couple of weeks. He has really shown an ability to do a little bit of everything in a way came on so suddenly that right now we're left just kind of secretly hoping that it doesn't go away just as fast. But he has double-digit scoring potential and double-digit potential on the glass every night, against any opponent, which leads to both a nice floor and a nice ceiling.
Values
Myles Turner @ MIL ($5,800) – When you get into this price range at the PF and C positions, the issue is usually not talent, but usage. There just isn't always room for these guys to get a full complement of minutes and looks in today's NBA. But earlier I wrote that tonight was all about George trying to do everything for the Pacers, and if they are going to find another contributor to help him out, it's more likely to be another big against the Bucks than it is to be another perimeter player. The matchup is right here, since he won't have to defend anyone who can really torch him and can create mismatches on the offensive end – I like him to return value at this price, especially in a cash game.
Markieff Morris @ MIN ($5,500) – Coming off a 37-minute, 45.75 DK FP performance two nights ago against Philly, it appears Morris is going to get plenty of chances to succeed in his new surroundings. With 16 points, 13 boards and a pair of blocks, he gave the Wizards literally everything they were looking to acquire at the trade deadline in one neat little package last night, and he could find the same success against Minnesota with their interior defense (ie, Towns) focused mainly on Gortat.
---
CENTERS
Studs
Pau Gasol @ ORL ($8,700) – With Vucevic and Gordon, Orlando has a talented frontcourt, but not one that is overly daunting on the defensive end. And with Gasol as the clear #1 option on offense for Chicago right now (with apologies to Rose), there is no reason to expect anything less than a ho-hum 18-10 out of Gasol in this one, making him a great cash game option, with 50+ point upside.
Nikola Vucevic vs. CHI ($8,000) – The emergence of Aaron Gordon has not taken a single thing away from Vucevic. If anything, it has expanded his opportunities on the offensive end without needed to concentrate so much on being the only rebounder on the entire roster. His minutes are down slightly recently, but his shot attempts are actually up, and he has poured in an average of over 2o ppg over his last ten, compared to just under 18 on the year. And against this depleted Bulls squad, there is room for both the rebounder and the scorer to prosper.
Values
Jared Sullinger vs. POR ($6,000) – It's hard to trust Celtics big men this year, but Sullinger has had 25 or more minutes now in four straight and six of seven, and should be a good fit for this matchup. He has the bulk to create mismatches for the Celtics on offense and to help them control the boards, but doesn't have anyone to worry about on the defensive end that will beat him up with speed enough to keep him off the floor. He is a definite threat for a double-double in this one, giving you 40+ point upside, not bad for the price.
Al Jefferson @ PHI ($4,800) – He is not getting much more than 20 minutes a night since returning from his knee injury, but he is still getting up double-digit shot attempts while he is out there. His efficiency in the post has always been his greatest asset, and right now that's all he is being used for: instant offense. They bring him in the game and he gives them an easy option in the half-court, every time. There is a floor in the teens to be wary of here, but you are getting legit 25+ DK FP upside for under $5K, which doesn't come around often at this position.