Even though there are only five games tonight, this slate offers some terrific options at every position. With guys like Russell Westbrook and LeBron James looking to build off of their recent 50+ fantasy point games, we'll need to find some value to pay up for those studs. Let's get into it!
Point Guard
Stud
Russell Westbrook – Thunder v. Jazz – ($10,300) Let me start by saying that I know he plays the Utah Jazz. I know Utah plays a slower pace and has a solid defense, but I also know he is Russell Westbrook. James Harden just hung 60 fantasy points on the Utah Jazz last night, so it can be done. Westbrook has three straight triple-doubles with four in his last five games and seven of them in his last 12. His last 12 game average is over 20 points, 9 rebounds, and 12 assists….simply put, Westbrook is a monster right now. Even in his bad games, he's still reaching 40-50 fantasy points. We have a lot of high end options at the point guard spot today, but Westbrook is easily my favorite. DraftKings was even nice enough to discount the price a couple hundred bucks today, so I will gladly take him and the savings.
Shelvin Mack – Jazz v. Thunder – ($6,300) If you don't want to spend into the upper tier for a PG today, I think Shelvin Mack is a great alternative. His minutes have slowly risen since he was traded to the Jazz, and he is now up in the 30+ minute range consistently. Neto and Burke were not getting it done, so it wasn't hard for Mack to take on the increased role. He has 35 or more fantasy points in 6 of the last 7 games he has played. That puts him at about 6X value based off his price today. OKC plays fast and high scoring games, and they usually tick up the production of the high usage players opposing them. Mack is still too cheap for the fantasy points he yields. Until he reaches that $7K plateau, I still think he is a guy worth looking at.
Value
Toney Douglas – Pelicans v. Pacers – ($5,100) – I no longer think Douglas has big upside with his price creeping up to $5100, but he is still a viable cash guy for 25-30 fantasy points. He has reached that mark or better in 7 of his last 8 games, so there really is nothing crazy here in what I am saying. The key for Douglas is playing time. When he gets it, he can put up nice numbers. Norris Cole has missed all 8 of these games where Douglas has done well and I would expect that to continue if Cole is out again. The Pelicans did bring in Tim Frazier to take a few minutes as well, but I do not think he bites too big a chunk out of the playing time we see for Douglas. Norris Cole is the only guy who can do that and he is listed as doubtful again for this game.
Editor's Note (6:25 PM ET): Jrue Holiday is OUT tonight. The Pelicans will be without their five best players (Holiday, Anthony Davis, Tyreke Evans, Eric Gordon and Ryan Anderson) and there are some huge question marks here. Toney Douglas ($5,100) gets a boost and should be the primary ball handler tonight. Tim Frazier ($3,700) and Luke Babbitt ($4,000) will also stand to benefit and both have been putting up quality fantasy numbers over the past week or so.
George Hill – Pacers v. Pelicans ($5,000) – George Hill seems way too cheap here not to give him a look. It's not as great as his $4400 salary last week, but $5K against one of the worst PG defenses in the league catches my attention. The Pelicans do play fast, they struggle to defend PGs, and they are playing with a skeleton crew due to injuries. All of those things should be positives for Hill and his fantasy value. At the price we only need about 25-30 points out of him to be comfortable and he has returned about that in most of hs recent starts. He has thrown in the occasional upside game as well and this looks like a real soft spot where he may be able to do that again.
Which superstar should you pay up for? Find out in tonight's

NBA

Cheat Sheet
---
Shooting Guard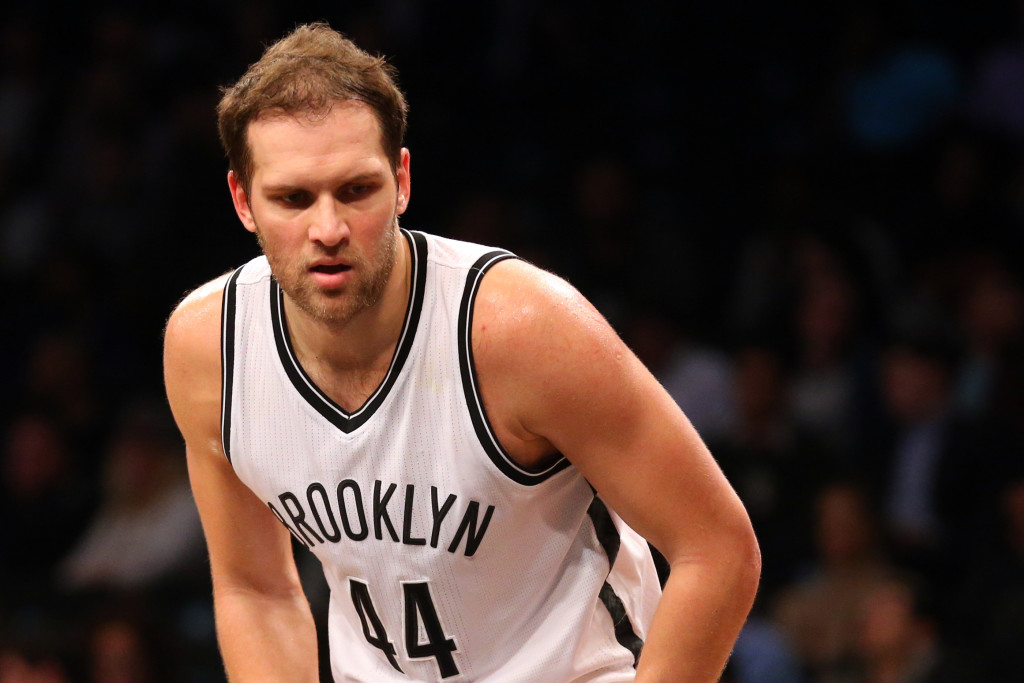 Stud
Bojan Bogdanovic – Nets v. Cavs – ($5,500) – I really do not like any of the expensive options today and would rather save money at the shooting guard spot. Jimmy butler is not 100% yet, CJ McCollum is getting pricey again, and I do not trust Monta Ellis for upside. That has me coming down and looking at a guy like Bojan. His minutes, shots, and fantasy production have all slowly risen since the Joe Johnson releasing. He has put up 25+ fantasy points in each of the last six games. He is playing over 30 minutes and scoring over 20 real life points per game. It is not an easy matchup, but the low price and high number of minutes make him a very viable option.
Value
J.R. Smith – Cavs v. Nets – ($4,500) – J.R. Smith is a gunner. It is what he does best. When he is on, he can be a fantasy superstar. Lately, he's been on. His minutes are back up into the high 20s after dipping down to about 20 a game. With the increased court time, we have seen his stats rise across the board. He has hit 3 three-pointers in each of the last two games and has added in about 4 or 5 assists and rebounds in each as well. It was good for 26 and 36 fantasy points which is 6-8X based on his current price. Price dictates plays in daily fantasy and there are few guys with better upside on a dollar for dollar basis then JR Smith at only $4500.
"[Kilpatrick] has returned 7X or better in 4 of his last 8 games which includes the last game where he saw his season high in minutes (27) and produced 33

DKFP

"
Sean Kilpatrick – Nets v. Cavs – ($3,300) – I do not blame you if you have no idea who this guy is. The problem is that you should. Kilpatrick was a D-Leaguer who the Nets recently signed and he has been producing in the last few games. He has scored double digit points in 8 of his last 9 and has hit multiple three-pointers in 7 of those games. He does very little else besides shoot and score, but it has been enough to make him a viable option at minimum salary. He has returned 7X or better in 4 of his last 8 games which includes the last game where he saw his season high in minutes (27) and produced a statline of 25 points (4 3-pt baskets), 2 rebounds 1 assist, and 1 block. That was good for a 33 fantasy point return and a 10X day for the unknown recent addition to the Brooklyn squad.
---
Small Forward
Stud
LeBron James – Cavs v. Nets – ($9,200) – Trying to guard Lebron James with a cast that includes Bojan, Hollis-Jefferson, and Sean Kilpatrick is like bring a knife to a gunfight. Actually it's more like bringing a plastic spoon. Lebron is motivated. He is playing close to 35 minutes per game right now and has been more assertive on the offensive end. With Kyrie Struggling and Love banged up, Lebron has returned 118 fantasy points in his last 2 games. His price has also slowly dropped from a high in the 5 digits down to the low $9K range. We have reached the point where Lebron is now returning good value and offering potential upside. Cleveland is traveling on the tail end of a back-to-back here. The spread is low and the total higher than I would have expected. With Brooklyn being home, Vegas does not expect this to turn into a blowout. that is good news for us, because 35 minutes of a motivated Lebron should yield 50-60 fantasy point. With the discount down to $9200, that a solid 5.5-7X range we can live with from our high priced superstar.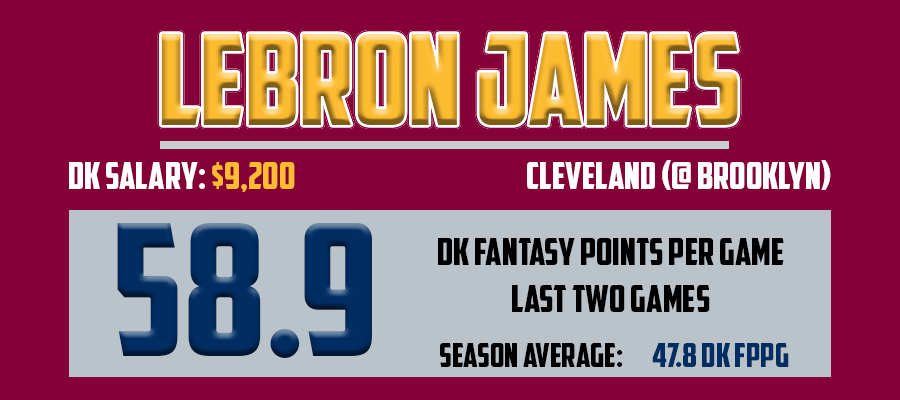 Carmelo Anthony – Knicks v. Bulls – ($8,000) – This was a really tough choice between Carmelo and Paul George here and I think both are viable options. I sided more with Carmelo for two main reasons. His production has been steadier, and his price is a few hundred dollars cheaper. He has a solid matchup against an Bulls team that paces them up a bit. He will likely see some Jimmy butler defense, but Butler is not 100%. Melo also slots in as a power forward with certain personnel groupings for the Knicks, so he will not have that tough Butler matchup for the whole game. Melo has been between 35-50 fantasy points in all but one of his most recent 18 games. That means he provides a pretty safe floor for us. His price is down a few hundred bucks to $8K and that is also a few hundred below the PG13 asking price today. I think George has more upside for a tournament, but Melo probably has a safer floor, especially at the discounted price.
Value
Al-Farouq Aminu – Trailblazers v. Clippers – ($3,700) – Aminu is an elite value play today and one of my favorite on the entire slate. $3700 is way to cheap for a guy who starts and sees 30+ minutes. His minutes dipped from earlier in the season, but he is back above 30 in his last few and producing 25-35 fantasy points with them. At this price he does not need to do a ton to pay off the salary, but he scores enough, rebounds enough, and does enough of the other things to make me feel safe in him reaching that number if he continues to see 28-35 minutes. His price dipped when his minutes dropped into the mid 20s, but with Leonard out he has seen a bump and is now too cheap for his recent production.
---
Power Forward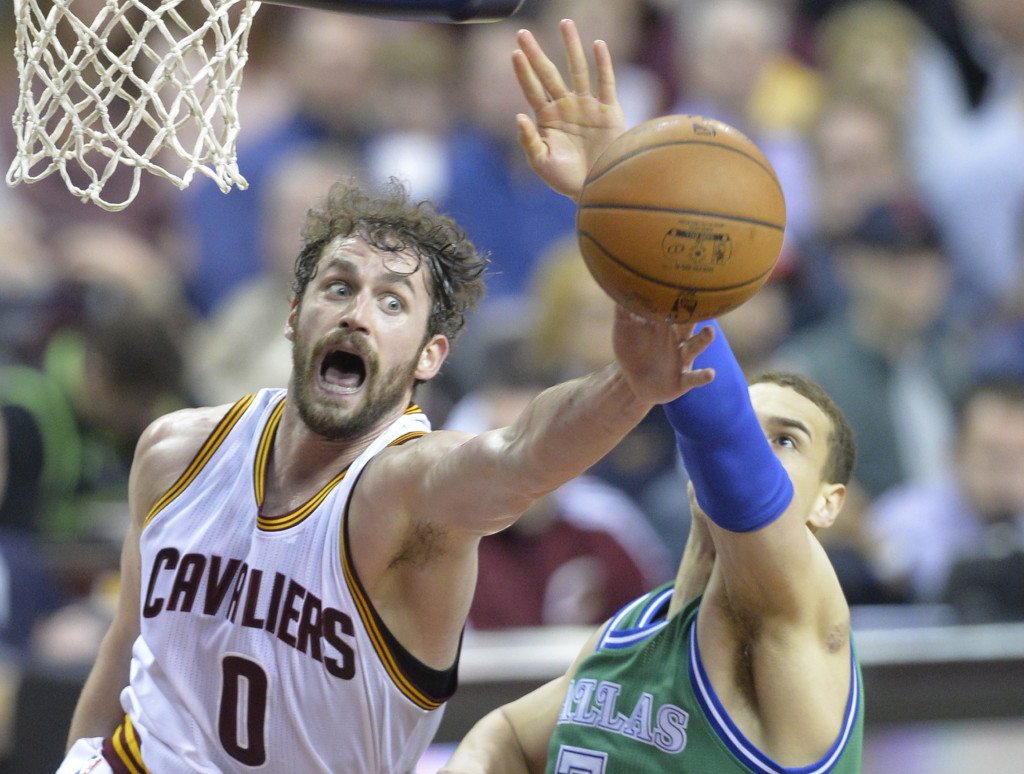 Stud
Kevin Love – Cavs v. Nets – ($6,600) – This price seems way too cheap for someone who can do what Love does. He has been banged up, so the Cavs have taken it easy on him. The benefit to that is his price coming down. He looked fine last night as he put up a 24 and 10 double double on his way to 50 fantasy points and that is a monster return at his current price point. Love was injured and sick, which caused him to play only about 20 minutes and even miss a game last week. When he is healthy, he is a 40+ point a game fantasy producer. He looks like he is right and will be playing his normal minutes in this one. If that is the case, $6600 is going to be a steal.
Kristaps Porzingis – Knicks v. Bulls – ($5,400) – Porzingis is back from injury and has now played 30+ minutes in each game and returned at least 5X in all three. The good news is his price has dropped $400 for his game today. At $5400, we need 27-33 fantasy points to feel comfortable. He has gone for 36, 28, and 44 in his last three. The last one was yesterday against this same Bulls team where he dropped 44 fantasy points in 31 minutes of action. At his $5400 price, I would be willing to go right back to that well here in a pretty solid matchup for the rookie.
Value
Nikola Mirotic – Bulls v. Knicks – ($4,400) – These two teams played last night, so we have the advantage of a recent game to look at here. What we saw was Mirotic play a robust 33 minutes, scored 49 fantasy points on the back of 35 real life points, and his salary dropped $500 to $4400. Pau is back and Jimmy's minutes are creeping up, but $4400 seems cheap when he is still seeing 25-35 minutes per game. Sure Mirotic has disappointed in some recent spots as well, but he's better than a $4400 player. He has the potential for big upside at this price and also should have a safe floor of only 25ish to hit. I am not thrilled with it for cash to be honest, but how can you pass up some shares of that potential upside in tournament play?
*Editor's Note (6:30 PM ET):*Cristiano Felicio will get the start tonight in place of Pau Gasol. It's unclear how many minutes he will see, but at $3,000, he's a great value. Look for Nikola Mirotic to see an increased usage rate as well, as he tries to build on his 49.0 DKFP performance last night. Taj Gibson will likely see an increase role as well. Without Pau Gasol in the lineup, Gibson averages 4 more fantasy points per game.
---
Center
Stud
DeAndre Jordan – Clippers v. Trailblazers – ($7,700) – DeAndre Jordan has over 50 games this season where he has reached 10+ rebounds. He faces a Portland team that is giving up a ton of points to fantasy centers and is one of the worst rebounding teams in the league. The total is high and both teams play fast. Throw in the fact he faces Mason Plumlee and Chris Kaman with Myers Leonard out and a weak front line looks even weaker. Jordan is not known as a big scorer, but has been putting up decent points finishing lobs and making 50% of the myriad of free throws he gets every game. You really do not have to pay up at the position today, but Jordan is one of the likelier guys to be the highest scoring center tonight.
"After sitting out a game to rest, Lopez returned with a line of 29 points, 9 rebounds, and 6 assists against Charlotte"
Brook Lopez – Nets v. Cavs – ($7,300) – Brook Lopez is one of the higher usage centers in the league. The Nets offense has basically been running through him since about the All-Star break. His scoring and rebounding took a slight dip as he was logging huge minutes and just seemed worn out. After some rest though, he looks ready to get back at it and for a price $700-$800 below where he had been. After sitting out one game to rest, Lopez returned on Tuesday with a line of 29 points, 9 rebounds, and 6 assists against Charlotte. I know the Cavs have a tough defense on paper, but they also do not see a ton of offensive minded centers who could hang big numbers on them. Brook Lopez is going to get the ball. He will have chances to score and set up teammates here. With the discounted price, high total, and lower spread than expected, I feel it could remain close enough for him to get his full 35+ minutes. If he does, I think he can get enough done to reach 40 fantasy points and be a boom to our lineups.
Value
Mason Plumlee – Trailblazers v. Clippers – ($4,700) – I have been pounding the table for this guy all week and he has been producing for me. With Myers Leonard out until next week, Plumlee has seen his minutes boost up near 30. At that level, he is consistently returning 30 fantasy points or more. At $4700, he needs 28 to reach 6X. If he is averaging over that, then he is just way too cheap to ignore. He has seven games in a row where he has gone about 5X or better. In two of those games he went for over 8X and 10X. Any guy who can return value consistently and give you upside is worth a look for cash and tournaments. Until his price bumps up again, I'm going to continue to utilize him for solid value.