As the final games are played to determine who will be dancing with Cinderella in the Sweet Sixteen, we have a nice six game NBA schedule to puzzle and ponder over. The main contest slate tips off at 4:00pm ET with half a million in guaranteed cash and prizes and then there is a four game "night" slate at 6:00pm ET and a two game "late" contest set at 7:00pm ET. That gives us a lot to work with, so let's get on with the show!
Injury Box
Note: Be sure to follow injury news throughout the day for the latest updates and statuses.
| Status | Players |
| --- | --- |
| Probable | Deron Williams (DAL), Wesley Matthews (DAL), CJ Watson (ORL), Rajon Rondo (SAC), Jonas Valanciunas (TOR) |
| Questionable | Jeff Green (LAC), Alexis Ajinca (NO), Kendrick Perkins (NO), Carmelo Anthony (NYK), Jose Calderon (NYK), Elfrid Payton (ORL), Omri Casspi (SAC), Willie Cauley-Stein (SAC), James Johnson (TOR), Patrick Patterson (TOR) |
| Doubtful | Jonas Jerebko (BOS), Richaun Holmes (PHI), Robert Covington (PHI) |
| Out | Chandler Parsons (DAL), Jae Crowder (BOS), Lance Thomas (NYK), Nikola Vucevic (ORL), Jahlil Okafor (PHI), Ben McLeMore (SAC), Ryan Anderson (NO), Anthony Davis (NO), Norris Cole (NO) |
---
POINT GUARD
STUDS
Chris Paul – LAC at NO – $9,500 – CP3 will be going back to where it all started for him when he was the fourth overall pick back in 2005. In his last half dozen games against New Orleans, he has been solid with 48.9 DraftKings points on 34.5mpg, 19.3ppg, 6.0rpg, 10.8apg, 2.5 combined blocks/steals and 1.8 made three-pointers which are worth a half point bonus on DraftKings. This is a back-to-back game after the Clippers lost in Memphis Saturday night, however, prior to that they last played on Wednesday so Paul should have a little something extra in the tank for his original fan base. He's also averaged over 42 DK points per game in eight visits to New Orleans since being traded.
Damian Lillard – POR at DAL – $9,200 – This is a tournament play only as Lillard has looked a little tired in the last few games, which is understandable after he has carried Portland all season as the only remaining member of last year's starting five. Over their last ten games, the Mavericks have allowed the sixth most fantasy points to opposing facilitators and this is an intriguing spot to make a stand in the large field tournaments offered on DraftKings.
VALUES
Isaiah Thomas – BOS at PHI – $7,500 – Yes, while not a true "value" from a salary standpoint, it is going to be hard to pass up on IT2 in all formats in Philadelphia on Sunday. In the previous three meetings between these two teams he has averaged 30.4mpg, 50.9% on field goals, 25.7ppg, 2.7rpg, 5.7apg, 1.7spg and 2.0 made three-pointers for a glorious forty burger. That is again on the menu and the 76ers have been frisky at home, so this is a fine time to employ the services of the former University of Washington star.
---
Shooting Guard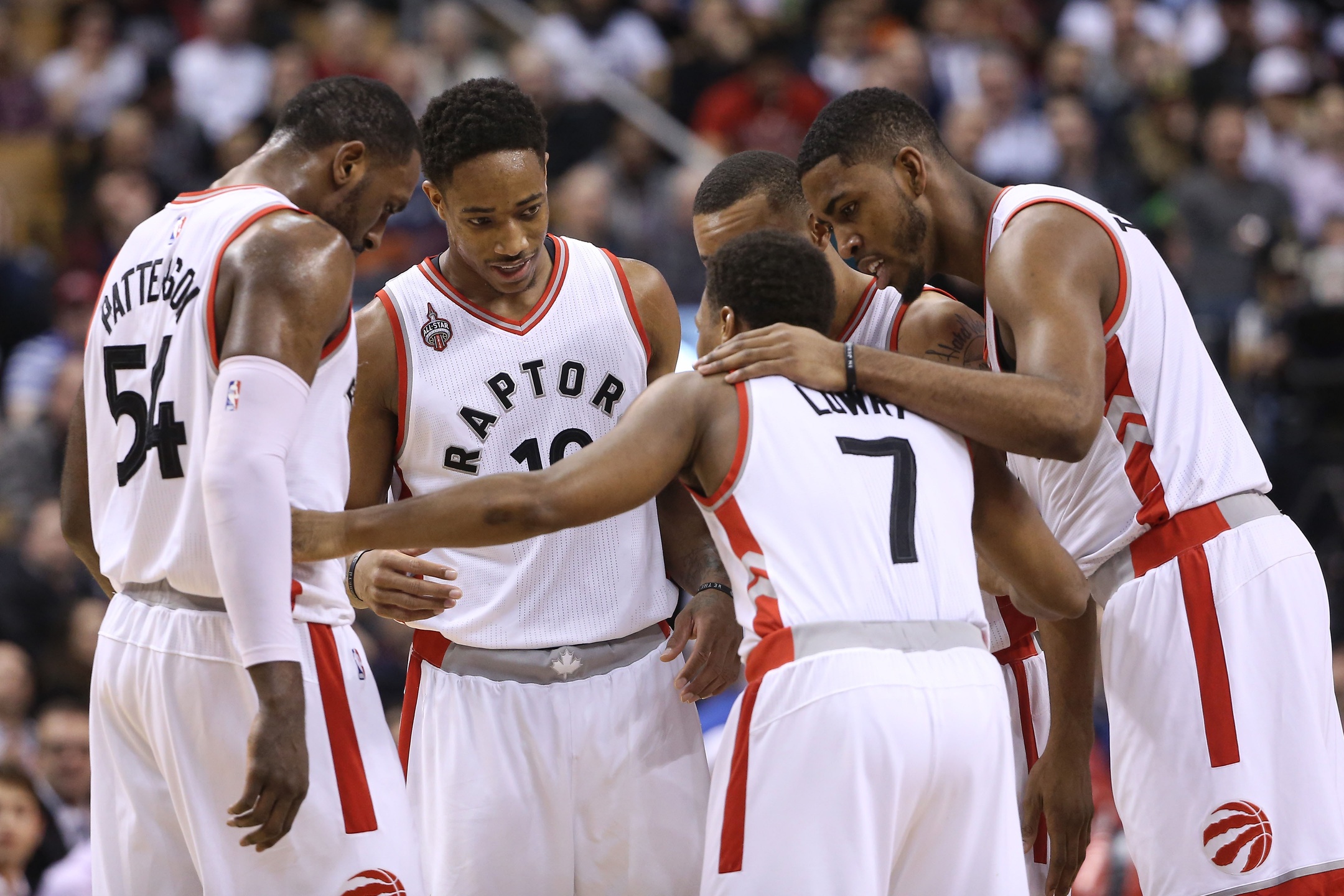 STUDS
DeMar DeRozan – TOR vs ORL – $7,800 – Orlando has been a middle of the pack squad against opposing two-guard and we need to strongly consider Double D on Sunday in a fine matchup against the Magic. This will be the third game in four days for the Raptors, but do not forget that DeRozan got a night off on Tuesday when Toronto was in Milwaukee. He is a fine option and has really upped his peripheral statistics this season giving him a very solid fantasy point floor.
C.J. McCollum – POR at DAL – $6,600 – While I am not always a fan of taking shooting dependent players on the road, the Dallas Mavericks have been in the bottom third of the league over their last ten games against this position. The Trail Blazers will be playing the fourth game of their current road trip, however, they did get Saturday night off after playing in San Antonio on Thursday and in The Big Easy on Friday. I am good rolling with CJ in all formats on the six game Sunday slate.
VALUES
Evan Turner – BOS at PHI – $5,500 – Another player in a homecoming scenario, Turner spent the better part of his first four seasons in the City of Brotherly Love. He is the glue guy for the Celtics, pitching in wherever needed and at this price point we can say the same about his daily fantasy prospects with regards to our rosters.
---
Small Forward
STUDS
Carmelo Anthony – NYK vs SAC – $8,500 – Anthony and the Knicks lost to the Wizards in Washington on Saturday night and there are reports that he is currently suffering from migraines. If he plays, this is an excellent matchup against the Kings who have struggled all season against wings. Monitor the news and have a backup plan in place to utilize the DraftKings late swap feature if there is any last minute changes in his availability.
Giannis Antetokounmpo – MIL vs UTA – $9,600 – This is not going to be an easy matchup for Giannis, however, now that he is running the offense he has the ball in his hands more than ever before. In five of his last ten games he has gone over fifty fantasy points including two in the sixties and two in the seventies. His lofty price point may scare off some gamers today, I don't want to be one of them!
VALUES
Dante Cunningham – NOR vs LAC – $3,100 – Here is an extreme punt option that can allow you to choose pretty much whomever you desire to fill out the remainder of your roster. With Anthony Davis out Cunningham should be secured for around 28-30 minutes Sunday afternoon and he should be able to approach 20ish DraftKings points, which makes for an outstanding price/production ratio.
---
Power Forwards
STUDS
DeMarcus Cousins – SAC at NYC – $10,400 – We can only hope that Boogie didn't have too much fun at the clubs in The City That Never Sleeps on Saturday on the second game of the Kings road trip. In the last three meetings with the Knickerbockers, Cousins has posted 52.5 DraftKings points in just 32.5mpg on 29.3ppg, 10.7rpg, 3.0apg and 2.7 combined blocks/steals. The Knicks really do not have anyone equipped to slow DeMarcus down and if his head is in the game, he will be a tournament difference maker.
VALUES
Dirk Nowitzki – DAL vs POR – $6,800 – In his seventeenth year in the league, Dirk the Daring has reinvented himself and has been incredibly effective as the center in the current small-ball lineup that Coach Rick Carlisle has turned to. Over his last five games he has posted a 52.4FG%, 24.4ppg, 7.8rpg, 2.6apg and 2.2 combined blocks/steals which has been good for 43.8 DraftKings points. As this delicious price point, I can definitely see a tasty forty burger for his supporters on Sunday.
David Lee – DAL vs POR – $5,000 – Lee has been outstanding in his time with Dallas averaging 28.2 DraftKings points over his last eleven games with the Mavericks. The Portland Trail Blazers are thin in their frontcourt and this is the time to trust in David Lee!
Ryan Anderson – NO vs LAC – $6,400 – There is talk of shutting down Anthony Davis who has been dealing with a myriad of wrong place, wrong time injuries. He will be out on Sunday and Ryan Anderson will benefit greatly and as a result also be one of the most popular players of the day.
Editor's Note (4:40 PM ET): Ryan Anderson and Anthony Davis have both been ruled OUT for tonight's game. This is a huge blow with Anderson expected to be one of the best options on the slate. Look for Omer Asik and Alexis Ajinca (probable) to take almost all of the minutes on the interior. The Pelicans are incredibly thin today across the board and Jrue Holiday should see all of the offensive usage he can handle.
---
Centers
STUDS
DeAndre Jordan – LAC at NO – $7,600 – With Anthony Davis out, the Pelicans just do not have anyone to patrol the paint and keep DeAndre Jordan off the glass. Not much else needs to be said for him at this very favorable price point.
VALUES
Bismack Biyombo – TOR vs ORL – $4,900 – Regardless of Jonas Valanciunas' status for Sunday, I am a huge proponent of Biyombo who has been phenomenal with his extra run. The Magic are likely to be without Nikola Vucevic once again (groin injury) and he should be in the mix for a double double with tremendous upside potential.
Jared Sullinger – BOS at PHI – $5,400 – The 76ers are running out of big bodies and Sullinger should continue to produce against them on Sunday. Over his last half dozen meetings with Philadelphia, Sully is averaging 34.1 DraftKings points on 13.0ppg, 10.2rpg, 4.2apg and 1.2 combined blocks/steals in only 28.5 minutes per game.