Even with all eyes on March Madness today, there are still nine NBA games courtesy of The Association. There is an early game beginning at 6:00pm ET featuring Denver at Charlotte and then an additional eight games tipping off at 7:00pm through 8:30pm ET. DraftKings has nearly $1 MILLION in guaranteed cash and prizes already posted, so let's waste no further time and get on to the good stuff!
Point Guards
STUDS
John Wall – WAS vs NYK – $10,000 – Wall is running really hot right now coming into this game off back-to-back triple doubles against Chicago on Wednesday and in Philadelphia on Thursday. He is also fifth in the league with 41 double doubles. The Wizards are fighting to make it as the final playoff team from the Eastern Conference and they are counting heavily on their starting point guard. In the first two meetings between these teams, Wall has averaged 39.3mgp, 26.5ppg, 4.0rpg, 10.5apg and 2.0 combined blocks steals for 52.3 DraftKings points. He is a fine building block in all formats on Saturday.
Kemba Walker – CHA vs DEN – $8,700 – EARLY – Since the beginning of February, a stretch spanning nineteen games, Walker has been a very steady option averaging 37.3mpg, 24.4ppg, 5.1rpg, 6.0apg, 1.3 combined blocks/steals and 3.2 made three-pointers which are worth a half point bonus on DraftKings. This stat line works out to 43.3 fantasy points making Walker an excellent option against Denver in the early game.
VALUES
Tony Parker – SAS vs GS – $4,500 – All eyes are going to be on Stephen Curry, Draymond Green, Kawhi Leonard and LaMarcus Aldridge in this matchup. This makes Parker a tremendous tournament option. Yes, he is nowhere near his apex, however, he has exceeded 45+ DraftKings points in two of his last four games. Golden State plays fast and they have allowed the fifth most fantasy points to opposing facilitators this season.
---
Shooting Guards
STUDS
James Harden – HOU at ATL – $10,400 – Last night Harden dropped 60.8 on the Minnesota Timberwolves in the first game after a "players only" meeting. Hopefully this momentum carries forward again tonight in Atlanta as the Rockets only have a 1.5 game lead from the chase group for the last Western Conference playoff berth. In his last two meetings with the Hawks, he has averaged 39.0mpg, 22.0ppg, 8.0rpg, 11.0apg, 1.5 combined blocks/steals and 2.5 made three-pointers for a solid 51.8 DraftKings points. He is averaging 51.4 fantasy points per game this season making him a top option across the board.
VALUES
Kentavious Caldwell-Pope – DET vs BKN – $5,700 – In three of his last four games, Caldwell-Pope has hit for 35+ DraftKings points and the best part is over that stretch he is averaging 16.2 field goal attempts per game. The volume is there to support another big game against the Brooklyn Nets who have allowed the fifth most fantasy points to opposing shooting guards over their last ten games.
Gary Harris – DEN at CHA – $5,000 – EARLY – In his last seventeen games, Gary Harris is averaging 26.8 DraftKings points per game and while he does not have the same upside as teammate Will Barton – $5,200 he has been below 22 fantasy point just once during that stretch. Consistency is a very valuable commodity in daily fantasy sports.
---
Small Forwards
STUDS
Kevin Durant – OKC at IND – $10,100 – In his last three meetings with Paul George, Durant has tallied 50.7 DraftKings points on 38.4mpg, 35.0ppg, 7.3rpg, 3.0apg, 1.0 combined blocks/steals and 2.0 made three-pointers. This should be a spirited matchup with the Thunder slight road favorites in a game projected to have 211 points scored.
Carmelo Anthony – NYK at WAS – $8,400 – The Knickerbockers last played on Wednesday so Carmelo should be relatively fresh for this matchup in Washington against the Wizards who have struggled against wing players all season. Anthony posted 57.3 DraftKings points in NYC against Washington in early February and on Halloween he had 54.8 fantasy points. Nothing is ever a sure thing in sports, however, things are lining up for a fifty fantasy point performance from 'Melo tonight.
VALUES
Lance Stephenson – MEM vs LAC – $6,100 – Matt Barnes may be suspended for his antics after getting tossed from the game against Milwaukee and trying to challenge John Henson to a fight in the Bucks locker area. Additionally Brandan Wright, Chris "Birdman" Anderson, Mike Conley and P.J. Hairston are already all out with injuries and Zach Randolph and Vince Carter are questionable having missed the last seven and four games respectively. The usage rate should be off the charts tonight for Stephenson and though his price has jumped in accordance with his recent production, he will be hard to pass up on Saturday night.
---
Power Forwards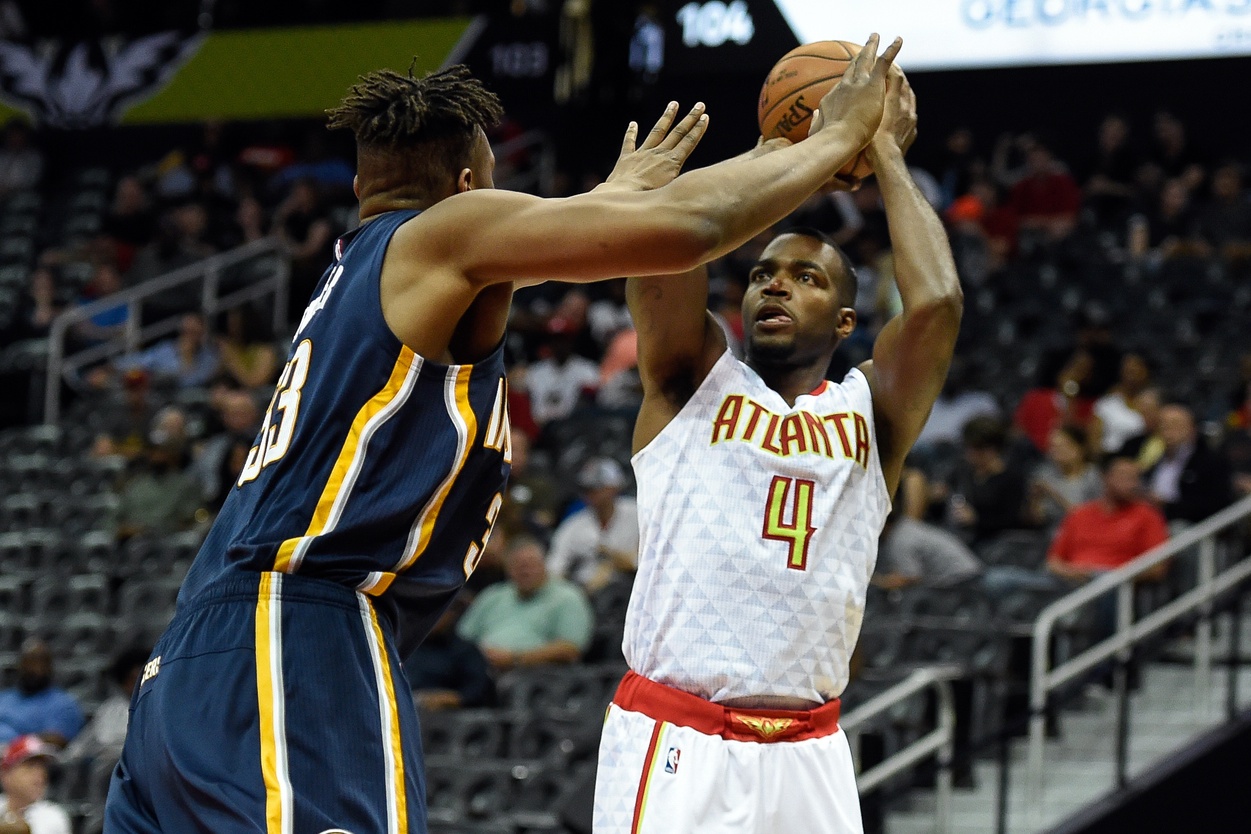 STUDS
Paul Millsap – ATL vs HOU – $8,100 – On the season, Houston has allowed the third most fantasy points in the league to opposing power forwards. In the last meeting against Houston at the end of December, Millsap had 56.8 DraftKings points in just 35.1 minutes against the Rockets. At this price point, he is a core play in all formats.
Derrick Favors – UTA at CHI – $7,300 – With Pau Gasol already ruled out through the weekend, this is an excellent matchup for Derrick Favors who should be able to operate at will in the paint against Taj Gibson and rookie Bobby Portis. He has a clear path to 40+ fantasy points on Saturday, making him a terrific option.
VALUES
"This play is not for the faint of heart…"
Kris Humphries – ATL vs HOU – $3,200 – This play is not for the faint of heart, however, if you are looking for the perfect ingredients for a stars and scrubs recipe, Humphries can help make some magic. Over his last four games, he has averaged 16.5 minutes and 16.3 DraftKings points which gets us to a very nice 5x multiplier on his near minimum price point. In his last matchup against the Rockets, which was also his first game with the Phoenix Suns (yes, he has played for three teams this season) he posted 18 points, 12 rebounds, 2 assists, 2 blocks, a steal and 2 three-pointers on his way to 44.5 DraftKings points. Just sayin'…
---
Centers
STUDS
Andre Drummond – DET vs BKN – $8,000 – Let's see, the leading rebounder in the NBA against Brook Lopez who is violently allergic to rebounds. This just doesn't seem fair. In the first three meetings between these two teams this season, Drummond is averaging 21.3ppg, 15.7rpg and 3.6 combined blocks/steals for 49.3 DraftKings points. He should be able to flirt with his league leading sixth 20/20 game in this matchup.
Brook Lopez – BKN at DET – $7,800 – Right back at ya! Lopez has been solid in his own right against Drummond and the Pistons this season with 20.3ppg, 7.0rpg, 2.7apg and 5.4 combined blocks/steals. Now while it is hard to consistently project blocks and steals, he has averaged 42.8 fantasy points in this series this season and too many gamers do not realize that Andre Drummond is not a shutdown defender. BroLo is a great tournament option.
VALUES
Marreese Speights – GS at SAS – $3,700 – Yes, another EXTREME option. However, Speights has tallied 22+ DraftKings points in five of his last six games and he has a tremendous usage rate when he is on the court averaging an astounding 1.6 fantasy points per minute during that same stretch. Though it is by no means a guarantee for tonight's performance, Speights did have 26.8 fantasy points in 18.4 minutes against the Spurs at the end of January. He is worth consideration in tournaments.