---
DRAFT YOUR NBA TEAM
---
Tonight's 8-game NBA slate offers up some superstar talent, along with some nice value plays. With some potential playoff implications on the line, there are a number of games projected to stay close. Let's jump right in to some targets for tonight's slate.
Point Guard
Stud
John Wall – Washington at Philadelphia – ($9800) – A lot of the high priced stars have tough matchups today, but John Wall is not one of them. Wall plays a very bad Philly defense that he should be able to carve up. Wall went off for a 70 DraftKings points with a triple double last night against a suspect Chicago Bulls PG defense. His team is getting healthy and having Bradley Beal back definitely helps his assist numbers. Wall has already played Philly twice this year and put up 60 fantasy points in both of those matchups. Blowouts are always a concern when the 76ers are involved, but the game is in Philly so I am less concerned than I would be if it was in Washington.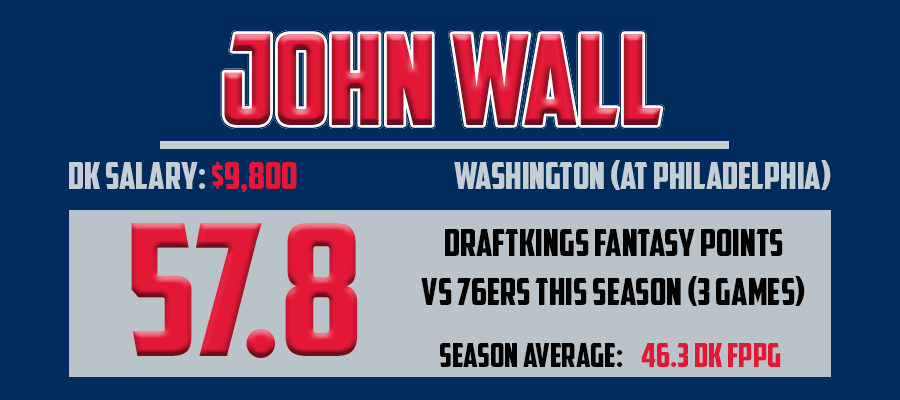 Ish Smith – Philadelphia vs Washington – ($6400) – Ish is another solid play coming out of the same game here. Philly has a ton of injuries, including some of the starters like Okafor, Covington, and Grant. Those guys were all scorers on this team, so someone has to pick up the slack. Ish has been putting up 32-45 fantasy points on a consistent basis and has upped his scoring to just shy of 20 per game with 4-5 rebounds and 5-6 assists to go along with it. If Philly keeps it close, he will play big minutes and have a high usage rate. At only $6400, I think the price is pretty friendly for what should be a high scoring game against a very high paced opponent.
The NBA Cheat Sheet has full stats and analysis for Thursday Night NBA games
Value
Shelvin Mack – Utah vs Phoenix – ($5400) – Mack is no longer a basement priced value play, but he is still not really expensive for what he has given you lately. The Utah PG situation had been a mess all year, so it was only a matter of time before he took the lead role after being traded over. Mack has played an average of 34 minutes over the last three games and has a minimum of 36 fantasy points in each with a ceiling into the mid 40s. He is averaging 19 points, 5 rebounds, and 7 assists during this recent run and with his minutes being solidified, he is an excellent cheap option for value.
Jerryd Bayless – Milwaukee vs Memphis – ($4400) – Bayless is not your traditional point guard in that Milwaukee offense but he is seeing the minutes and has been returning solid value. With MCW out he has played 37 or more minutes in 4 of his last 5 games. He has thrown up a few games in the low 30s for DK points which makes him one of the few cheap options capable of going 7-8X value today. They face a Memphis team that is decimated by injuries, so I'm not too concerned with his matchup against the likes of Ray McCallum and Briante Webber.
---
Shooting Guard
Stud
Khris Middleton – Milwaukee vs Memphis – ($7100) – We have four or five expensive options today but the only one I am considering is Middleton. Shooting guard feels like a tough spot today so it makes some sense to look at cheaper options and spend elsewhere. The one exception to this may be Kris Middleton. Middleton is coming off a bad game, but he had put up 46, 50, and 43 fantasy points in the three games before that one. He plays big minutes for the Bucks and contributes across the board. He has averaged 20 points 7 assists and 7 rebounds in those three games before the latest stinker and that bad game could scare down his ownership. Guys like Batum, DeRozan, and Wade are the other options in the price range but Middleton looks to be in the best spot against a banged up Grizzlies team that ha been giving up points recently.
Value
Bradley Beal – Washington at Philadelphia – ($5500) – Beal may actually be my favorite play on the day. The Sixers have been getting torched by shooting guards lately and Beal just came back from injury two game ago. He put up 28 fantasy points in 24 minutes and followed that up with 37 fantasy points in 30 minutes last time out. With the plum matchup today, we could see him even do better. At a price of only $5500, he has the best chance for a big ceiling game here at a very square price. He can match the 35-45 point upside of the group at $7K but makes more sense to use given the $1500 discount.
"Ever since they released Joe Johnson, we have seen 32-36 minutes out of [Bogdanovic]"
Bojan Bogdanovic Brooklyn at Chicago – ($4900) – Let me start by saying you are not likely to ever get another outburst from Bojan like he had last game. He scored 44 real life points on his way to a 57 fantasy point day. It was the fifth game of 5X or better for him in the last 7 though, and that is why he is still viable to me. Ever since they released Joe Johnson, we have seen 32-36 minutes out of him. Chicago has been playing a faster pace with all the injuries they have now. They also are without any rim protectors as they do not have a true center healthy at the moment. I'm not calling another monster game from Bojan but I think 57-33 fantasy points is very reasonable and still a good value for his price.
---
Small Forward
Stud
Josh DeMaio walks through every game on the schedule for Thursday night hoops
Giannis Antetokounmpo – Milwaukee vs Memphis – ($9400) – Since the All-Star break, SF has been a position that is easy for me to fill. I play the Greek Freak almost every time he steps out on the court. With MCW down, he is playing point and initiating the offense. Giannis has seen his minutes rise and the stats like scoring, rebounding, and defense have come along with it. And ith him playing the point, his assist numbers have increased as well. What we have currently is a guy averaging close to 20 points in his recent games that has reached double digit rebounds in 8 of 13 since the break, double digit assists in 6, and has at least 2 defensive stats in each. That includes 4 triple doubles, 5 more double doubles and a fantasy point per game average over 50. If season long leagues were being redrafted today, Giannis would be a surefire top 10 pick taken in the first round. As long as he is producing across the board I have no problem rolling him out in all formats.
Luol Deng – Miami vs Charlotte – ($6300) – I am not sure why Deng does not get more love but he seems to be low owned everyday. Maybe the price point plays a part as most people spend up here or go with a value guy and he is caught in the middle of both. All he has done lately is go for 33-45 fantasy points in each of his last five games. He has averaged 35 minutes and 38 fantasy points over this recent stretch. His Miami team is paced up for their matchup against a Charlotte Hornet team averaging over 110 a game in their recent contests. I expect this to stay close and high scoring which would mean a full allotment of minutes for Deng and likely another solid stat line.
Value
Lance Stephenson – Memphis at Milwaukee – ($5500) – Things did not work out for him in Charlotte or LA but he is shining now in Memphis. It took a dozen injuries to all the top players but this Lance Stephenson run reminds us of what he was doing in Indy a few years back. He has 33 DK points in four of his last five games while scoring 17-33 points, grabbing 7 or 8 boards, and dishing out 5 or 6 dimes. Milwaukee has been paced up and scoring, so we should see a good amount of points here. As long as the Grizzlies are playing with less than a full team, Lance should continue to see big minutes, get a lot of usage, and pay off his relatively cheap price tag.
Kent Bazemore – Atlanta vs Denver – ($4700) – I really like consistency from my cheap players and Bazemore gives me that. He has a good matchup against a high paced Denver team that plays very suspect defense. Bazemore does not do anything spectacular but he has been between 25-35 fantasy points in 7 of his last 10 games. He plays just over 30 minutes and does just enough to make himself viable as a 5-6X type of player. He offers little upside but is a nice guy to slot in a cash game roster if you need the savings and are nervous about taking a complete punt play.
---
Power Forward
Stud
Paul Millsap – Atlanta vs Denver – ($7700) – I think I like Millsapp the best out of options to pay up for. Frankly speaking I think it's a little crazy to pay up for a PF today with all the value available but that will also serve to keep his ownership down. Denver plays fast and is lack on D. Millsap already lit them up for 43 fantasy points the first time the two teams met. He has not played great lately but even his bad games still have him in a 35-45 point range here. I would not advise paying up at PF in cash but he is an intriguing option for tournaments at a likely low ownership level.
"Pau Gasol is out and now Tak Gibson is doubtful so with Noah already out too, that leaves Portis and Mirotic as the main big men for the Bulls"
Nikola Mirotic – Chicago vs Brooklyn – ($5100) – Mirotic is one of my favorite plays here today as his usage and minutes should both get a bump. Pau Gasol is out and now Tak Gibson is doubtful. With Noah already out too, that leaves Portis and Mirotic as the main big men for the Bulls. Mirotic will be asked to do some more scoring with so few scoring options healthy. Even Rose and butler are battling nagging injuries, so neither of them looks ready to take on a much bigger scoring load. We routinely saw him put up 30-40 fantasy points earlier in the season when he was seeing 30-35 minutes. I can not fathom a way he does not see that many here and I am definitely looking for him to get his production near those levels again.
Value
Bobby Portis – Chicago vs Brooklyn – ($3900) – Everything we just said about Mirotic's situation also applies here to Portis. The young rookie has been waiting for this moment and will get his chance to shine today. He has shown us 25-30 fantasy points consistently when he sees 25+ minutes of action. He is a great rebounder and solid on defense and offense. I would not expect 40 point upside, but at $4K, I do expect him to return 6-8X value without much of a sweat.
Carl Landry – Philadelphia vs Washington – ($4200) – The price is up for Landry but not enough to scare me away. He's one of the few big men still standing in Philly and will see a ton of minutes because of it. He has played at least 26 in four of the last five games and has returned 27 or more fantasy points in each of them. At a price of only $4200, the value is too good to pass up. Brooklyn is not a great interior defensive team and while he is undersized for the matchup against Lopez, Lopez is not a great defensive player. Landry really only needs about 25 to make you happy and he has been able to pull that off quite often lately.
---
Center
Stud
Brook Lopez – Brooklyn at Chicago – ($8100) – I keep promising myself I am not going to play Lopez anymore and I keep winding up with him in my roster. The Nets really have no one else and Lopez has one of the highest usage rates of any Center as it is hovering right around 30%. That means the Nets really do run the offense through him, which is why it is tough for me to not use him. He gets a good matchup here against a team that is bad defensively vs. centers and will be throwing undersized guys like Mirotic and Portis at him with the injury problem and lack of depth. I like him more for cash games with his inability to reach upside lately. It has a lot to do with his rebounding suffering, mostly because Thad Young has grabbed them all lately. Still he is in the best matchup by far and I do still like him better than Hassan Whiteside, who is the other high priced option I debated before ultimately deciding on Lopez.
Nikola Jokic – Denver at Atlanta – ($6500) – For GPPs, I will continue to roll Jokic out there and live with the consequences of the occasional benching by coach Malone. Jokic is a very good passing big man, who is also a viable double double threat every game. He can step out and hit a jumper as well, so he is a very tough guy to guard. He has quietly put together 30 or more fantasy points in 7 of his last 8 games. He contributes stats in every category across the board and is one of the more consistent options on a very up and down Nuggets team. The discount of of Lopez and Whiteside is worth it for a guy who can get you the same 40 points and do it for $2000 less.
Value
Mason Plumlee – Portland vs San Antonio – ($3800) – Plumlee is one of my favorite value plays at any position today. The Portland big man has been OK this year while splitting time with Myers Leonard. Leonard went down last game and that only leaves Plumlee left as a viable center option. We will likely see a few more minutes for a guy like Ed Davis too but Plumlee should get a tick up into the 30 minute range. Remember his price is $3800 here and a guy playing center for 30 minutes that is active should be able to get you well over 20 fantasy points. He needs about 25 to make us happy with using him and I could easily see a ceiling of 35 for him here. That would be a return of 9-10X and easily allow you the cost savings to roll 2 or 3 studs into your lineup.
---