It's Friday night. Time to get ready for the weekend by building NBA lineups. Let's do it.
Point Guard
Stud
Russell Westbrook ($10800) – OKC has been putting up a lot of points lately and they have a good matchup against a high paced Houston team that gives up a ton of points. Westbrook has been a beast all season and is one of the safest cash game plays on this slate. He has at least 54 fantasy points in 6 of his last 7 contests. He is averaging over 20 points during this run and a combined 22.5 rebounds and assists. Those are his per game stats. Sometimes its 11 rebounds 8 assists, other times it is 7 rebounds and 15 assists, but the fact that he has done it so consistently is what we like about using Westbrook for cash. We do not have a lot of guys in the league who you can say are a safe 55 fantasy points a night, but Westbrook in a high paced matchup with a weak Rockets team is definitely one of them.
Reggie Jackson ($7000) – I do not play Reggie Jackson a ton, but I do like him for tournaments in this spot. Cleveland is a solid defnsive team, but the point guard spot is one they do not defend particularly well. Kyre Irving has never been known as a plus defender, so I like this spot for the Jackson. Jackson has alternated some good and bad games recently, but his last two have been very good. He is looking to score a little more recently as evidenced by his 27 and 29 point outings in his last two. We really need about 35-40 fantasy points out of him here and that is not asking for much if he is going to put up 25+ real life points and play over 30 minutes. The total is pretty high in this game and Jackson is the one Piston with a solid DvP matchup here.
Value
Zach Lavine ($4900) – Getting Zach Lavine exposure has been the difference between winning and losing over his last few starts. Kevin Martin has been out and Lavine has made the most of his increased minutes. His minutes have bumped up to near 30 a game in those last 2 and his production has jumped to an average of 40 fantasy points. He has been scoring really well and the real life points along have been enough to give him a solid return even if he did not add any rebounds, assists, or steals to his line. The matchup is not ideal against the Jazz defense with the twin towers back, but he has been too good and is still too cheap to ignore.
---
Shooting Guard
Stud
Archie Goodwin ($5600) – Goodwin is no longer an automatic start as the starting point guard below $5K, but his price is not too restrictive here either. We have seen him flash 40 point upside and the Knicks have been OK against point guards, but they are still averaging almost 3 points above expectation against them. Goodwin is playing 30+ minutes with Knight out and has returned no less than 5X in any of the four games he has started. He returned 10X twice and 9.5X the game before, so we have a recent track record of success with him. I do think the price jump saps his upside potential, but he is still a solid cash game play with some GPP appeal as 27-33 points is not asking a ton of him. Shooting guard is a weak position here overall, so I would expect Goodwin to remain incredibly highly owned.
James Harden ($10000) – Harden has played great lately and I am hoping the bad game against San Antonio scares people away. We talked last time about how good San Antonio defense has been, especially when facing Harden. He basically has not scored over 41 fantasy points against them in the last two years, so I can excuse his poor performance there. There is a little bit of revenge narrative with Harden vs. OKC and the shooting guard spot is one they struggle to contain anyway. The Rockets/Thunder game should feature a ton of scoring and Harden is usually involved on anything positive on the offense end for Houston.
Value
Jamal Crawford ($4200) – The Clippers should have no trouble against the Lakers who are on the tail end of the back-to-back and just not that good overall. Crawford is very cheap at only $4200 and should have a few more minutes in this one against a backcourt that has stopped nobody this year. It's not my favorite play and I would still rather spend up a tad for Goodwin, but if you need a salary saver with upside, I think Crawford could be that guy in a GPP on Friday.
---
Small Forward
Stud
Kevin Durant ($10100) – There is a ton of potential fantasy upside in some of the studs playing in that Houston/Oklahoma City matchup and Durant is no different. Houston has struggled to guard wing players all year, despite everyone viewing Ariza as a plus defender. Durant has been a solid consistent 4.5X+ value with upside that has flashed into the 60s and 70s. In a high paced matchup with a high scoring and lax defensive squad, I expect him to be more towards the ceiling. Durant has the top matchup on the day for OKC and this is one of the few spots this year where I would rather take him over Westbrook. I actually do not mind having the two of the together either as they have such a huge share of the points their team scores on a daily basis.
Gordon Hayward ($7500) – Gordon Hayward is an underrated superstar. He has been awesome this year for the Utah Jazz. Hayward has only been below 4.85X in one of his last 10 games and even tat was not a horrible showing of 4.2X value. He has routinely been in the mid 5.5X value range with upside that has flashed into the 60s. His team is a big favorite expected to crack the century mark based on their implied total and that is a lot of points for this Jazz team. In games where they are expected to score a bunch and do, we usually see Hayward perform pretty well. I like him in this spot, especially based on his recent track record and the fact his price rarely moves off that $7500 level.
Value
PJ Tucker ($5200) – When it comes to solid value, I really like cheap players seeing big minutes who have seen a bump up in production. PJ Tucker certainly fits that description. Since Knight has been out and with the mess of forward injuries they have, Tucker has gone 4.6X or better in 9 of his last 10 games with the lone exception being his horrible start against the Spurs. If you remove that travesty, he is averaging nearly 35 minutes and 30 fantasy points in the last two weeks, both of which are towards his high end for the year. He has returned 5.5-6X in his last three and I would expect that to continue here. He is getting more expensive, so I would not expect a huge upside game for tournaments, but I like him a lot for safety in cash.
---
Power Forward
Stud
Kevin Love ($7300) – Kevin Love had a monster game last time out and plays in a high total game here where his team has an expected total of around 110. His new coach has made public statements saying they want to get him more involved and so far it has shown. He has 42+ points in 3 of the last 5 and bounced back with these comments in his last game with a 52 fantasy point showing. That was on the heels of back-to-back bad games, so he is not a safe cash option due to the volatility of his production. I do still consider him a solid option for GPPs here and a guy who could be low owned, put up a big number, and help you win a tournament.
Serge Ibaka ($5700) – I do not often play Serge Ibaka in DFS, but I feel confident in rolling him out in this one. The Rockets have been one of the worst teams in the league at trying to stop power forwards. Ibaka has already played well against them with a huge 42 point performance earlier in the year, so I love this spot for him. This should be a closely contested up and down game with a high pace and a lot of scoring. I expect quite a few guys to play closer to their ceiling than their floors here. The best part of Ibaka today is the price. $5700 is pretty cheap and would only require 27-34 points for real value. He has flashed 40 point upside against this team and in recent matchups, so I think a good game from him here could be the difference in a tournament.
Value
Josh Smith ($4200) – Smith is another reasonably priced option that will be on a ton of rosters that try to squeeze in Harden, Westbrok, and/or Durant. The newly acquired Rocket has gone for 6X or better in three of his first four games in Houston. He plays about 23 minutes a game, but has produced above 26 fantasy points in 3 of them since the trade. That's a solid 6X+ return at his price of only $4200 and the pace of this game should not only benefit him, but play right into his preferred up and down style.
---
Center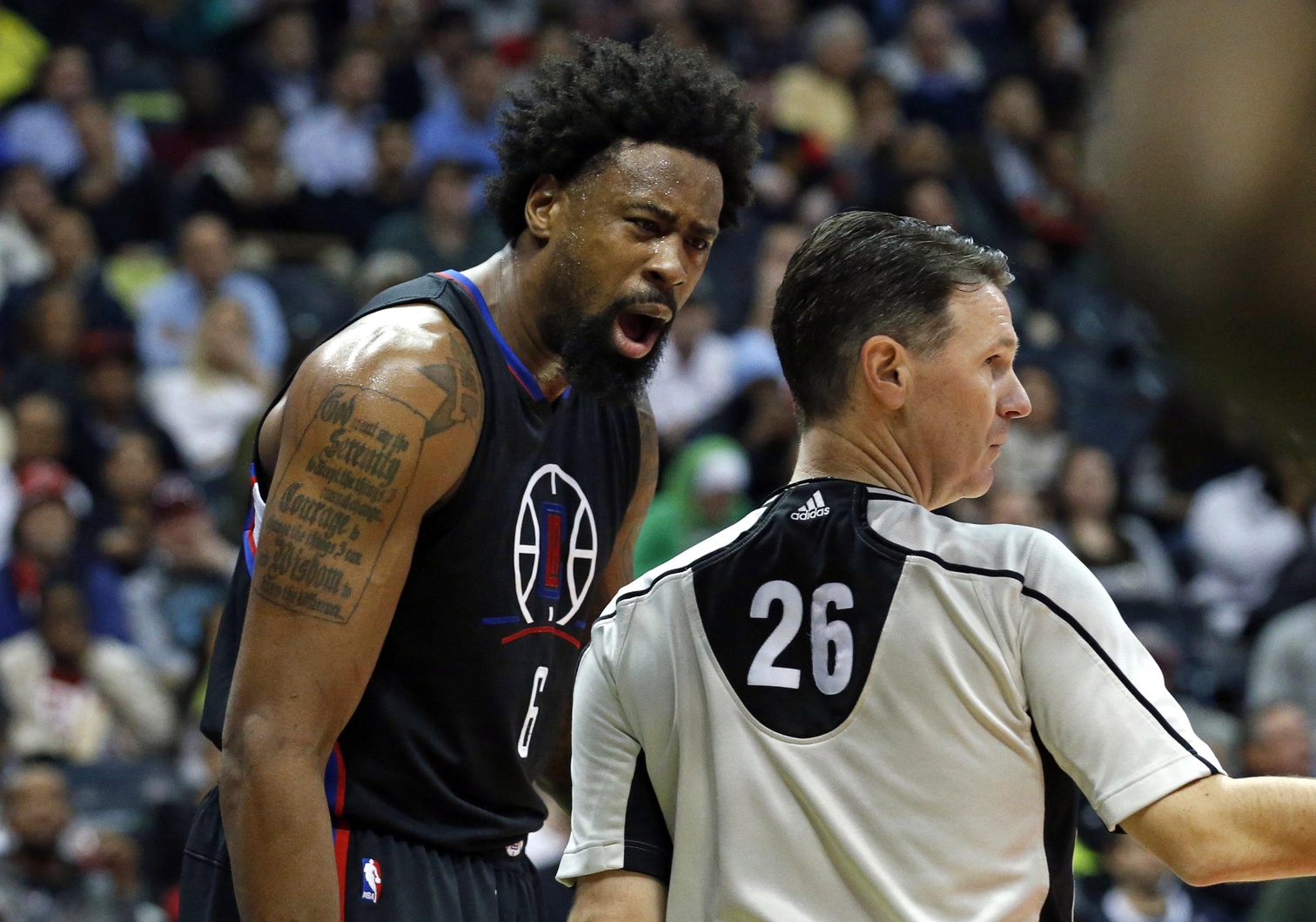 Stud
DeAndre Jordan ($7500) – I really like the price and matchup combination here for DeAndre Jordan. I think he is safe and has upside vs. the Lakers today. The Lakers are not good at playing defense, which is the understatement of the year so far. They also miss a ton of shots. Jordan is an absolute monster on the defensive boards, so I can easily envision a 15+ rebound game if the score stays reasonably close. 15+ boards is actually a low assumption for a guy who has had 19 in each of his last two games. Jordan will add 8-12 points and hopefully pick up the blocks again here which have been lacking. A 12 point, 16 rebound double double with 4 blocks would have him over 40 fantasy points and that is what I expect form him in this one.
Value
Spencer Hawes ($4800) – I am definitely on board for the Spencer Hawes experience again here tonight. He faces a very weak Portland interior and is seeing huge minutes with Zeller and Al Jefferson both sidelined. He struggled in a tough matchup with Rudy Gobert last time out, but had played 30+ minutes in each of the three game proceeding it where he produced 25-35 fantasy points. His price has risen a little, but a return to that 25-35 fantasy point range would return his value payoff into the 5X-7X range, which would be cash game safe with a ceiling that can help you win a tournament.