Today's NBA targets breakdown looks at Wednesday's 11-game slate, with an eye towards the studs, sleepers and mid-range players you want to have rotating in your lineups.
---
Looking for more NBA content? Check out these articles:
NBA Game Breakdown
NBA Cheat Sheet
NBA Top 5's
---
POINT GUARDS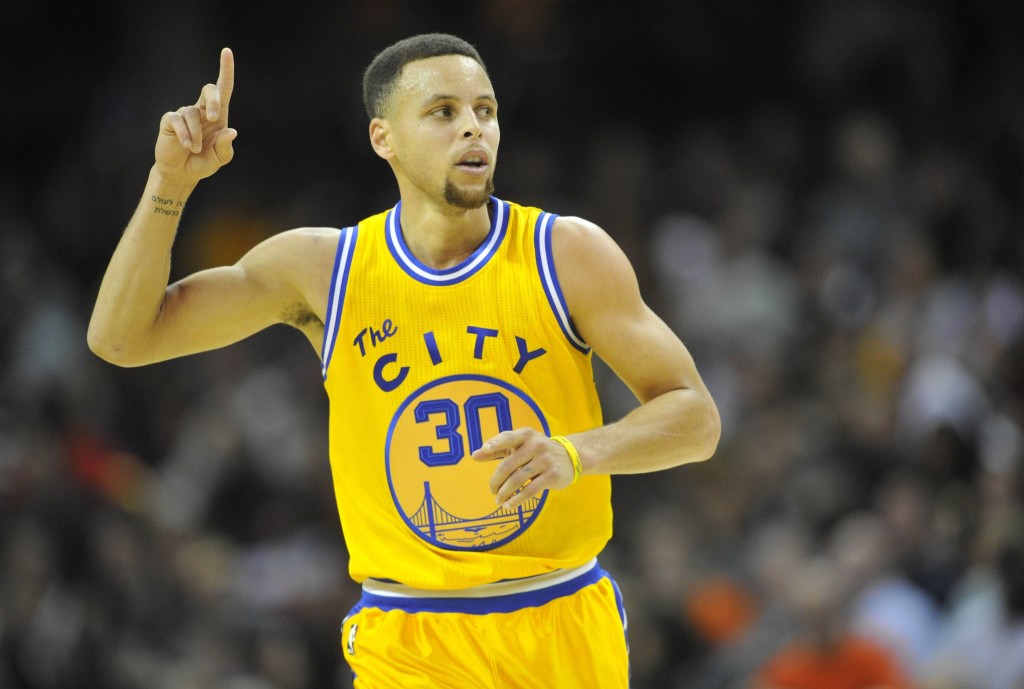 Studs
Stephen Curry @ CHI ($10,400) – Before you think about an Eastern Conference team slowing the game down at home and posing some kind of threat to the way Golden State tries to win basketball games, please remember that the Warriors just won by 34 points in Cleveland Monday night. Everything Chicago can do, Cleveland can do it better – but with the way Golden State moves the ball, it isn't enough. Curry ended up only playing 28 minutes in that game and still managed 56 fantasy points, his fourth game in the last six with over 50 DK FP.
Kyle Lowry vs. BOS ($8,800) – On paper, Boston isn't the best matchup, but they're not a great match for DeRozan either. And one of those guys is going to get plenty of opportunities, because they're the only two real options on Toronto right now. Lowry will have the ball in his hands, so it's safe to say he will have the first crack at piling up a few extra chances in this one. Also in his favor is the fact that, while Boston does play ok defense against guards, they also push the pace enough that teams who usually aren't runners often see their best scorers getting a few more opportunities than they're used to. With eight straight games over 40 fantasy points, Lowry seems like exactly the kind of guy who can take advantage of that chance.
Values
Jordan Clarkson vs. SAC ($5,900) – Being on the Lakers right now just lends itself to getting more opportunities than you might anyplace else, so long as not every look is going to Kobe. Bryant missing some action lately may have even been a good thing for the confidence of some of these young players. But regardless of whether or how much Kobe plays, Clarkson has been getting plenty of chances, averaging over 33 minutes/night over the last ten days. He has posted double-digit points in every game since the new year began, with 26 or more fantasy points in all but one of those games. For the price, a guy consistently scoring you right about 30 fantasy points is definitely worth considering.
Marcus Smart @ TOR ($5,000) – He's not starting, or scoring very many points, but he is still a play worth considering for your fantasy lineups. Brad Stevens has the Celtics playing a lot of "small ball" which makes sense with all the differently talented guards at his disposal (of course, he has plenty of "differently talented" bigs as well, but that's another story). But as a result, Smart is coming off the bench and still averaging just a hair under 30 minutes/ game. In that tim, he's only getting you 9.7 ppg over the last ten games, but he is combining that with seven boards, four assists, and a pair of steals. Combine all that with the fact that he has also shown 20-point scoring upside, and all of a sudden you have a reserve guard with the potential to give you 40 fantasy points on any given night.
SHOOTING GUARDS
Studs
James Harden vs. DET ($9,700) – His price has been coming down because he just hasn't been demonstrating his usual easy 50+ fantasy point upside of late. But we all know that upside is still there, and the guy has been in the 40's somewhat consistently. Detroit doesn't have a guard who can stay with him defensively, instead relying on interior defense to keep guards from attacking the rim relentlessly. But Harden doesn't need to penetrate the lane to get his own shot, so if his shot is falling, there is no one on this defense who can stop him.
C.J. McCollum vs. ATL ($7,200) – Lillard has been struggling offensively for the last couple of nights (16 and 14 points, respectively), and that leaves McCollum as the only real option left for a team that has relied on these two guards for everything, all season long. He is streaky at times, but as his six threes on Monday demonstrated, he is the kind of play in a GPP that can go a long way towards helping you win if you manage to roster him on an "up" night.
| Date | Opp | McCollum DK Points |
| --- | --- | --- |
| December 23rd | NOP | 34.75 |
| December 26th | CLE | 32 |
| December 27th | SAC | 74.25 |
| December 30th | DEN | 40.75 |
| December 31st | UTA | 52.25 |
| January 3rd | DEN | 37.75 |
| AVERAGE | | 45.29 |
Values
Andrew Wiggins @ DAL ($6,900) – Wiggins has attempted at least eight free throws in six of is last ten games. By contrast, LeBron is averaging just under seven attempts from the stripe per game this season. That's the kind of aggressiveness and productivity that keeps a guy's fantasy value from ever dropping too low. Against Dallas, a good matchup for him, he should be able to augment all those free throws with plenty of other production as well, a scenario that makes it easy to imagine him outperforming his price tag in this one.
Tyler Johnson @ WAS ($5,400) – With Dragic and Udrih both out, you're looking at the new starting PG of the Heat, no matter what position is listed next to his name right now. He's been getting something right in the range of 37 minutes per game with those two out, and while he isn't a prolific scorer, he has the ball in his hands enough to be a viable fantasy option based on grabbing a few loose rebounds and feeding the Miami scorers down low.
SMALL FORWARDS
Studs
Kevin Durant vs. CHA ($9,900) – We're past the point of wondering whether it's going to be a Durant night or a Westbrook night. Instead, we can just look at a talent like Durant and marvel at the fact other teams can't gameplan for him out of fear of their PG. We can be thankful for the fact that he isn't constantly dealing with double-teams, leaving him free to pick his spots and shoot when he has the exact look he wants, and to crash the boards at will (five double-doubles in his last nine, including three of his last four).
Carmelo Anthony vs. UTA ($8,300) – He had missed two games with a sprained ankle, but returned to the court Monday and ended up logging 49 minutes in a double-OT win against Philly. So I guess he's ok. He is averaging just under 39 fantasy points per game this year, but that's in a season where he has been constantly suffering and then recovering from various injuries. When he is fully healthy, he is the top scoring option on a Knicks team that's probably the best he's ever been on, and he has easy upside in the high 40's.
Values
Rudy Gay @ LAL ($6,800) – He has always been the kind of player who could get you fantasy points in several different ways, but his downside as a fantasy asset has always been inconsistent scoring. He is doing plenty of that lately, averaging just under 20 ppg over his last five to push him up to the mid-30's in terms of fantasy points per night. Against this Lakers lineup, the downside is that maybe the Kings don't need him to score much, but the upside is the fact that he should be able to best his averages in every other category (7 boards, 2 assists, and a combined 2 steals/blocks).
Robert Covington @ ORL ($5,800) – A shooter with three-point range, he has drained 13 treys over his last three games. Playing on a team with limited threats on the offensive end, he is basically the third option for the Sixers, meaning his fantasy value really could not possibly be higher than it is right now. He landed in a pretty great situation here, except for all the losing.
POWER FORWARDS
Studs
Draymond Green @ CHI ($9,400) – On paper, Chicago can defend the position well, but in real life, Draymond doesn't play the position like anyone else. Getting a body on him on the boards isn't going to be enough, and with the strength of the Bulls defense on the perimeter, he could end up being a great creator for Golden State tonight. I could definitely see another game where his value is augmented by a big assist number here, giving him an even better shot than usual at a double-double or better.
Paul Millsap @ POR ($8,200) – Millsap has been one of the more consistent power forward options all year long, and in this matchup, you expect a minimum of DK fantasy points somewhere in the high 30's with upside higher than that. He's a great cash game option, having scored 35 or more fantasy points in eight of his last ten games.
Values
Marvin Williams @ OKC ($5,000) – He's coming off a 19-point game on Monday, and has been hot from the outside, shooting over 50% from three over his last five games (25 attempts). He's the kind of stretch four that should be on a contender, and probably will be shortly.
Tristan Thompson @ BKN ($4,800) – Even though Brooklyn's power forward is one of their best players and a solid defender, he is not the kind of guy to be able to keep Thompson off the boards. Plus, he'll be busy with Love. Thompson couldn't even get on the court against Golden State, and had 18-14 against San Antonio less than a week ago, so clearly matchup matters. Brooklyn simply does not have the speed and the ball movement it takes to make him a non-factor.
CENTERS
Studs
Dwight Howard vs. DET ($8,100) – He's good. We all know that. But "hard to trust" is an understatement, and that goes for everyone – teammates, coaches, fans, fantasy owners – we all struggle at times. But as good as Drummond is, the Pistons have no one else down low, and he can't have all the rebounds. Drummond spends so much time playing help defense, Howard could end up with better position than you'd expect in a battle between two elite big men, and coming off a 78 DK FP outing and a stretch of seven out of eight with over 40, Howard is not likely the fantasy choice you make that ruins your night tonight. Not this time.
Hassan Whiteside @ WAS ($7,500) – Over his last four games, he is averaging 14 rebounds and five blocks. Sure, eleven of those blocks game in one game, but ELEVEN OF THOSE BLOCKS CAME IN ONE GAME. Gortat knows how to play defense on the other side, so I might not expect 20+ points out of Whiteside, but a double-double with a few blocks thrown in would make for a plenty effective cash-game choice.
Values
Jonas Valanciunas vs. BOS ($6,200) – Big men often do well against Boston, and he is their big man. Their only one. So he's got that going for him, which is nice. He's had nine or more boards in six of his last nine outings, and I expect at least that tonight, making him an obvious pick to get you a cheap double-double, which by itself would be enough to make him a decent value.
Jared Sullinger @ TOR ($5,100) – He is the kind of player who can muscle up to Valanciunas AND stretch him out, as opposed to the rest of the Celtics' big men who can only do one or the other, or neither. So, as unpredictable as they are, I could see him getting minutes tonight. None of the Celtics are a great cash game option except maybe Thomas because there are just so many of them, but in a GPP, if Sullinger plays 25+ minutes, he could definitely return nice value on this price.