This should be an exciting night for NBA DFS. We have a robust nine game slate with quite a few totals in the 200s and spreads less than five. Those are the exact games we want to target for fantasy upside. We also have quite a few injury concerns and questionable players, which should open up some value for us as things unfold. I would venture to guess that it will end up being a high scoring night, so let's take a look at some of the top options to target at each position.
Point Guard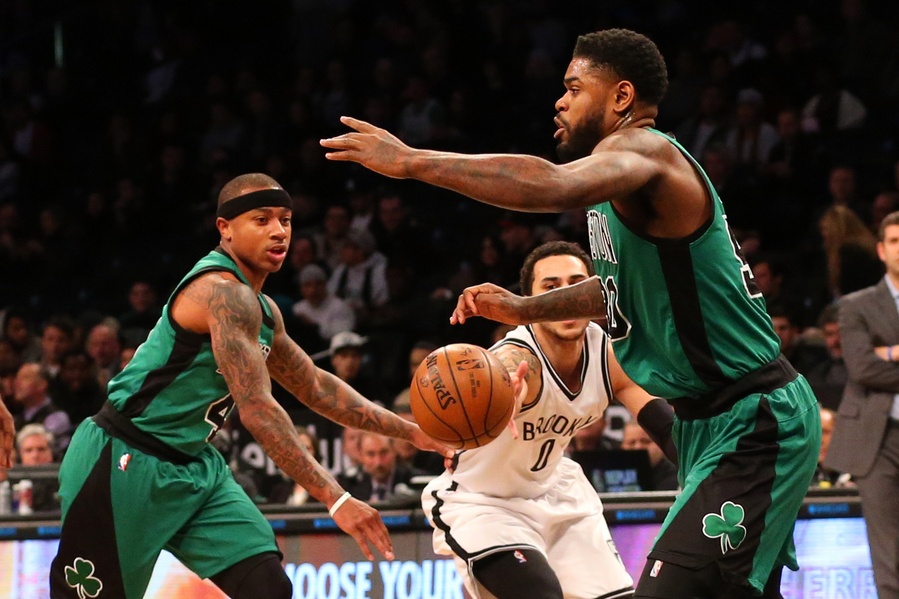 Stud
Isaiah Thomas ($7900) – Revenge narrative aside, this is a great spot for IT2. The Celtics point guard has been on tear lately with 35, 34, and 28 real life points in his last three games. He's thrown up 50+ fantasy points in two of those and 40 in the other one, so he has been returning excellent value at his price. Phoenix is a fast paced team that has struggled to stop guards all season long. Everything is coming up positive for IT2 and he should put up another monster game here.
Russell Westbrook ($10700) – Westbrook was tossed for getting two technicals in the first half of his last game and a suspension may be looming for him. If he does play though, this is an awesome spot to target him in. He plays in one of the highest total games here today and his team has the highest projected score on the slate. Westbrook is a huge part of anything positive the Thunder do, and we can quantify that by looking at his absurd 33.6% usage rate. Westbrook is a triple double threat anytime he steps on the floor. In a good matchup against a fast paced Minnesota team with Ricky Rubio guarding him, he should be able to put up a huge game if he can avoid the suspension.
Value
George Hill ($5200) – George Hill is really cheap and has a solid matchup against a high paced Washington Wizards team. He has a safe floor based off his recent game logs and has even seen some upside as well. He is averaging almost 35 minutes over his last 10 games and has come away with a tad under 30 fantasy points during this run. Washington has allowed a lot of fantasy points to everybody due to the high pace of play this year. Hill had 28.5 against them the first time around, which would be a solid 5.5X return if he can repeat that here. It is right in line with his recent production over the last 10 games, so he looks like a safe bet for 5X and could even go bigger.
---
Shooting Guard
Stud
Khris Middleton ($6800) – Middleton seems to go lower owned than he should on a daily basis. Milwaukee is playing faster and Middleton is seeing a huge number of minutes while they do. He has gone for 37 or more fantasy points in 9 of the last 13 games and is averaging 37 minutes while doing so. He has taken double digit shots in all but one of those games and is averaging over 20 points during this stretch. He plays in a high total game against the Atlanta Hawks and gets the best matchup available versus Kyle Korver defense. The Hawks have not been anywhere near as good defensively this year, so I see no reason why Middleton can not have another big night here at a square price. He has flashed upside into the fifties on a few recent occasions, so it makes a ton of sense to have exposure to him in cash games and tournaments.
Value
Avery Bradley ($5200) – Bradley is way too cheap for the matchup he has today. We already talked about the Suns high pace and struggles to slow down guards with IT2. Bradley's price has dropped since he was injured, but he has averaged 39 minutes per game since his return. At $5200, we need 26 points for 5X value and 30+ for tournament upside. Bradley was hitting that number consistently before his injury and with the minutes back, he should be able to do so again here in a soft matchup. His floor is pretty safe at 25 and he can get into the 30s to give you added value here.
Eric Gordon ($4800) – Gordon is another guy who is just way too cheap. It might seem like point chasing to grab a guy who almost put up 50 fantasy points in his last start, but the reason for doing it is sound. Tyreke Evans left in the first quarter of the last game with an injury and that led to a bump in minutes and production for Gordon. If Tyreke is out again, Gordon is a steal at below $5K. I would not be looking for another 50 point performance out of him here, but 30 points gives him over 6X on his price tag and he can and has shown the ability to do that in his recent history when given the minutes.
Tyler Johnson ($4200) – If Goran Dragic remains out, I love Tyler Johnson. Everyone is talking up Beno Udrih, but he underperformed and played less minutes than expected in the last game with no Dragic. the guy who has stepped up is definitely Tyler Johnson. In fact, Johnson has been playing well even when Dragic was in. He sees some fourth quarter minutes and has actually played 25 minutes per game already since returning from injury after Christmas. He only needs about 22 points to be a solid upside play and we have already seen him do that on numerous recent occasions with Dragic active. Given the few extra minutes he is seeing now, it is not a stretch to think he can repeat those recent 6X+ games here.
---
Small Forward
Stud
Kevin Durant ($9800) – Durant has been a really solid cash game play for weeks now. He puts up as consistent a 45-50 fantasy point night as you can expect. He has not flashed a ceiling game in awhile where he goes for 60-70 fantasy points, so he is suspect as a tournament play. If Westbrook does win up with a suspension today, that could be what KD needs in order to bump him up to his ceiling level. With Westbrook in, I would only play him in a cash game. With no Westbrook, he becomes a top tournament option as well.
LeBron James ($9900) – It took the Spurs and more specifically Kawhi Leonard defense to slow down Lebron's run of 5X or better games here. He has averaged 37 minutes with 26 points, 9 rebounds, 6 assists, and 2 defensive stats per game over his last five, which goes to show that the minutes limit is more of a suggestion than the present reality of his situation. He has a great matchup against a fast paced Houston team that has struggled to stop wing players this year. The high pace, god defensive matchup, and his sheer brilliance on a basketball court all point to him being a solid cash game play that you can also make a case for in tournaments.
Danilo Gallinari ($7200) – Gallo has been beasting since his return. He stepped right back into the starting lineup and has seen an average of 36 minutes per game since coming back from his injury. He is basically putting up right around 40 fantasy points per game and is clearly the top option on the Nuggets team. He does face a solid defensive Miami team, but he draws Loul Deng defense which is not what it used to be. Gallo is getting his shots and adding in enough of the other stats to make him a viable option. His price is not too expensive for the production he has had, so he makes a lot of sense to roll out there today.
Value
PJ Tucker ($4600) – All three of the SF options on the Suns are in play here, but if I had to choose one t would be Tucker. He has played close to 35 minutes per game recently and returned better than 5X in all three of his most recent starts. He is the cheapest of the Suns SF options and seeing the most minutes. Mirza and/or Warren are also in play and have returned nice value. Tucker being the cheapest and seeing the most minutes is the reason why he gets the nod here for me though.
---
Power Forward
Stud
Kevin Love ($7100) – I really like Love in this spot. Actually, I LOVE Love in this spot. The Cavs PF has been really solid lately with a string of 30-40 point performances and about 32 minutes of action over his last 15 games. He faces a Rockets team that likes to play fast and give up a lot of points. The Rockets were last in the league in DvP vs. the PF position as of a week ago, so the spot is as soft as it gets for Love here today. In a high scoring game against a team he profiles well against, I can see love going off for a 40-50 fantasy point day which would be awesome value for his price.
Dirk Nowitzki ($6300) – Dirk's price stubbornly remains at only $6300. He has consistently put up 35 fantasy points in 7 of his last 8 games started. That is an excellent floor of over 5X and his average is basically 6X his salary during this run. Do nt let the missed game from last time out scare you away. The Mavs sat a ton of guys that day on the tail end of the back-to-back. Most, if not all of them are perfectly fine and that was more for rest than any injury concerns. Dirk will be heavily featured in a lot of my cash games, while also making some of my tournament rosters as well.
Value
Cody Zeller ($5600) – Zeller has been playing close to 30 minutes a game and has a long game log filled with 25-40 fantasy points. He has really taken over the center role with Big Al out, and he has made the most of those added minutes. He has double digit rebounds in 4 of his last 5 games and double-doubled in three of those. A Double-double along is enough points to see him make his floor, so this is a good spot to keep rolling him out there with only a $100 price bump from last time out.
Amir Johnson ($5400) – It is always a crap shoot trying to predict the rotations for Brad Stevens, but Amir has been so good lately that he deserves a long look. He has flashed upside of 7,8, and 10X value over his recent stretch and his minutes are up in the high twenties as opposed to barely over 20. He has not gone below 4.85X in his ast seven games and would be a solid options still at the elevated price if he sees those minutes again. As I said earlier, I do not trust Brad Stevens rotations. There is a chance Amir could play less minutes, which is why I can only look his way in GPPs. 50 fantasy points is a ton of production and he did that last game. In a good matchup with a weak Suns defense, he could repeat or even outperform those numbers today.
---
Center
Stud
Brook Lopez ($7600) – I am not really compelled to pay up at this position today, but if I do it will be for Lopez. The Nets stink right now, but Lopez is the one bright spot. He is being fed more often and the offense is running through him right now. He has seen a few less minutes, but most of those recent games got out of hand. As long as he is expected to see Mason Plumlee and Myers Leonard on D, I like his chances for an upside game.
Value
Joakim Noah ($5400) – This pay also hinges on Pau Gasol being out. Pau missed the last game and Noah saw his minutes and production go up. He finished with over 40 fantasy points in a game in that one, despite only scoring 6 real life points. Noah contributes a ton of rebounds and is a solid presence on the defensive end. Any guy who can put up 40 on the back of only 6 real life points deserves our attention. This is enhanced if we see some more injuries to the Bulls frontcourt, but makes sense as long as Pau is out.
Ian Mahinmi ($5100) – No one ever plays this guy, but they should start taking a long look at him. He is up to the high twenties for minutes played and it has led to production in the 25-40 fantasy point range as well. He faces a Washington team that likes to play fast and may again be without their starting center. Mahinmi is big, so guys like Gooden and Nene will not be able to really push him around. Throw in the high pace expected here and we can see that the case for him is stronger than man people realize.