Today's NBA targets breakdown looks at Wednesday's 10-game slate, with an eye towards the studs, sleepers and mid-range players you want to have rotating in your lineups.
POINT GUARDS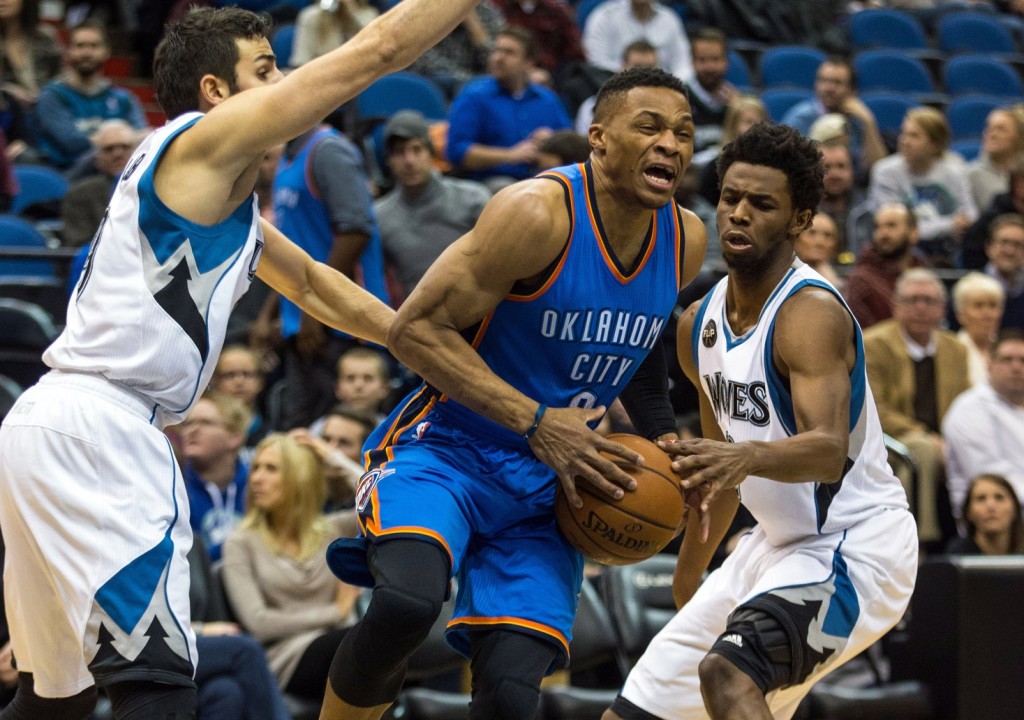 Studs
Russell Westbrook vs. DAL ($10,700) – Westbrook has been over 60 DK FP in each of his last two games, and he does have the better matchup in this one between him and Durant. The way they have been playing lately, one of them is always able to carry the offense all times, and more often than not, it could be Westbrook's turn tonight.
Stephen Curry @ DEN ($10,600) – He has seemed slightly more human recently, but he seems to be getting all the minutes he wants again, with 38 in each of their last two. And even in a slow stretch, his downside is somewhere in the high thirties in term of fantasy points. I know you'll be disappointed if he only scores that much for this price, but he did just show that he still has as much upside as anyone with a 69.5 DK FP explosion against the Kings just four days ago.
Values
Jrue Holiday @ SAC ($6,400) – Assuming Anthony Davis doesn't play, Jrue's value definitely seems to take a step up. In a good matchup, he'll get plenty of looks as one of the best offensive options New Orleans has available. Last time out that resulted in a 55 fantasy-point game, and he doesn't need to fully replicate that to be a good value at this price.
Patrick Beverley vs. MIN ($4,500) – He is solid but not flashy, the kind of guy you'd much rather trust in a cash game than a GPP. That probably remains true tonight, but his value does get a bit of a boost, in either format, because of the three game suspension currently being served by Ty Lawson. That should give Beverley both more minutes and more shot opportunities, which can only improve his fantasy value, which is often bolstered by his performance in other categories (such as the steal and a half he averages per night).
SHOOTING GUARDS
Studs
Klay Thompson @ DEN ($8,200) – Denver is almost the perfect opponent for Golden State, willing to try to run with them, and unable to match up with any of their best players. Their studs will be able to get plenty of looks, and likely plenty of quality looks. Thompson has been over 30 DK FP in seven straight, including five over 40, and the Nuggets might be the best matchup he has had over that entire stretch.
Tyreke Evans @ SAC ($8,200) – Without Davis playing, he is the best player in New Orleans. Sometimes it's that easy. He has had 19, 19 and 17 shot attempts in the three games Davis has sat out, after averaging just a bit over 13 for the season. Every possession is running through him when he's out there, and for a guy who averages six boards and a combined 2 steals/blocks per night, that's a recipe for serious upside.
---
Wednesday Targets
---
Values
J.J. Redick vs. MIA ($5,300) – I never would have guessed when he was in college that he was going to make a long career for himself by being the scrappy guy who played solid D. But he did, to his credit, and now he's out there all the time for this Clippers team. And with Blake going down, there are shots to be had for everyone, and Redick has seen a distinct bump in his opportunities, going for 15 or more points five times in his last six games. Over that stretch, he hasn't attempted fewer than five three-pointers, and has gams with 5, 4, 4, 3 and 2 three-pointers made. That's useful.
Garrett Temple vs. MIL ($4,600) – I feel like I just keep recommending him as long as Beal is out, and it is at least partially because his price hasn't been going up, at least not too much. He has been in a sweet spot, where his production has gone from unusable as a bench option to consistently good as a starter, but without enough upside to really make his price spike. That has made him a solid option in a cash game, averaging just over 23 DK FP over the last ten days.
SMALL FORWARDS
Studs
Paul George @ BOS ($8,900) – Since a down stretch that dropped his price, he has recovered nicely, with eight straight games over 30 DK FP, including four with 49 or more. Boston pushes the pace enough to lead to extra opportunities for everyone on the Pacers, and George in particular is a matchup nightmare for the Boston swingmen. He had 26-10 the last time these two teams squared off against each other.
Otto Porter Jr. vs. MIL ($6,700) – He is consistently getting almost 35 minutes a night, and has turned into maybe the second most reliable option on this team with Beal still out. He has had just over 30 fantasy points in each of his last four contests, and it would be surprising if he didn't continue to at least threaten that mark on a nightly basis as long as his opportunities stay this consistent.
Values
Giannis Antetokounmpo @ WAS ($6,500) – Coming off a 50+ DK FP performance against Chicago (29-10-5 with a block and a steal), everyone knows his upside. He might not be able to replicate that production, but he doesn't need to in order to be a value at this price. Would you settle for 18-8-5 with a couple of forced turnovers? Me too. And, especially against a Washington team with no one on the roster to match up with him athletically, that makes him a great play in a cash game, with upside.
Derrick Williams @ BKN ($3,600) – While we are not yet certain about 'Melo's availability tonight, if he does miss with the sprained ankle he sustained last night against Boston, Williams has a good chance to replace him in the starting lineup and eat up a bunch of the newly available minutes. You could certainly see an uptick in opportunities for other guys, like Arron Afflalo, but Williams has the most obvious increase in value. Carmelo left the game against Boston early and Williams ended up seeing 29 minutes of action, more than he has all season long (and he turned it into a 15-10 double-double).
POWER FORWARDS
Studs
DeMarcus Cousins vs. NO ($10,500) – It's too bad, because it could have been an epic matchup, but it does seem like there is a decent chance Davis misses tonight. That certainly helps Cousins' value, though, as NOLA is left with a bunch of big men who will be completely overmatched by Cousins in terms of size, athelticism, talent, or any other measure you want to consider. He is averaging just under 60 DK FP per game since the New Year, and will be looking to increase that average in this one.
Thaddeus Young vs. NY ($7,200) – The problem with good fantasy options on bad teams is that a good defense can shut the whole team down, and any unexpected production someone is getting can go right out the window. Luckily, the Knicks aren't a good defensive team, so the only things that matter are Young's talents and opportunities. And right now, he has as many opportunities as his talent can handle. He might very well be the best defensive player, second best rebounder, best scorer and best playmaker on the entire roster now with Jack out for the year. All of which could have something to do with why they've lost five straight.
Values
Cody Zeller vs. ATL ($5,500) – Atlanta has been strangely ineffective at defending big men this season, and Zeller has been getting more and more of an opportunity thrust on him with Kaminsky struggling. He could take advantage of the chance to score more than his 9 PPG average, and if he can do that and keep up his rebounding and defensive totals (9 boards, a steal and a block), he could be in line for big production in this one. I wouldn't be surprised to see him end up with a double-double, which would be enough to make him a legit play even in a big GPP.
Amir Johnson vs. IND ($4,900) – There are a ton of injuries at the top of the PF rankings tonight, so unless you are going with the most expensive guy on the board, it might be a position you decide to try to save big on, and this guy could be a logical choice. He has played at least 22 minutes in six straight and 28 or more in four of those. Since the beginning of the year, the biggest problem with all these Celtics big men has been simply that there are too many of them. If Brad Stevens is finally settling on a rotation, or at least willing to play a few of these guys consistently in an attempt to built trade value, there is fantasy value to be had. All of their prices have been suppressed by the uncertainty all year long, so minutes is the only measure you need to make this call – do you trust it, or don't you?
CENTERS
Studs
Al Horford @ CHA ($7,200) – For me, all the top starting centers tonight are either banged up, facing a tough matchup, or just plain hard to trust. DeAndre and Hassan Whiteside could have been a great matchup, but now there is a chance neither of them play. Brook Lopez has no one to get him the ball. Dwight Howard – hard to trust. That leaves Horford as the most expensive guy left on the board, facing a Charlotte team ranked 18th at limiting opponents' fantasy points at the position, and likely only going backwards from there without Big Al to help protect the rim. Horford hasn't been the anchor on defense he's been in previous years, at least partly because he has been freed up to contribute on offense, averaging 19.3 points per game so far on the year. That, combined with his eight boards and any other stats he manages to collect, has led to his 44 DK FP per game scoring average. For it to be his average, he must have plenty of games higher than that mark, and if he can manage that in a good matchup tonight, $7,200 will feel like a steal.
Karl-Anthony Towns @ HOU ($6,600) – Still the presumptive Rookie of the Year, he has slowed down lately, but you know a kid his age will be fired up to play Dwight Howard – he probably remembers "being" Dwight in a video game in his PJs when he was in grade school. Tonight, he will be able to run circles around him. For a guy built like Towns, this is not a matchup to fear, and he should be in line for yet another double-double in this one.
Values
Robin Lopez @ BKN ($5,000) – Brook Lopez, on the other side, has a lot of defensive responsibilities, covering up for all of the deficiencies out on the perimeter, and that can allow someone like Robin Lopez the chance at some cheap buckets. He has been taking advantage of that kind of thing lately, shooting about 60% from the floor over his last half-dozen games, in which he's been over 10 points five times.
Marreese Speights @ DEN ($3,300) – A 6'10" banger with a lot more mobility than someone like Bogut, there is a good chance Speights gets lots of run at PF in this one, as Draymond Green is scheduled to sit out, and the Warriors don't have another designated PF on the roster. It's the same reason Harrison Barnes (SF, $5,400) and Andre Iguodala (SF, $5,000) could see some extra run – Golden State will be forced to either go slightly smaller or slightly bigger. I think all that translates most clearly into a guard-dominated game (hence the recommendations for both Steph and Klay), but Speights is so cheap that he is another clear beneficiary. He goes from unrosterable to potentially usable (31 DK FP in 28 minutes against the Lakers last week).