Halloween night and some huge NBA tournaments across the board on DraftKings. Let's take a look at some of the best options available on Saturday in NBA action.
POINT GUARD
Studs
Damian Lillard – POR vs PHO – $9,100 – In a fun scheduling quirk the Suns and Trail Blazers are concluding a back-to-back, home-and-home series tonight. As we have seen through the first two games of the season, Lillard is the everything to Portland who has turned over their starting five with Damian as the lone holdover. LaMarcus Aldridge, Nicolas Batum, Wesley Matthews, Robin Lopez and late season addition Arron Afflalo are all with new teams this season. Lillard is going to be in the 40-50 DraftKing point range for most of the season until he wears down, so enjoy the discounted price tonight!
Stephen Curry – GS at NO – $9,900 – Our other top option at the point guard position is also in a déjà vu game with these two teams having battled by the Bay last Tuesday. Curry had a magnificent 63.5 fantasy point performance and he should flirt with 50+ in this matchup tonight. Teammate Klay Thompson – $7,000 left Friday's game with a sore back so keep abreast of any news updates.
Values
Ish Smith – NO vs GSW – $4,500 – In a surprise move, Nate Robinson who started for the Pelicans on Opening Night was released after being held scoreless in 23 minutes through the first two games. To be fair, he did only attempt one shot. With Jrue Holiday – $4,900 on a minutes limit as New Orleans tries to keep him healthy for once, Smith will be seeing as much playing time as he can handle in this matchup.
---
SHOOTING GUARD
Yikes, there really are no clear cut top selections at the shooting guard position Saturday, so this is looking like a really good spot to find a discounted option or an outright punt play.
Values
Alec Burks – UTA at IND – $4,800 – Most gamers will look beyond Burks who is coming off the bench for the Jazz. I am not worried, because he is one of their better shooters and he has a secure 25-27 minutes in the rotation through the first two games. While he won't keep up his torrid 54.5% shooting, he should be able to must enough production to pay off this very reasonable price tag.
Sasha Vujacic – NYK at WAS – $3,500 – Vujacic should be in the starting lineup and if he is, then it is a worthwhile risk rostering him as an extreme punt play if you are looking to pay for several of the premium options on the menu tonight.
---
SMALL FORWARD
Studs
Rudy Gay – SAC at LAC – $7,500 – Last season the Clippers were horrible against swingmen allowing the most fantasy points in the league to opposing small forwards. Ideally most gamers will not dig deep enough into last year's trends and Rudy may be overlooked this evening as people pay up for Paul George or Carmelo Anthony or drop down to a lower priced option.
Values
Harrison Barnes – GS at NO – $4,800 – Barnes is another option that will be overlooked tonight, which plays right into our hands. He contributes across most statistical categories so he rarely has a terrible game. He has posted 21.3+ DraftKings points in both his starts this season, including 25.8 against these very same Pelicans on Tuesday. These teams have the second highest projected point total of the night at 212.5, so don't be shy about taking a few players from either side on this six game slate.
T.J. Warren – PHO at POR – $3,600 – If you have an appetite for risk or if Warren will allow you to make an otherwise perfect roster, he is definitely in the mix tonight. In the first two games of the season he has averaged 21mpg, 13ppg, 5rbp for a solid 20 DraftKings points per outing.
---
POWER FORWARD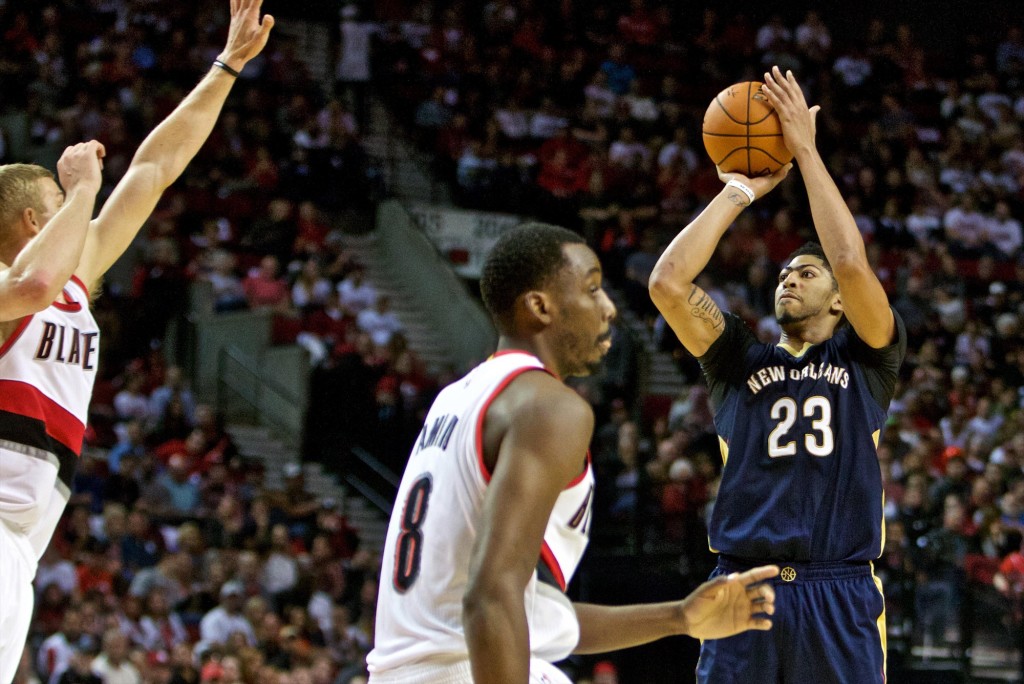 Studs
Anthony Davis – NO vs GS – $10,400 – Now you can see why the above recommendations were fiscally prudent, because we want to have the ability to select a couple big ticket items. The Brow is going to have to carry an injury ravaged New Orleans squad until his teammates return back to full health. While that may start to wear on him, we are just three games into the season so there are no concerns about over use at this time. We have yet to see Davis uncork a really big performance, however, with Golden State playing last night in Houston and the Pelicans having had three full days off, this is a nice spot to employ Davis' services.
Blake Griffin – LAC vs SAC – $9,500 – In the season opener, Griffin put up a solid 48 fantasy points against the Kings in Sacramento. He will be at home tonight and despite playing against DeMarcus Cousins who is seeing more time at the four, he should once again be able to flirt with the fifty fantasy point plateau.
Values
Kris Humphries – WAS vs NYK – $4,000 – The New York Knicks really do not have an inside defensive presence and it seems like the Washington Wizards are looking to be prudent with Nene Hilario's minutes as they will need him healthy if they want to make good on their dreams of a deep post season run. Whenever Humphries gets 25 minutes, he is in the mix for a double double which also garners additional 1.5 DraftKings bonus points.
---
CENTERS
Studs
DeMarcus Cousins – SAC at LAC – $10,000 – Even though he fouled out against the Clippers on Opening Night, Cousins still danced his way to 54.3 DraftKings points with 32 points, 13 rebounds, 3 assists and a surprising 4 three-pointers. While he is a wildcard at times, his trick-or-treat nature is a perfect fit for Halloween.
Values
Festus Ezeli – GS at NO – $3,100 – Center Andrew Bogut is going to miss a couple games while he completes the NBA concussion protocol. In the meantime, Ezeli and teammate Marreese Speights – $3,200 should both have secure enough minutes that they can each produce 20-25 fantasy points, which is a steal at their near minimum prices.